This Is How Disneyland Looked In 1955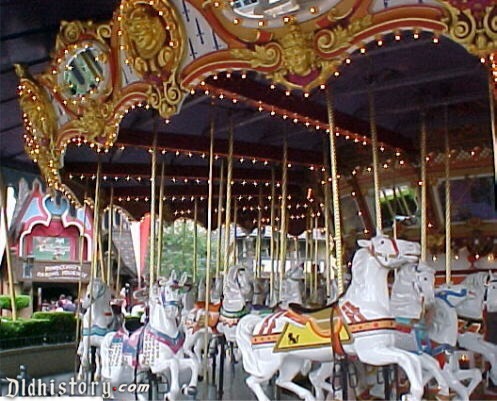 ID:
TMS-3389
Source:
Orange County Register
Author:
Mark Eades
Dateline:
Posted:
Status:
Current
When Disneyland opened on July 17, 1955, there were sections of it that were not done. A reporter noticed all the construction still ongoing and asked Walt Disney if Disneyland would ever be finished. Disney replied in what has become an oft quoted quote: "Disneyland will never be completed, as long as there is imagination left in the world."

Disney was true to his word - Disneyland has never been completed and has been changing ever since, even within a few weeks of opening.

Opening day attractions included things that are still there to this day, like The Jungle Cruise, Autopia and the Disneyland Railroad. Other opening-day rides eventually were updated, such as the Mad Tea Party, King Arthur Carrousel and classic dark rides "Snow White and the Seven Dwarfs," "Peter Pan" and Mister Toad's Wild Ride, based on "The Wind in the Willows." In Frontierland, the Mark Twain Riverboat still sits in the waters of the Rivers of America.

Those that opened within a few weeks of the park's grand opening include Rocket to the Moon in Tomorrowland along with the Casey Jr. Circus Train and Dumbo the Flying Elephant.

Another attraction in Fantasyland that opened in 1955 featured occasional appearances by some of the original Mouseketeers: The Mickey Mouse Club Circus, which took place in a real tent. It also had a variety of circus animals in the show.

One of the earliest changes made was to the Disneyland Railroad, it originally operated with one train stopping at the Main Street Station, and the other at the Frontierland Station. The trains would pass each other at sidings next to each station - evidence of the sidings is still present at the Main Street Station. But a few months later, that was changed so that the trains stopped at each station, giving visitors a way to travel from Main Street to Frontierland or vice versa.

Fantasyland holds the distinction of having the first attraction closed to undergo a major modification. On opening day, there was a boat ride simply called, "Canal Boats of the World." Riders would board boats that would take them on a tour of a canal that had nothing to see. By September 1955, Disney closed it down to let his Imagineers change it into the Storybook Canal Boats. The new version opened in 1956 with all the miniature scenes from Disney movies and is still going strong.

But others that were there on opening day have disappeared into the annals of Disneyland history, such as "The Wizard of Bras," which was inside a shop on Main Street U.S.A. called the Intimate Apparel shop, sponsored by Hollywood Maxwell.

Tomorrowland has undergone the most changes, losing a multitude of sponsored exhibits and attractions like "Circarama," which featured a film on opening day that presented a 360-degree view in a film called "A Tour of the West." There was even an attraction called "Space Station X-1."

---
MickeyMousePark.com
Contact Us
Privacy
Payment Options
Disclaimer
Email Policy
Site Map
Clear Cookie
---
Copyright: (c) 1997-2019 by
ThrillMountain Software
---
MickeyMousePark.com is not associated in any official way with the Walt Disney Company,
its subsidiaries, or its affiliates. The official Disney site is available at
disney.com
Troubleshooting Info:

BrowserBrand: IE
LocalHost: NO
BrowserOS:
BrowserServer: mickeymousepark.com
BrowserAgent:CCBot/2.0 (https://commoncrawl.org/faq/)
BrowserURL:Page=5&Ident=3389
BrowserCurrentPage: /disneyland-article.aspx
Login: 0
FilterBy: 0
SortBy: 0