Johnny Depp Spent A Day At Disneyland Pretending To Be A Robot Capt Jack Sparrow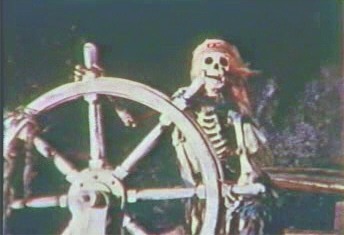 ID:
TMS-3562
Source:
nationalpost.com
Author:
Tristin Hopper
Dateline:
Posted:
Status:
Current
Actor Johnny Depp, star of the film series Pirates of the Caribbean, spent Wednesday pretending to be an animatronic at the Disneyland ride that originally inspired the movie.

Pirates of the Caribbean, which opened 50 years ago, is a "dark ride" in which boats full of riders are floated past elaborate full-size tableaus depicting a pirate takeover of a Spanish colonial town.

Clad as his character Captain Jack Sparrow, Depp seems to have largely spent his time standing in a section of the ride that features animatronic pirates pillaging the town's central square.

From ample cell phone videos documenting the encounter, it appears that sometimes Depp broke character and waved. Sometimes he did not, forcing tourists to identify the human pirate based on the movement of his feet (and, presumably, Depp's obvious humanity amidst a field of robots).

Since the success of the film series, which saw its first iteration in 2003, the ride has indeed been updated to include several animatronic versions of the Jack Sparrow character.

The appearance was most likely a stunt to promote the upcoming premiere of Dead Men Tell No Tale, the next iteration of the Pirates of the Caribbean film series.

Depp is not the only living person with an animatronic doppelganger in a Disney park.

With the Walt Disney Corporation owning robot avatars of Ellen DeGeneres, Sigourney Weaver, Harrison Ford, Dick Van Dyke and every living U.S. president, among others, the company has presumably only scratched the surface of celebrities they can compel to hide in their attractions.

---
MickeyMousePark.com
Contact Us
Privacy
Payment Options
Disclaimer
Email Policy
Site Map
Clear Cookie
---
Copyright: (c) 1997-2020 by
ThrillMountain Software
---
MickeyMousePark.com is not associated in any official way with the Walt Disney Company,
its subsidiaries, or its affiliates. The official Disney site is available at
disney.com
Troubleshooting Info:

BrowserBrand: IE
LocalHost: NO
BrowserOS:
BrowserServer: mickeymousepark.com
BrowserAgent:CCBot/2.0 (https://commoncrawl.org/faq/)
BrowserURL:Page=5&Ident=3562
BrowserCurrentPage: /disneyland-article.aspx
Login: 0
FilterBy: 0
SortBy: 0