Holiday Happenings At Disneyland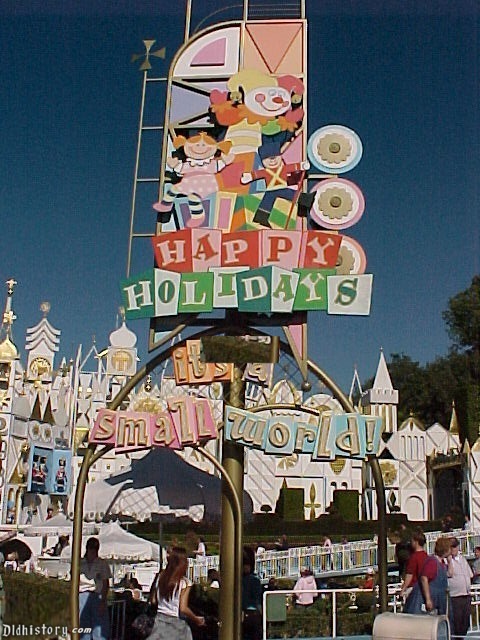 ID:
TMS-4039
Source:
carnivalwarehouse.com
Author:
Genie Davis
Dateline:
Posted:
Status:
Current
Disneyland and Disney California Adventure Park are both in the forefront of theme park holiday activities, with new attractions, new decor, and inclusive events celebrating a wide range of seasonal experiences.

At Disneyland, the attention to detail is in its decorations, and their elaborate construction is a big part of the draw for park guests. According the Walt Disney Imagineering part director Kim Irvine "We are the only theme park in California that has this wonderful turn-of-the-century Victorian Main Street, and for the holidays we create a Victorian Christmas The ornaments look elegant and so authentic. What sets Disneyland apart is this attention to detail and authenticity."

This year, a new addition to the holiday tree that takes center stage as visitors first enter the park, are the candles, which she describes as resembling "the real flickering candles you see in movies and pictures of old-time Christmas." The tree is 60-feet tall and features 1,800 ornaments, making it a sight to be photographed by guests.

Decor is also key to the magical holiday spirit at It's a Small World Holiday - and the attraction's magical evening lighting; as well as at Haunted Mansion Holiday, which adds a Tim Burton Nightmare Before Christmas theme each year that mixes Halloween and Christmas.

Once again, Disney proves the details are lovingly attended to, such as a giant spider dangling over a beautifully ornate gingerbread house at the Haunted Mansion. Each year, the gingerbread house takes on a different design, and it's the real thing, not a plastic copy. This year, Disney staff say it took 12 pastry chefs, 90 pounds of gingerbread, 30 pounds of sugar, 10 pounds of white chocolate, and 45 pounds of chocolate to shape the towering gingerbread castle.

It's a Small World has been undergoing a holiday transformation for 22 years, and each iteration offers slightly updated additions to the ride's classic displays, from presents to holiday garlands and the venue's own gingerbread house. This year, the attraction will include a vibrant new color palate and LED lights on the greeting signs.

Also at Disneyland are the traditional favorites such as the Believe in Holiday Magic fireworks spectacular and the snowfall on Main Street. Sleeping Beauty's Castle lights up nightly with dazzling blue and pink lights, and sparkling icicles. A Christmas Fantasy parade includes Mickey, Minnie, Santa, and various Disney princesses as well as floats and tin soldiers.

At Disney California Adventure Park, the parks thematic Festival of Holidays brings multicultural entertainment, food, and decorations representing holidays such as Diwali, Kwanza, and Hanukah, as well as the Disney Viva Navidad street party.

Live entertainment is ongoing throughout the day: Bollywood dances are the thing with a Diwali performance by Blue 13 Dance Company, Mostly Kosher plays klezmer style, while The Sound offers a cappella soul for both Kwanzaa and Christmas.

In Cars Land, guests enjoy a Snowcar and holiday decor in the spirit of each Radiator Springs Cars denizen as their homes and businesses, as well as holiday makeovers for attractions such as Mater's Jingle Jamboree and Luigi's Joy to the Whirl.

Santa Claus and elves visit the Redwood Creek Challenge Trail, where park guests are invited to pick up a free activity map and find elf games, decorations, and toys. A 50-foot tree takes the stage in the park's Cathay Circle, an area inspired by 1920s era Los Angeles.

But it's not all fun and games, holiday dining treats are abundant at both parks as well. New treats include Stocking Stuffer funnel cake fries, a decadent offering crafted from churros and topped with peppermint icing and chocolate cream-filled cookies; a twist on tradition with the Chocolate Mint Yule Log; and even traditional pozole with tomatillos. There are candy cane beignets and gingerbread men too, of course.

In Disneyland, other new offerings include a Cowboy Bark churro made with crushed pretzels and peppermint, and a sopapilla cheese cake with cinnamon sugar and whipped cream.

At Disney California Adventure Park, guests can enjoy new treats such as the gingerbread cookie ice cream sandwich at Schmoozies, and healthy choice Plant-etarium street tacos at Studio Catering Co. - with Brussels sprouts, salsa verde, pickled red onions and apple-pomegranate slaw. Park goers can also consume their entire holiday dinner in one slice - of pizza that is, the Holiday Dinner Pizza adorned with roasted turkey, mashed potatoes, turkey gravy, bacon, vegetables and cranberry sauce.

And don't miss old favorites such as Disneyland's Green Alien holiday macaron filled with blackberry mousse and lemon curd, or the open-faced turkey sandwich at Disney California Adventure Park served with roasted garlic mashed potatoes.

Whatever you do, don't forget to save room for a churro or two: the ubiquitous theme-park fare has undergone quite a holiday makeover here. There are Sour Apple, Gingerbread, and Sugarplum candy varieties as well as churro bites with egg nog gelato and caramel sauce, and the Golden Horseshoe Churro Sundae, a chocolatey creation that is easy for guests to share.

Disney California Adventure Park culinary director John State sums up the treats as being impossible to resist. "This year, we're bringing back a few cherished classics and then it's onto the new items. At Disney California Adventure, you've got to try the turkey carnitas poutine with malted French fries and the turkey pot pie soup served in a sourdough bread bowl at Pacific Wharf Cafe."

Overall, from food to parades, eclectic live performances, stage shows, and holiday decor throughout both parks, Disney knows how to make the details shine, take the food gleefully over the top, and make tradition glow. Fresh shows, music, and dining mean new memories each year, and returning guests to experience them. While tourists from around the world flock to Disneyland and Disney California Adventure Park, so do SoCal residents who've made a holiday visit into an annual affair -- and Disney is adept at encouraging repeat holiday visits.