Edison Square/Liberty Street
Designed to establish the feeling and atmosphere of the entire General Electric show, the Prologue to Edison Square's theatrical productions will take place in the lobby which visitors enter directly from the street.

The audience may wander at their leisure to view and enjoy the five full-dimensional dioramas which will be featured in this lobby. These dioramas will depict some of the most dramatic moments from Edison's life. Specialized lighting and animated effects will be utilized to make the dioramas "come alive."

The period represented in the Prologue is around 1878, this date marking the birth of the General Electric lineage. The climactic scene, the "40 Hour Watch," shows Edison and his associates finally achieving their goal, when in 1879 this first incandescent lamp burned for 40 consecutive hours.

Special Disney created theme music, lighting effects and voice recordings will announce the beginning of Act I of the theatrical presentations. The audience will then proceed to the first theater, the footlights come on, the curtains are drawn and the stage show begins.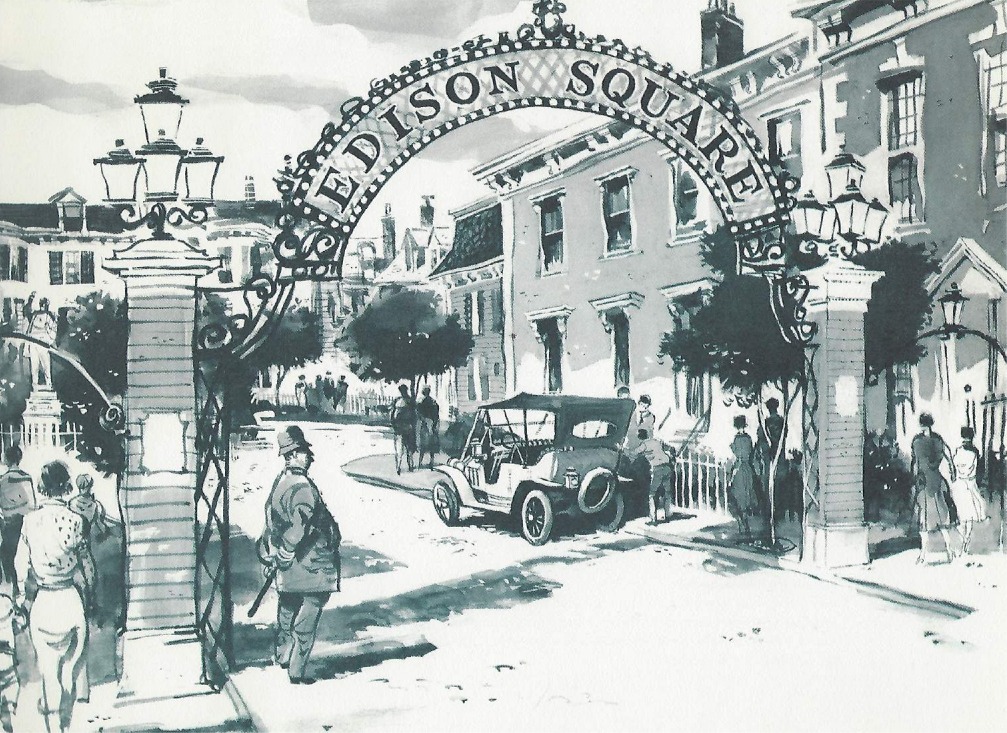 Last Updated: 5/18/2022
ID:
TMS-4572
---
---
Year Proposed:
---
---
Land:
---
---
Photos:
11
---
---
Articles:
7
Edison Square/Liberty Street Secrets:
Show/Hide
Edison Square/Liberty Street Articles:
Show/Hide
Edison Square/Liberty Street Photos:

---
MickeyMousePark.com
---
Copyright: (c) 1997-2023 by
ThrillMountain Software
---
MickeyMousePark.com is not associated in any official way with the Walt Disney Company,
its subsidiaries, or its affiliates. The official Disney site is available at
disney.com
Troubleshooting Info:

BrowserBrand: IE
Mobile: NO
LocalHost: NO
BrowserOS:
BrowserServer: mickeymousepark.com
BrowserAgent:CCBot/2.0 (https://commoncrawl.org/faq/)
BrowserURL:Page=53
BrowserCurrentPage: /disneyland-neverbuilt.aspx
Login: 0
FilterBy: 0
SortBy: 0
DB: MMParkA