California vs. Paris: Casey Jr. Circus Train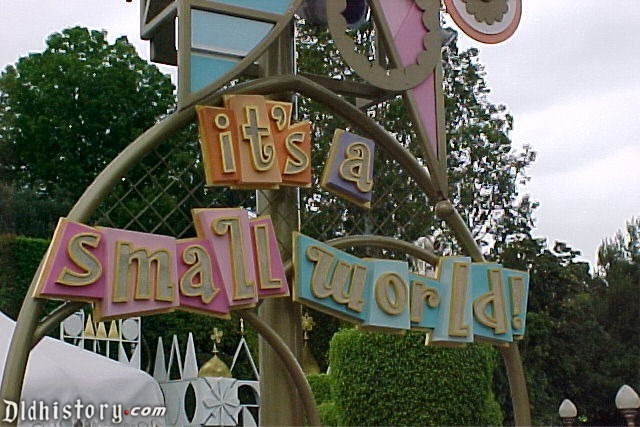 ID:
TMS-2041
Source:
MickeyMousePark.com
Author:
Dateline:
Posted:
Status:
Current
In the sixth of my series comparing the two Disneylands closest to my heart (California and Paris), I shall be looking at the section of the park featuring Casey Jr. Circus Train and Storybook Land Canal Boats.

When designing the Anaheim park, Walt's original plan for this area of Fantasyland was to build a rollercoaster called Rock Candy Mountain, upon which guests were transported on Casey Jr. style trains. There would be a canal surrounding this, which guests could circumnavigate on miniature boats.

It is claimed that this concept was abandoned when Imagineers thought that visitors may be put off by the sickly looking design for the mountain. However, other sources imply that it was for financial reasons that these attractions weren't built.

In its location, on opening day was Canal Boats of The World, known to some Cast Members as The Mud Bank Ride. It broke down often, with employees frequently having to pull the boats along by hand, and the proposed views of various international cities along the way were never built. As part of the spiel, Cast Members used to have to promise that the ride would be improved over time.

One feels perhaps the intended option for the ride could have been the inspiration behind It's a Small World.

A fortnight later, on July 31st 1955, the Casey Jr. Circus Train opened nearby, giving riders the chance to see the same pieces of mud from a different angle. As Dumbo The Flying Elephant did not open until August 16th, Casey Jr. was officially the first Dumbo based attraction to open at the park.

Several portions of the passenger cars had once been part of the chariots on the Dentzel Carousel, which was itself transformed into King Arthur Carrousel for Opening Day.

On September 16th 1955, Canal Boats of The World was closed for good, to be replaced with Storybook Land Canal Boats, which opened on June 16th 1956.

Very little about either Casey Jr. Circus Train or Storyland Canal Boats has been changed since then, although various scenes on the latter have been altered or replaced. For example, the Sultan's Palace from Aladdin was added in 1994 in the position of Toad Hall. The latter building was re-added elsewhere the following year.

1994 was also the year that the equivalents of these two rides were added to Disneyland Paris. To date, neither of these attractions have appeared in any other Disney parks worldwide.

Casey Jr. Le Petit Train du Cirque is very similar in design to its California counterpart. However, truer to Walt's original intention, this version is billed as a rollercoaster, although (due to it never being reliant on gravity) officially it is a powercoaster, Disney's only one to date.

Although both versions have a top speed of approximately 14mph, the Paris one feels faster due to being a shorter ride (two and a half minutes, as opposed to California's three and a half) and has several rises and falls; Anaheim features one "lift" and then it is all downhill.

In most ways, the ride experience is identical. Both feature trains of seven cars, a rearrangement of the Frank Churchill/Ned Washington song from the movie and cages which can make the rider feel somewhat claustrophobic.

The Paris version does however have a "going backwards" option, a synchronised on-board audio system (the first Coaster in the world to feature this) and it goes closer to the Canal attraction. The two attractions are more closely intertwined, and in some instances such as the Beast's Castle- gives views of areas of propping that are not visible on the boat ride.

Le Pays de Contes de Fees (which translates as The Land of Fairy Tales) is, conceptually at least, very similar to Storybook Land Canal Boats. Both feature miniature models of scenes from Disney movies although the films in question are not always the same- and travel in a dyed waterway with music playing throughout to set the atmosphere.

The France version does not have an on-board guide, and nor does it have dialogue emerging from any of the models. It is powered by underwater wires, rather than motors.

All the boats in the Anaheim ride are named after Disney characters. This is the case in France too, although the latter uses their French names. There are 20 such boats in France and 13 in the States; although both versions rarely have all in circulation at any one time.

All of the boats in France are named after female characters, whereas in California, there is one named after a male; Flower, the skunk from Bambi.

The Paris equivalent features a Rapunzel scene maybe the Imagineers were presupposing Tangled- and a tiger-mouth entrance to the "Cave of Wonders" scene but no Monstro.

As per a list of boat names, the full list of scenes featured in each attraction would be too tedious to list here and can easily be found online.

Both versions do however feature boarding by the side of a faux-lighthouse. The Californian one used to be a ticket office, whereas the one in France is used mainly as storage for cleaning utensils.

In California and Paris, both Casey Jr. and the Canal boat attractions close for rain and fireworks. In California, due to their geographical location, they are also closed before and during Parades.

In Paris, the two usually close off-season when there are less crowds and fewer Cast Members on hand to operate the attractions- during which time Le Pays de Contes de Fees is temporarily drained.

---
MickeyMousePark.com
---
Copyright: (c) 1997-2023 by
ThrillMountain Software
---
MickeyMousePark.com is not associated in any official way with the Walt Disney Company,
its subsidiaries, or its affiliates. The official Disney site is available at
disney.com
Troubleshooting Info:

BrowserBrand: IE
Mobile: NO
LocalHost: NO
BrowserOS:
BrowserServer: mickeymousepark.com
BrowserAgent:CCBot/2.0 (https://commoncrawl.org/faq/)
BrowserURL:Page=5&Ident=2041
BrowserCurrentPage: /disneyland-article.aspx
Login: 0
FilterBy: 0
SortBy: 0
DB: MMParkA