California vs. Blackpool: General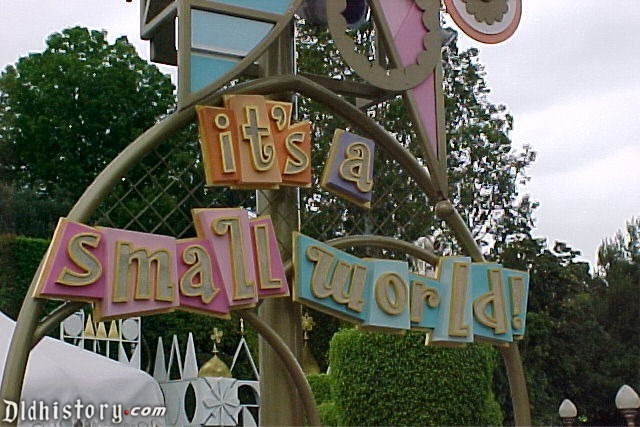 ID:
TMS-2372
Source:
MickeyMousePark.com
Author:
Dateline:
Posted:
Status:
Current
Earlier in the year, I wrote an article for DLDHistory.com comparing the Alice in Wonderland ride in Disneyland to Alice's Wonderland at Pleasure Beach Blackpool (the most visited theme park in the United Kingdom).

As I have recently come back from a week's vacation in Blackpool (and seeing as my main article this month was shorter than usual) I thought I would compare Anaheim's Disneyland Resort as a whole (not including Disney's California Adventure) with the Pleasure Beach.

Both feature a monorail and, although both leave the park, Blackpool's only has one stop. Unlike Disney, it features no announcements and you can see a lot more backstage areas when riding.

Pleasure Beach features an attraction called Avalanche which (like Matterhorn Bobsleds) is boarded from a Swiss chalet, starts with ascent, and goes through scenes reminiscent of an alpine area. Although a ride in either would feature just one hoist, Matterhorn has two tracks you could ride on whereas Avalanche only has one. Both feature Swiss music in their inside and outside sections but, whilst the Matterhorn's plot features trying to avoid Harold the Abominable Snowman, Avalanche has a much looser theme surrounding an Alpine Bobsleigh trial.

The system of sitting in your partners lap applies to both attractions, and the color design of the vehicles are similar, although in Blackpool the contraptions take place with groups of seven units.

Both Disneyland and Pleasure Beach feature a log flume (with Anaheim's Splash Mountain themed to Song of The South and Blackpool's Lost River themed to The Rugrats, in an Indiana Jones style setting), a tea-cup ride, a runaway mine train and a Guest powered electrical auto-mobile ride.

Both feature a Rail Road, although Blackpool only has four locomotives, whilst Disneyland has five. Disneyland has four stations on route, whilst the Pleasure Beach only has two, with one being a request stop. However, the Pleasure Beach does feature a version of Disney's Primeval World diorama, passing several dinosaurs along the route, although it features a waterfall of blood rather than the Grand Canyon display.

Other similarities between the Pleasure Beach and Disneyland is that both use similar terminologies (such as "Guests" and "Onstage"), both insist their Cast Members wear name tags, both sell photos at the end of several rides, both resorts feature at least one hotel, spotless restrooms, corporate sponsorship, Fastpass (called "Speedy Pass" in Blackpool, where this service comes with an additional fee) and information points where you can find out the size of the line for major attractions. A lot of the fonts used for signage are also unnervingly similar.

Things Disneyland has, which the Pleasure Beach does not, are too numerous to mention. However, there are several things which the Blackpool park has, which Disneyland (hopefully) never will, such as condom machines, a casino, litter everywhere and an in-house radio station playing requests and adverts audible throughout most of the park.

The Pleasure Beach isn't split into Lands in the same way that Disneyland is, although there is a Nickelodeon Land and the area around Avalanche is alpine themed, with mannequins on skis and relevant vegetation visible from nearby attractions.

The Pleasure Beach doesn't feature any parades, but there are several characters posing for photos and giving out autographs who can be met at meet-and-greets. Many of these are Nickelodeon characters (some of whom perform in shows) but others, such as Bradley Beaver, are remnants of a previous themed land called Beaver Creek. There is also a pirate (who looks very much like Jack Sparrow, but not enough so as to avoid copyright) who wanders around near Blackpool's dancing fountains, who also gives out autographs.

The Pleasure Beach is (as with Disney) very proud of its past, with plaques, photos, information about the management and awards visible throughout the park. The Gallery at Blackpool's Globe Theatre, with ever-changing exhibits about the history of the park, is reminiscent of the Disney Gallery and several previous ride vehicles are visible at various locations. A previous attraction, Noah's Ark, although no longer accessible to the public, is visible above the park's entrance.

The Ghost Train at the Pleasure Beach is nothing in comparison to the Haunted Mansion, with no pre-show attractions, backstory or through-line. However, the Blackpool ride is surprisingly popular due to emulating scenes from movies such as Dracula and The Exorcist. As with the Anaheim attraction, this is supposed to be genuinely haunted; in this instance by "Cloggy", the spirit of a former ride operator who used to wear clogs.

Several scenes in Blackpool's Ghost Train are reminiscent of scenes in Disneyland. Examples include the layout of the skeletons being practically a replica of those in the Mummy Tomb in Disneyland's Indiana Jones Adventure: Temple of the Forbidden Eye and a faux train crash a la Mr. Toad's Wild Ride.

In the same way that several scare attractions worldwide, not affiliated with Disney, are now called Haunted Mansion, the term Ghost Train originated with the Blackpool attraction and was named after a play by Arnold Ridley.

(The terms Big Dipper and Wild Mouse for various types of ride, also came from the names of attractions at the Pleasure Beach).

The rollercoasters in Blackpool are a lot more thrilling than those in Disneyland's Mountain Range. Several go upside down, but most have no theming. A few of the woodies are quite jerky and uncomfortable.

The two best themed rollercoasters in Blackpool are both races. One is Grand National where two rollercoasters race against each other, with various signs spelling this out saying things like "They're off" and "Winning Post". The other is Steeplechase, where Guests ride against each other on the back of horses. Nearby is a cast of Red Rum's hoof-print, reminiscent of the Yeti's footprint outside Matterhorn Bobsleds. Both were manufactured by Arrow Dynamics.

The Pleasure Beach features several carousels, although none are as themed (or as clean) as Disney's King Arthur Carrousel. These include the Gallopers, the Derby Racers and the Vintage Carousel, all featuring their own organ. The Derby Racers is not truly a carousel, as the horses are attached to the floor beneath them but not to the top. They also do not race as their name implies, although they used to go backwards as well as forwards within their cycle.

The Pleasure Beach also features traditional Dumbo type rides (such as Fairy World Taxi Spin), a Pinocchio themed unmanned pay-per-ride rocking horse and a boat ride called River Caves which goes through a restaurant (a la Pirates of The Caribbean) and features visual gags stolen from the Jungle Cruise such as monkeys "borrowing" treasure from a temple.

One of Blackpool's most recent additions is Dora's World Voyage, an it's a small world type brief visit to four countries. The models passed do not move, but the ride is very similar in terms of detail, water propulsion, irritating repetitive song and youth appeal.

Dora's World Voyage replaced Magic Mountain, which also featured a bone-grindingly cloy melody. This featured an it's a small world style clock sound effect, Big Thunder Mountain Railroad type trains, Jungle Cruise style puns and a "Duck Holiday" scene reminiscent of America Sings.

Other past rides at Blackpool, which are reminiscent of current ones in Anaheim, include Tom Sawyer Raft and Space Invader. Incidentally, the latter became Space Invader 2 in 2004 shortly after Disneyland Paris announced Space Mountain: De le Terre à la Lune would become Space Mountain: Mission 2. The attraction had a statue of Han Solo in the queue-line and a pre-show similar to that of Disneyland's former attraction Mission to Mars, including viewing a mission control viewing area. Another connection between Space Invaders and Mission to Mars is that, after closing, the buildings of each stood empty for what seemed like an age, and then were replaced by pizza restaurants.

On the whole, I much prefer Disneyland. As well as the quality of the theming and the staff knowledge/enthusiasm, it is open all year round (rather than just during the summer), it has a berm rather than a lowly fence meaning you can't see into the park from outside (and vice-versa), faster food service, more interesting looking shops and a fairer pricing scheme.