California vs. Paris: Frontierland (Part Two)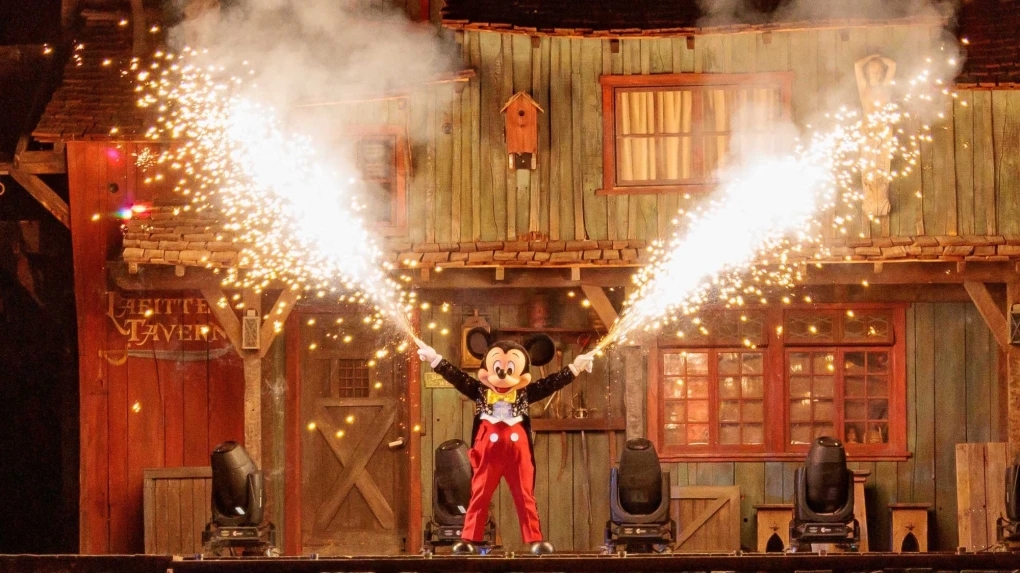 ID:
TMS-2652
Source:
MickeyMousePark.com
Author:
Dateline:
Posted:
Status:
Current
In Anaheim, Frontierland has five very distinct shops (Bonanza Outfitters, Pioneer Mercantile, Silver Spur, The Spirit of Pocahontas Shop and Westward Ho Trading Company) whereas there is really only one store in the Frontierland of Disneyland Paris. This is the Thunder Mesa Mercantile Building, although it is split into three separate parts: Tobias Norton & Sons, Bonanza Outfitters and Eureka Mining Supplies. To the untrained eye (e.g. mine) the three sections seem interchangeable, except for having different entrances, but perhaps the differentiation is to help out those who work in the park's sales department or maybe it is a cynical ploy to get more potential customers to visit/re-visit the store.

Arguably there is another sales point of sorts in DLP's Frontierland: Big Thunder Photographers. As well as this being where one can purchase the on-ride snaps from Big Thunder Mountain, it also sells T-shirts, bottled beverages and plush toys, albeit currently only of Woody and Jesse.

Whilst there is no shop named after Anaheim's Silver Spur in Disneyland Paris, there is the Silver Spur Steakhouse, a restaurant which, according to the Land's art director Jeff Burke, once featured various watercolors, etchings and oil paintings by the likes of Albert Bierstadt (1830-1902), Edward Borein (1872-1945) and Charles Russell (1864-1926) so as to set the scene of "lavish Victorian ambience accentuated with masterpieces of western art". In 1994 however, these were removed and replaced with printed copies.

Whilst the Silver Spur Steakhouse is a table service restaurant, the other eateries in the Land are all generally considered to be "Quick Meal" experiences: Cowboy Cookout Barbecue, Fuente del Oro Restaurante, Last Chance Cafe and The Lucky Nugget Saloon.

The restaurants in Anaheim's Frontierland are Stage Door Cafe, Rancho del Zocalo Restaurante, River Belle Terrace and The Golden Horseshoe Saloon.

The Lucky Nugget is (in many ways) France's answer to The Golden Horseshoe, in that (as well as being an eatery) it has two stories of cabaret-style audience seating and a stage which has been used for a variety of different types of acts over the years. The capacity in France's restaurant is higher, and the shows tend to be more music based than an equal split of music and comedy (which is perhaps down to the language barrier) and both have had periods where they have been merely used for character dining, but both have tremendous amounts of atmosphere, theming and history.

At the time of writing, The Lucky Nugget Saloon was home to The Thunder Mesa Band (a four-piece band, who perform twenty-five minute music-only sets) on Thursdays and Fridays, and The Lucky Nugget Christmas Trio the rest of the week.

Other shows at that location over the years include The Lucky Nugget Revue, Rosie and The Rebels and Lilly's Follies. In good weather, bands have been known to play outside the Saloon too, in order to attract custom.

Although Anaheim's Frontierland has no additional theatres (unless you count the Land as a whole as a theatre for the $75,000-spent-per-performance Fantasmic!), France's Frontierland has several make-shift stages plus a 1,350-seater called The Chaparral Theater.

At this time of year The Chaparral usually hosts Mickey's Winter Wonderland, although currently the venue is showless. Other shows which have appeared at this open-air theatre include Goofy's Summer Camp, The Tarzan Encounter, Pocahontas: Le Spectacle and Hill Billy Hoedown.

---
MickeyMousePark.com
---
Copyright: (c) 1997-2023 by
ThrillMountain Software
---
MickeyMousePark.com is not associated in any official way with the Walt Disney Company,
its subsidiaries, or its affiliates. The official Disney site is available at
disney.com
Troubleshooting Info:

BrowserBrand: IE
Mobile: NO
LocalHost: NO
BrowserOS:
BrowserServer: mickeymousepark.com
BrowserAgent:CCBot/2.0 (https://commoncrawl.org/faq/)
BrowserURL:Page=5&Ident=2652
BrowserCurrentPage: /disneyland-article.aspx
Login: 0
FilterBy: 0
SortBy: 0
DB: MMParkA