When Villains Rule The Night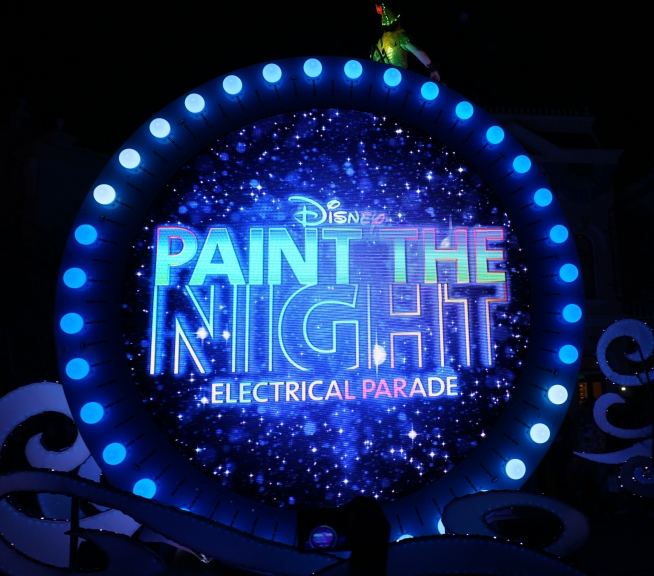 ID:
TMS-3151
Source:
MickeyMousePark.com
Author:
Dateline:
Posted:
Status:
Current
If I've ever been to Disneyland during Halloween, I was a kid, because I don't remember it. However, I do know that for Halloween, like Christmas, the decorators go all out. The equivalent of the giant tree in the Town Square and Mickey shaped wreaths are Mickey shaped jack-o-lanterns, complete with friendly smile and pumpkin ears. The entrance plaza has the "fab five," Mickey and friends, made out of pumpkins. The ticket booths are topped with the little Mickey Jack-o-lanterns.

The Mickey Jack-o-lantern in Town Square is twelve feet tall with roughly ten to twenty large pumpkins piled around it, and about three hundred hand carved pumpkins featured in Main Street shop windows, while orange and yellow bunting adorn the Victorian architecture. The "Partners" statue is surrounded by more pumpkins inspired by classic Disney characters.

"Mickey's Halloween Party" is really the only time an adult is permitted to wear full Disney character costume (it's not allowed because the wearers could get mistaken for a cast member). Everyone from Mickey and Minnie, to kids and adults, wear any costume they want, provided of course, that said costume isn't too scary, vulgar, or anything like that. Minnie wears a cute orange and purple witch costume and Mickey wears matching coat tails and top hat with a lime green bow tie. Like any proper costumed holiday, there is also a trick or treat. Be warned, the party is a separate ticketed event.

Any party needs delicious treats and Disney has no shortage. There are pops of Mickey wrapped up like a mummy, some kind of spidery treat covered in small black sprinkles, as well as the usual cupcakes and candy apples (which, when marshmallow ears are added, are dipped first in caramel and then chocolate, then decorated). Minnie's witch costume and the Mickey Jack-o-lantern are both apples, decorated with the respective colored sprinkles and chocolate. There is another apple that is almost dirt like. It doesn't have marshmallow ears, but is covered in crushed Oreos, drizzled with white chocolate and topped with a couple of gummy worms. Each cupcake is topped with a ghost wearing Mickey ears, or a jack-o-lantern with brown circles for ears.

Of course, pumpkin flavored everything abounds, everything from the Mickey shaped beignets (served with vanilla creme Anglaise, a custard sauce), to pie, cheesecake, and orange pumpkin flan. There is a Mickey cookie that's bat-tish somehow and an apple funnel cake (I've heard of a fried Apple burrito but if it was there before, it isn't anymore, which sucks). A piece of Haunted Mansion Cake has a rectangle of fondant made to look like the back of a deck of cards and a skillet-baked sugar cookie is topped with a dusting of powdered sugar and cinnamon-orange mulling sauce, three scoops of vanilla bean ice cream, each drizzled with caramel sauce. There is also what I like to call cotton candy corn, cotton candy colored to look like a large piece of candy corn, sold at the sidewalk vendors. Okay, enough if that, my sweet tooth is killing me.

Three attractions get Halloween makeovers. The Haunted Mansion gets its Haunted Holiday in the last week of August and first week of September. The singing busts in the graveyard become singing pumpkins singing "This is Halloween" in place of "Grim Grinning Ghosts." There really isn't much on the ride that stays the same between the original and the overlay. Every year there is a gingerbread house on the ballroom table and this year it's a towering house of cards that looks precariously built. Even Hatty (the Hatbox Ghost) gets into the holidays with a Santa hat on top of the hatbox tower beside him and his top hat has a Halloween styled "rosette" on the side, made with bones and pumpkins. Big Thunder Ranch usually would have a carnival type of thing: games and activities in that style, terrific pumpkin carving demonstration, "Billy Hill and the 'Haunted' Hillbillies," and even some magic to Conjure a Villain! Even the goats got in on the action with little Jack-o-lanterns printed bandanas tied around their necks, or little witch hats. Because Star Wars Land will be coming soon enough, and is supposed to go where the Ranch is, it likely won't be happening this year or ever again. Space Mountain becomes Space Mountain Ghost Galaxy, basically consisting of projections, music and different lighting. It changes the tone of the ride and the projections are seen as wonderfully cheesy by adults, like many Halloween films are. There are signs posted that mention some younger audiences might get scared. Cool lighting and projections are on the exterior at night and best viewed in the ride's elevated line.

Frontierland goes full "Dia de las Muertas" or "Day of the Dead," what Halloween in part comes from. The decorations are culturally authentic (Mickey gets a sugar skull makeover) and a change from all of the pumpkins. But there are still some pumpkins in the form of the Halloween Tree, modeled after Ray Bradbury's 1972 novel of the same name. Although it is often overlooked, it is still a show stealer from Main Street to Frontierland.

The "Dapper Dans" become the "Cadaver Dans," and the VIP tours are billed "Happiest Haunts Tour," referring to the tour guide as the "ghost host" and making it an adventure. The barbershop quartet goes from the early 20th century garb with straw hats to more burial type with top hats, wearing cadaver-like make up and spider webs on their clothes. They sing spookier tunes, including Mansion's "Grim Grinning Ghosts." There are also photo-ops with your favorite villains and pals. Dance parties happen throughout the park with lively music and activities for the whole family, so you can eat, drink and be (not so) scary.

Disney's new "Paint the Night Parade" will replace "Mickey's Costume Party Cavalcade" this year. The Cavalcade celebrated the fun of dressing up and had a Haunted Castle that Mickey decorated with bats, ghosts, webs, pumpkins, and skulls. "Halloween Screams" is a fireworks show hosted by Jack Skellington and featuring classic Disney villains. Flames, fireworks and music come together in this cool show only viewable during the Halloween Party. Another thing only available during the Party is "Mystical Spirits of the Blue Bayou" held, of course, at the Blue Bayou restaurant in New Orleans Square. It is a three course dinner with Dr. Facilier himself for entertainment. When dessert is finished, guests are gifted a lithograph from Disney Animator Eric Goldberg and then Ghoul Control escorts guests to a reserved part of Central Plaza for a prime viewing of "Screams." The price is $150 per person over three years of age in addition to the price of regular park and Party tickets.

There are some fun things for souvenirs. The usual Mickey-in-a-clear-balloon is now an orange Mickey with spiderwebs on the clear balloon. The popcorn tubs one can get are vampire Mickey and Zero's doghouse, with a glowing Zero, and a bucket (and cocoa mug) with artwork inspired by a 1937 Disney cartoon called "Lonesome Ghosts." A beverage stein comes looking like Snow White's poisoned apple and a plushie of Figaro in a jack-o-lantern. Ears and headbands can look like the Mickey Jack-o-lantern, other typical Halloween styles, Minnie's witch hat, or even the villains. I'm rather fond of the elegance of the Ursula headband. Pins for the Party feature candy apples, Jack-o-lanterns with and without ears, silhouette of the Castle, some with one or two characters and the year of the Party.

The event of the Party starts September 25 to Halloween itself on certain days. The holiday sells out early. Day-of price is $77, advanced sale is around $69, and annual passholder $63, or one of the other two, depending on the day.