Eating My Way Through Disneyland Food Reporters Reveal Disney Diet Lessons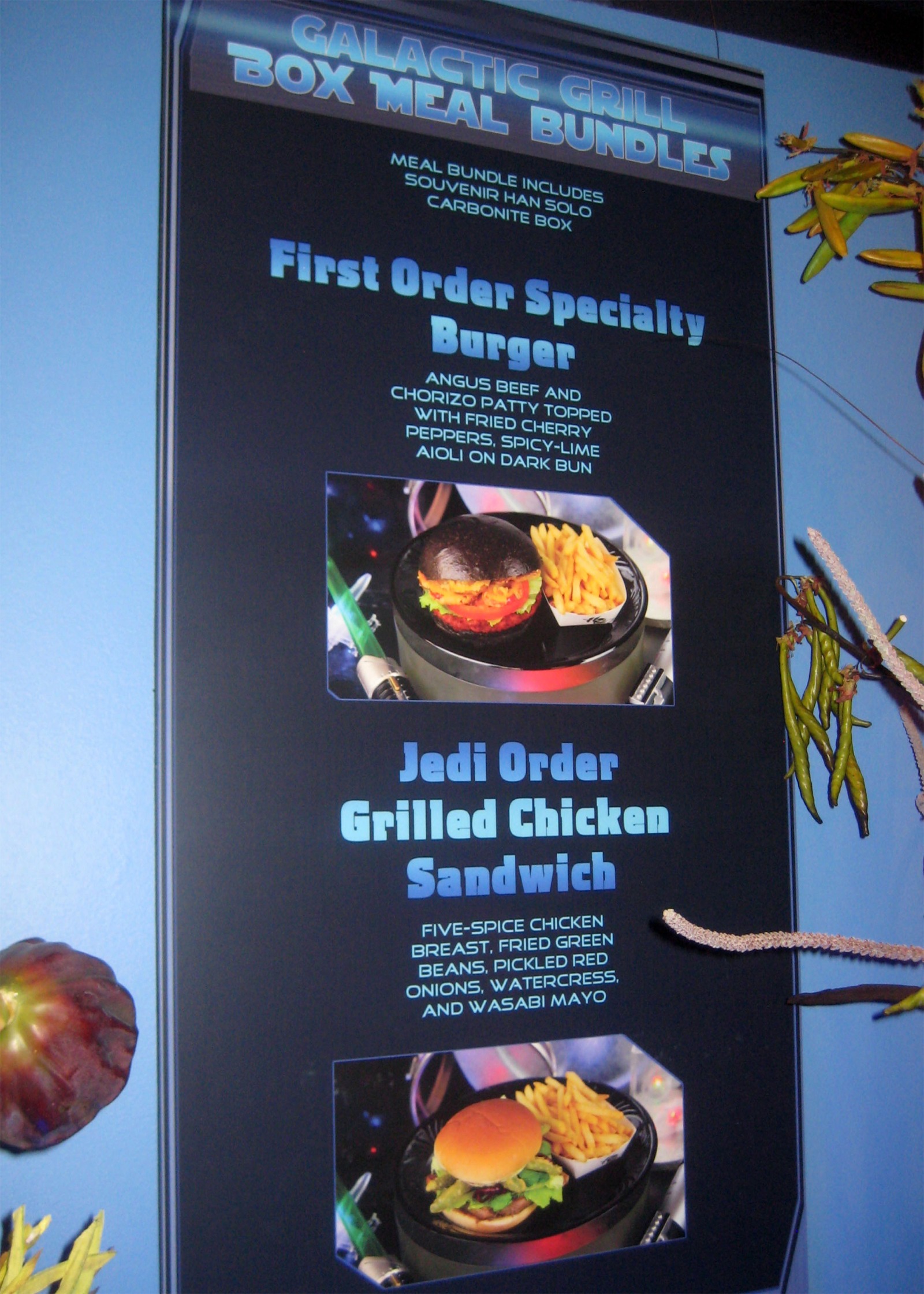 ID:
TMS-3309
Source:
Orange County Register
Author:
Nancy Luna
Dateline:
Posted:
Status:
Current
In less than two months, restaurant critic Brad A. Johnson and I embarked on a gastronomical journey through Disneyland Resort that, at times, was both gut-wrenching and palate-pleasing.

It was a plum assignment. We bought annual passes - before the prices went up! - and spent most workdays doing what we love to do: eat and evaluate.

To review 70 restaurants in six weeks, we decided to divide and conquer.

Brad tackled 20 table-service restaurants.

Me - the Fast Food Maven? Some might say I drew the short stick, tasked with dining at every quick-service restaurant, from buffets to food carts and walk-up counters.

Brad gets Carthay Circle while I get Clarabelle's in Toontown?

It couldn't be that bad, could it? My Disney bucket list did include legendary foods - the corn dog, the swirly pineapple soft serve and lots of Mickey Mouse-shaped creations.

My strategy going in: Never eat the whole thing, and graze - which doesn't take much willpower when the food is mediocre. And that was the case most of the time.

I never threw up, but I did spit out a couple foods that were too gross to swallow.

During the homestretch, I hit a wall.

With Disney California Adventure closing earlier than I had expected, I went on a half-hour binge one night. I sampled beer-battered onion rings, a chicken sandwich, a salad, a burrito and a tamale. On my way home, with the smell of combo plate leftovers wafting through my car, I grew nauseated.

My stomach cramped. I was in a full-blown digestive distress - my body's punishing reaction to the final leg of my Disneyland diet.

I made it home on autopilot. My husband sensed my green aura as I stumbled through the door.

"How's it going?" he asked.

"Not good," I told him.

I curled up in bed, chewing a mouthful of Tums. I still had six more restaurants to hit to meet deadline.

"Can I go on?" I thought to myself.

Rest and antacids revived me: I finished a few days later.

My six-week Disneyland diet included 198 meals over 105 visits to 50 restaurants.

Did I gain weight? Surprisingly not.

Did I find things I loved? Absolutely.

Was it a magical experience? Not by a long shot.

But, ultimately, it was a food journey I will never forget.

Here's a roundup of what we learned.

Brad's takeaways

1. Anybody can rent a scooter if they're too lazy to walk around the parks all day.

2. Lunch is consistently better than dinner at restaurants that serve both.

3. Thousands of parkgoers are turned away every day when they realize that they needed to make reservations several days in advance for one of the table-service restaurants.

4. The Monte Cristo at Cafe Orleans is exponentially better than the supposedly same sandwich at Blue Bayou.

5. The best Margaritas are at Tortilla Jo's and Cove Bar; avoid the horrible Margaritas at the walk-up stand at Pacific Wharf.

6. Wednesday is the best day for getting into a table-service restaurant without a reservation.

7. Restaurants in Downtown Disney are frequently booked out for private events by conventioneers, but typically on weekdays only.

8. Carnation Cafe is the only place in Disneyland where you can get malts, and they're much better than the malts at Ghirardelli or shakes at Flo's Cafe in California Adventure.

9. You can eat at the bar at Steakhouse 55 without a reservation, but they don't serve steaks at the bar, so what's the point?

10. All restaurants at Disney, even the nicest ones, desperately need deep cleaning. Tables and chairs are guaranteed to be sticky and grungy.

11. The best (cleanest and most private) restrooms inside the parks are inside Blue Bayou and Carthay Circle.

Nancy's takeaways

1. Disney doesn't do beef well. With the exception of the new First Order chorizo burger at Galactic Grill (formerly Tomorrowland Terrace), the burgers are horrible. And the buns? They dissolve under the lightest of spreads. I constantly found myself using a fork on most sandwiches. Other beef fails: the steak gumbo at Royal Street Veranda, the French Dip at French Market, the sirloin and cheddar sandwich at River Belle Terrace and the carne asada at Cocina Cucamonga.

2. Disneyland rocks entertainment and theming, compared with Disney California Adventure. However, when it comes to food, California Adventure is far superior.

3. Cast members will not question a solo adult ordering a kid's meal.

4. Never pay for bottled water. Any restaurant with a soda fountain will give you free ice water. Just ask!

5. Many of the best fast-food restaurants are nestled in odd locations.

6. Can't eat it all? Don't toss food in the trash. Most restaurants offer to-go containers.

7. I don't have a sweet tooth. But if I had to choose eating savory or sweet at Disneyland, sweet wins every time. Sugary confections are magical.

8. Most legendary Mickey-shaped foods are overrated. The Mickey pretzel, beignets and pancakes are not worthy of Walt's beloved mouse. The rare exception: the embossed Mickey Mouse waffle at Plaza Inn. But make sure you drown it with caramel banana sauce. (Brad concurs, and he doesn't mince words: "The Mickey-shaped beignet was disgusting.")

10. Disneyland appears to be shrinking. Returning to the park after a two-year passholder break, I was struck by how unbearable the crowds have become - even midweek, when it should be manageable. There's literally no room to walk, especially before and after the fireworks show. I can see why the park is putting the squeeze on passholders by raising prices. Disneyland has outgrown its space. I can't imagine what it will be like when "Star Wars" land opens.

---
MickeyMousePark.com
Contact Us
Privacy
Payment Options
Disclaimer
Email Policy
Site Map
Clear Cookie
---
Copyright: (c) 1997-2019 by
ThrillMountain Software
---
MickeyMousePark.com is not associated in any official way with the Walt Disney Company,
its subsidiaries, or its affiliates. The official Disney site is available at
disney.com
Troubleshooting Info:

BrowserBrand: IE
LocalHost: NO
BrowserOS:
BrowserServer: mickeymousepark.com
BrowserAgent:CCBot/2.0 (https://commoncrawl.org/faq/)
BrowserURL:Page=5&Ident=3309
BrowserCurrentPage: /disneyland-article.aspx
Login: 0
FilterBy: 0
SortBy: 0