Disneyland Has Stopped Offering 13 Minutes Of Tranquility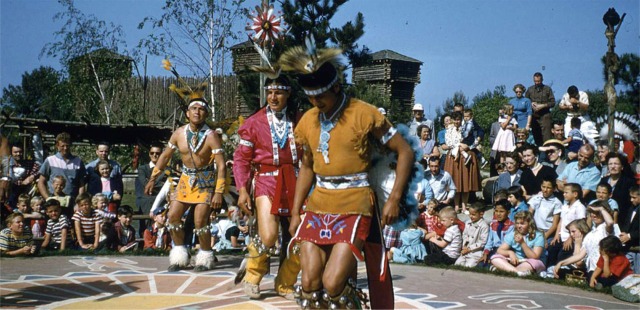 ID:
TMS-3316
Source:
Boing Boing
Author:
Richard Kaufman
Dateline:
Posted:
Status:
Current
People going to amusement parks in the post World War II boom times of the early 1950s were looking for fast, not slow; they wanted to be thrilled, not dropped into a peaceful and pastoral setting. But that's just what Walt Disney gave them in The Rivers of America. From the moment Walt Disney began to think about what would eventually become "Disneyland," he conceived of it as a park - a "themed park." Different "lands" would bring visitors into exotic or futuristic places with architecture, attractions, and rides. Adventureland took you into the jungle on a cruise through dense forests and encounters with wild animals; Fantasyland put you right into the fairy-tale films for which Disney was already famous; Tommorrowland showed what the future might hold; Frontierland pulled you into the old west, through a small town, toward an Indian Village (populated by real Native Americans back then), and eventually to an enormous ride through the wonders of the old west: Mine Train through Nature's Wonderland. All of Frontierland ran around the peripherary of the Rivers of America, a body of water wide enough for a 5/8 scale recreation of a steamboat-the first one built in America since approximately 1905. The steamboat, named "The Mark Twain," along with Main Street U.S.A., was the largest physical expression of Walt's nostalagia for an earlier, more simple lifestyle. It was his boyhood in fantasy.

Walt was a dreamer, and one of the things he wanted to do in his park was transport people to the places he remembered and romanticized from his childhood. Walt also planned wholistically; there needed to be quiet places, too. Areas where a weary guest could sit a while and feel a light breeze on a hot day. The mighty Mark Twain did just that.

In the middle of the river sits Tom Sawyer Island, a long narrow parcel of land designed by Walt as a play area for kids. The forward half of the island contained a fort (now closed), treehouse, and various play areas for kids. It's a dry dusty place filled with the imagination of children.

As you ride the Twain, there are various sights around the river, including New Orleans Square, the Davey Crockett (Indian War) canoes filled with eager guests paddling in rhythm, the rafts going back and forth between the dock and Tom Sawyer Island. As you pass the hubub of the park at the Hungry Bear restaurant, things suddenly become quiet. Animals stand still as the riverboat moves by, and a bit farther onward Indians engage in hunting, cooking, and story-telling in their village. There are deer, moose, beavers, eagles and other wildlife by the river's edge.

It is just over 13 minutes of tranquility, as anyone who's ridden it will tell you. The contrast between the atmosphere it provides and the rest of the park is immensely surprising to people the first time they ride it.

It simultaneously relaxes you, lifts your spirit, and gives your feet a much-needed rest.

That changed on January 11 when a hearty chunk of the rear portion of Disneyland was shut down so that construction could begin on the new 14-acres Star Wars themed area. The exact location of this 14 acres shifted from east to west and back during design (were they going to take out ToonTown?). It was eventually decided that the rear half of Tom Sawyer Island would be removed (most of it had long been inaccessible to guests anyway) and the route of the Rivers of America rerouted - and reduced - by as much as 33 percent, reducing the length of the ride from just over 13 minutes to about eight. It may not sound like a lot, but it will, if proven true, lop off a good deal of your "tranquility-time." The Disneyland Railroad is also being rerouted to run on trestles along the new edge of the river.

Walt Disney viewed his park as something ever changing, ever growing, ever being "plussed," renewed, and revived. He was restless, and the many changes and additions he made to Disneyland during the 10 years he lived are a testament to that. Whether devoting 14 acres, a "land," to a single piece of intellectual property is a good idea - it's never been done by The Walt Disney Company before - is a terrific idea is something we'll have to wait until 2019 to see. In about 18 months the walls surrounding the Rivers of America will come down and the new Rivers of America will either disappoint or enthrall (Disney is hoping for the later, and released the piece of concept art above to placate concerned fans).