Disneyland And Imagineering Part 7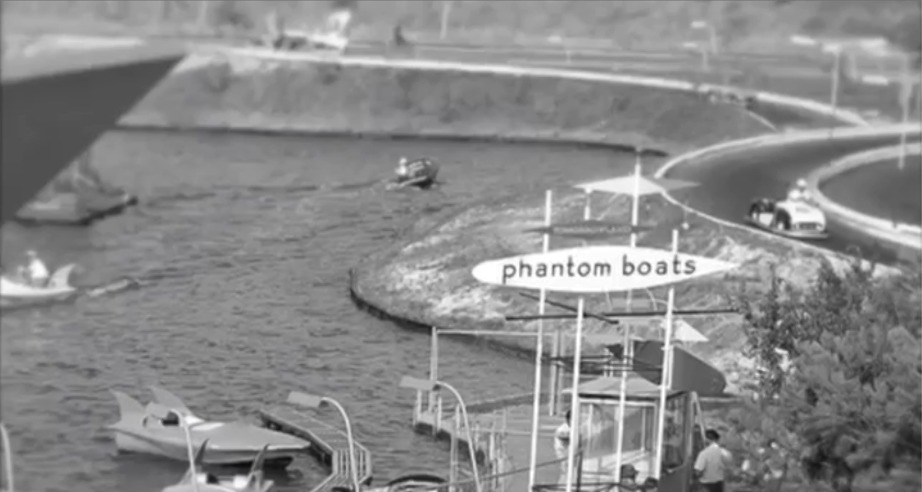 ID:
TMS-3377
Source:
MickeyMousePark.com
Author:
Dateline:
Posted:
Status:
Current
The Land that Never Was

One of the themes that Disney toyed with was the birth of the nation, continuing on through the Colonial Era, following inventors and political figures that shaped our country. Officially, it wouldn't be referred to as a land per se, the same as Main Street USA, New Orleans Square and Toontown. Actually the proposed idea was a combination of two areas, the first being Liberty Street, which, was an "L" shaped street, and would run parallel directly behind the East side of Main Street. It would veer sharply to the right and dead end in a small square. Liberty Street could be accessed by traveling around the East side of Town Square, making a sharp right at the end of the row of buildings where The Main Street Opera House is located, and then a quick left. Now, it is a staging area for parades, cast members and characters, temporary storage of currently used props and access routes behind Tomorrowland. The second area would be Edison Square. Guests would access this area by traveling down the East side of Main Street, making a sharp right at the end of the second block. Passing the Pablum Baby Station on the right, and the Red Swift Wagon on the left, guests would enter a cul-de-sac. Obviously, Edison Cul-de-Sac didn't make a lot of sense. Getting back to Liberty Street, on the East side of the street the proposed ideas were a miniature of the US Capitol and Colonial Shoppes. At the end of the street was a storefront called Griffin's Wharf, where there would possibly be an access way to Edison Square. Turning to the right in the square would be exhibits focused on life before electricity and contributions that Thomas Edison made. Following around the square counter-clock wise, was a proposed attraction titled The Hall of Presidents. This attraction was actually unveiled in Walt Disney World on October 1, 1971. When Disney first had this attraction conceptualized, he wanted the characters to be sculpted in wax. He was already thinking about robotic characters that would ultimately become Audio-Animatronics. But at that time, technology hadn't caught up with Disney's ideas. Continuing around the square would be a diorama involving the Declaration of Independence, followed by the Boston Observer Print Shop and Paul Revere's Silver Shoppe. In the center of the square would be The Liberty Tree. Moving over to Edison Square, traveling around counter-clock wise again, the first exhibit would be a representation of life before electricity was harnessed, followed by the advent of life and the introduction of electricity in the home. Continuing on, the next area would focus on contemporary living, concluding with an area that would look into the electronic age. Ultimately, the concept for these areas were shelved for a number of reasons, most being financial, until ten years later when they were revised and became what is now known as Liberty Square in Walt Disney World.

Gurr shifts into High Gear

When we last left off, we had just met Robert "Bob" Gurr, the Imagineer responsible for populating Main Street USA with its turn of the century vehicles. Actually, he would be responsible for most of the vehicles in the park and more importantly designing the ride systems inside many of the attractions. Gurr, like Disney, thought of the future in terms of his designs. It was only a matter of time, a very short time, that these two minds would intersect, in a very significant way. Because of the timing of Gurr signing on and the impending opening just around the corner, he went to work immediately. He was happy being immersed in what he loved. Gurr specialized in automobile design leaning towards a more aerodynamic look. Disney loved trains, but more broadly, he was interested in all types of transportation. If you look around the park, it is evident as there are many transportation-themed attractions, ground, water and air. Gurr's continuous endeavors for the next five years, would have a direct impact on the design of two major lands and make an even bigger contribution, not just for future projects, but to help bring to fruition an idea that Disney hoped to give to the world.

"Tomorrow, and Tomorrow, and Tomorrow"

It's a funny thought, my son had just recently finished a stint in a high school production of Macbeth. When Macbeth is reciting his soliloquy, in the closing scenes, I was thinking, I wonder if Disney lamented about his all important themed area, that is Tomorrowland.

Tomorrowland was very significant in the sense that, Disney had conquered a lot. He would use his memories of childhood growing up in Marceline, to help create the entrance to Disneyland. Authors like Mark Twain and characters like Tom Sawyer, Davy Crockett and his True-Life Adventures, helped him fill in Frontierland and Adventureland. Characters from the film library, would take up residence in Fantasyland. But Tomorrowland, posed a difficult dilemma. As far as the Disneyland Project as a whole, it was the last land to be completed. Disney spent a lot of time thinking about the future, the future of his company, the world and the future of space exploration, the latter being the primary theme of Tomorrowland. But there was another issue .Money. A lot had been invested to get this far and this close, but funds were becoming a serious issue. Actually it had been considered long before this; there was an option, and it was one Disney wasn't entirely unfamiliar with sponsorship. When the main designers were looking at cost analysis, this idea was brought up for consideration. What the balance sheet showed was that everything they had planned would not be able to be completed. It was becoming evident that it would be difficult in any scenario, to have everything funded and completed by opening day. With all that the company and Disney personally had committed to the project, ultimately this forecast was correct. Disney was close, but in order to continue, he would have to make some compromises before the gates opened.

So it would become a matter of using ingenuity instead of dollars. Disney was a businessman, and a good businessman draws a profit from his work. But he wasn't seeing dollar signs, he was seeing ideas. So, early on, when Marvin Davis was creating the layout for the park, Disney reasoned that, if needed he could use sponsorship capital to fund some of the exhibits and attractions, in return they could add their company logo to the attraction signage. Additionally they would negotiate how to display their products depending of the design and tone of each attraction. Usually it was some combination of static displays, live or taped narration at the conclusion of the attraction. Sponsors want something for their investment, this wasn't charity and Disney knew it. His concern was to make sure that the sponsors products blended well with each attraction. Word was spreading, so it wouldn't be for lack of availability. Companies were already lining up when word broke that the company was entertaining bringing in sponsors.

First Today, Then Tomorrow

One of the issues about creating a future world in Tomorrowland, was that space exploration was still in it's early infancy, so what could he create in the way of attractions? Exhibits wouldn't work as a primary "anchor" for Tomorrowland. In order to justify its' name, there would have to be attractions that were relevant and most importantly, physically exciting. This would be the one land where the attractions would have to be continuously updated or replaced. Source material was limited. As a jumping off point, he decided to look at where we were as a culture in terms of engineering advancements. He asked himself, what was the single most significant achievement that had an impact on American way of life in the Twentieth Century? That was where Bob Gurr came in. Because transportation was a recurring theme in Disney's grand plan, what better place to start than the present. Americans have always been fascinated by the automobile. It was slowly becoming a part of the majority of American families' lifestyle. All ages were familiar with this technological achievement. As kids, all different types of toy cars, were common as gifts. Probably the single most important criteria for having some kind of automobile attraction, was influenced by a very particular age group, that is, kids learning to drive. I remember, I must have been ten maybe. Sitting on my dad's lap trying to steer and see over the dashboard. For those of us from that generation remember no power steering or brakes.

Air conditioning?

Yeah, right.

My dad owned a cream colored Oldsmobile F-88. I added the "flower power" sticker on the trunk top. He taught me how to shift the manual transmission with the shifter on the column, which, is a "basic H". This had to be the hardest of all manual shifters to learn. But it prepared me for my teen years , when I fell in love with building what were then termed muscle cars and car clubs were becoming very popular. Although Disneyland was a family park, kids would determine if an attraction like Autopia would be successful. It was keyed into the fact that almost every kid at some point becomes fascinated by the automobile and the desire to learn how to drive.

With Gurr on board, and his background in automotive design, he was the natural choice to design the first and subsequent series of Autopia cars. Updated versions were built for periodic renovations that would all become the Autopia attraction, which in its different incarnations over the years, it's more like the Autopia family. At one time there were four different versions running at the same time. The ride itself would evolve several times through its' ongoing history and is the one attraction that has been in operation since the park opened, and the one that has had more design changes and versions. Looking back it's interesting that before the park opened, no one, not even Disney expected it to be the hit that it became. A second Autopia was added in Fantasyland shortly after the opening, as a result of the original being such a success. A social comment on our society and our fascination with the automobile. To help defray the attraction's cost, Disney partnered with Atlantic Richfield, who, coincidentally were looking to promote their newest product, Richfield Ethyl. They launched an aggressive campaign for the opening, announcing that they were the "gasoline of Disneyland". At a large number of their gas stations, they offered maps with strategic information on the easiest way to get to the park They also advertised an on-site gas station located at the soon to be built Disneyland Hotel.

Meanwhile, back in the park, Gurr was working on the Autopia car design. The focus of the attraction was to create an environment where kids could drive an "automobile" much like in everyday life. In the mid-fifties, automobiles were considered a luxury to some. Consequently, this was an opportunity to key into guests' desire to experience something new. Gurr focused on the cars. For opening day he created a fleet of forty miniature Ferrari-styled automobiles. He fashioned one with special accessories as a "show car" for Disney himself, as well as two that were designed to resemble police cars. Meanwhile, the Imagineers, working from Davis' designs, created the attraction layout complete with turns, hills, a cloverleaf, bridges, and some new, but very sparsely planted foliage courtesy of Bill Evans.

Gurr and Evans weren't the only ones working on Autopia. Projects were a team effort and at any given time, artists would come on board at Disney's behest to assist. Automobiles, being first and foremost a machine, they would need an experienced machinist to coordinate with Gurr to maintain the engines and keep them running upwards of twelve hours a day. Our next Imagineer started for Walt Disney Studios, as a machinist that specialized in creating much of the filming equipment used to create many of the classic Disney films.

"As the twig is bent, so inclined is the tree"

Roger Broggie was an integral part of the Disneyland Project, although he had been employed by the film studio for many years before moving over to the park. He holds the distinction being one of the first, original Imagineers. As a specialized Design Engineer, he had the unique ability to come up with innovative ideas regarding rapidly evolving filming techniques. It would require the creation of a variety of film and animation equipment and sound blimps, which were used to suppress the mechanical noise from the camera. In 1937, William Garity created the multiplane camera system, but it was Broggie who installed and maintained the system and much more. The significance of this particular animation process allowed more flexibility with respect to the finished product appearing more dimensional. Although he did not design that particular system, he did design and build a large bulk of what was required to create the Disney library, oftentimes from the ground up. Prior to being hired by Disney, he worked for Western Electric, apprenticing and although he was originally from Massachusetts, he relocated to Southern California. Because of his established position and his reputation for delivering, he just like many others from the studio, moved over to the park. One of his first projects would be working with Gurr to build and then maintain the Autopia fleet, which proved to be a full time job. The construction of the Autopia queue was simple in design, primarily steel supports and sheet metal awnings. Pseudo futuristic blue and yellow light poles overstretched the track layout, while multi-colored pennants adorned the grounds. Originally, the track did not contain any railing or centre curbing for car control, which, gave the first generation quite a bit of latitude. The opening day version was located along the East wall of the park.

It is very important to note that separate from everything else he contributed or created, Broggie had always been a mainstay, Disney's "engineer" with regard to his railroad, both at home and in the park. He was serious on the job, quiet, very focused, but was able to step away and socialize as long as the work came first. Just as significant and impressive is that, all told, eight members of the Broggie family and three generations have worked for the Disney company. In fact two of Roger's sons assisted in "road testing" the cars to make sure they were "kid proof" which, they have said was great fun. But for Roger Sr, just as he had done ground breaking work for the film department, the doors at the park were about to open up and in just a few short years, he too like many Imagineers was going to "plus" the park and the entire theme park industry. So stay tuned

Is there a Reynolds in the House?

Although aluminum wasn't directly used in the construction of Autopia, outside of the park, it was becoming popular in both engineering and construction due to its' low density. It was useful in the home in the form of kitchen utensils because of its' resilience properties. Because this "new age metal" was garnering a lot of attention, it ended up being an attraction in the park exclusively to itself. Continuing on conceptually with creating attractions and exhibits based on current technological advancements, Kaiser Aluminum, like Atlantic Richfield, signed on as a contributor. The company contracted with Disney to create a fairly comprehensive educational exhibit/attraction or "edutraction," the Kaiser Aluminum Hall of Fame. It was designed as a walkthrough exhibit that covered the history and process whereby aluminum is manufactured, and like the Intimate Apparel Shop, it had a rather odd product mascot, the Kaiser Aluminum Pig or KAP. An interesting piece of trivia, was that part of the exhibit included a forty foot microscope. Jump ahead about ten years to almost the exact same location and a newly sponsored exhibit by Monsanto, Adventure thru Inner Space. It featured a similar microscope in the queue/loading area that was a part of the "miniaturization" process as the guests would "shrink" and then return to normal size.

Heigh Ho, Heigh Ho, A Boating we will Go

There was another attraction being installed in Tomorrowland than was an extension of the "behind the wheel" experience, and thus Disney's transportation theme. If not cars, why not boats? So, in the approximate future location of the Submarine Voyage and adjacent to the Tomorrowland Autopia, a lagoon was created. The design of the lagoon was fairly crude, in that there was no permanent containment for the water. It was simply excavated and grated. Several small islands were towards the center of the lagoon. Very little specific greenery was added to this area, and that to me is why it seemed to me to appear as just a small lake rather than a lagoon. It was pretty plain as design goes. It did not have Evan's artistic input, but there was plant life and remaining vegetation that had been spared from the original excavation. This is an example of where what was there was used, focusing resources in more strategic areas to effect cost control. Boarding the attraction, guests could navigate around the length of the lagoon at their leisure as this attraction also did not contain a controlled track path. Originally called appropriately enough, the Tomorrowland Boats, curiously they became christened with a more spooky moniker, Phantom Boats. Which is interesting, because in researching, my first impression seeing them, I immediately thought of the waterborne 1960s incarnation of the Batmobile, the Batboat, which they seemed more akin to. Beyond this area, was undeveloped land.

As more and more artists joined the Disneyland Project, they would become more integrated, that is, they would intersect with greater frequency on new and existing projects, each adding their talents. Being a historian, one of my favorite parts of researching is noting that as the park grew and more time went by, more and more artists would join larger groups of artists inputing on each individual project. By doing that, the attractions improved rapidly in both technology and scope. Next time, I will be introducing several new Imagineers, and should just about finish taking a preview look at Tomorrowland. Opening day is just around the corner!