Disneyland And Imagineering Part 8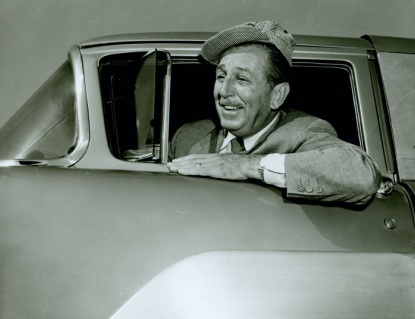 ID:
TMS-3407
Source:
MickeyMousePark.com
Author:
Dateline:
Posted:
Status:
Current
Picture this

You're an artistic designer;

You're scheduled to attend a design meeting for a project you drew the design that "greenlighted" the project you're currently working on;

Deadlines are rapidly approaching;

And in walks your boss

He looks concerned -- something between worried and extremely serious;

He opens the meeting and begins talking about a specific part of the project;

He is very articulate, he explains what his concerns are and it is obvious that he is looking for an-swers, more specifically, solutions;

You know that what he's discussing is something that is critical to his vision and without it, would be a significant failure to the project and him personally;

He talks about how happy he is so far, but what's left unfinished is his biggest concern;

You get the feeling that all the while he's talking, he's scanning the room and more often than not, his eyes stop on you;

He focuses on specifics, of what has to be done, most of the time looking in your direction;

Who are you?

Our next Imagineer

The Gateway Conundrum

In part six, I mentioned that the entrance to Disneyland was more than just an access way, but rather a gateway to another time. Using Davis' hub concept, and standing just beyond the end of Main Street where the Partners statue is now located, he wanted guests, as they looked to each land, to see a dimensional representation at the entrance to each one. In a 1954 layout sketch that Davis created, the Tomorrowland title was originally going to be World of Tomorrow. With the three other themed areas being suffixed with land, that had bearing on the name change. For the entrance to his future world, Disney wanted something that stood out, something that would entice guests and draw them in. For Fantasyland, it was Sleeping Beauty's Castle; Frontierland, it was Fort Wilderness; and beyond that, the Mark Twain. Adventureland had the arched gateway with the white tusks at the very top and tropical props adorning it, with the Jungle Cruise just off to the left. During the development phase, he had several ideas for the Tomorrowland entrance, and relied on the artists to conceptualize his ideas into concept renderings.

Herbie Saves the Day

Disney movie references aside, I believe in a very real sense at one very specific moment in time, Herbert "Herbie" Ryman, did just that. "Herb" or "Herbie" worked for the company many years before The Disneyland Project. During Hollywood's Golden Age, Ryman was employed by the studio powerhouse, MGM. He started as an illustrator in the art department and became a key designer for the studio during some of the studio's best years. In some aspects, he wasn't considered just a key designer, but rather exclusive. But, he didn't flaunt his abilities; he was just very polite and soft spoken and was simply the best at what he did. He had vision and a strong desire to add to his experience. His resume includes Mutiny on the Bounty, A Tale of Two Cities, David Copperfield, The Wizard of Oz, The Barrets of Wimpole Street and Anna Karenina. This is just a short list of a much larger body of work. Designing for the production of The Good Earth greatly piqued his interest to visit the Far East, which he felt it was time to make good on. After working for MGM and then returning from a two year trip touring the Orient, Ryman, at the request of Disney himself, joined Walt Disney Studios. While working in the film department, he illustrated for The Three Caballeros, Dumbo and Fantasia.

It became apparent researching Ryman's life that he was willing to explore the world. He believed that life was meant to be experienced and for him, that meant traveling. He could literally pick and choose who to work for, but wasn't much for the confines of the studio. To him, although he loved working for both MGM and Disney, at times he felt limited or held back. He had worked for Disney for almost ten years, but was never under formal contract with Disney, which would be unheard of now. Since he wasn't legally bound, he wouldn't be in breach if he left. When Twentieth Century Fox announced that they would be going into pre-production for Anna and the King of Siam, he saw an opportunity to return to the East. He had become acquainted with the Royal Family on previous travels, so this just sweetened the pot. He parted on good terms and moved over to Fox to begin pre-production. But on September 23, 1953, Ryman would receive a phone call from a frantic Disney that would, in turn, lead to the creation of an image that literally put all of what Disney was trying to do into motion.

Herb Ryman, along with several other park planners, arrived early at the studio on a Saturday morn-ing in late September. Walt explained that he and his brother, Roy, were making plans to present The Disneyland Project to financial backers in New York. An already skeptical Roy was to take artistic designs to illustrate what his brother was talking about. There was just one problem. No such picture or sketch existed. It was all in Disney's head. Based on Davis' preliminary work, as well as input from several other key artists, Disney wanted Ryman to immediately start on a sketched aerial layout. Very hesitantly, Herb agreed, so long as Disney himself was present. So, on a late September weekend, Disney spoke while Ryman sketched. The result of that "lost weekend," as some referred to it, was a large carbon sketch rendering with some very basic color splashes. Finally, Walt Disney had a conceptual design of what he had been dreaming about, but needed to articulate. But there was nothing "lost" on Ryman about the result of his work from that weekend. He felt that the sketch wouldn't "sell" the project, because there wasn't enough detail; it was too simplistic for such an expensive commitment. But Disney's intuitiveness in picking the right people to represent his ideas had paid off. As a result, Roy was able to secure financing. It's hard to imagine what would have transpired if Herb Ryman hadn't produced the layout Walt so desperately needed. Would Disneyland resemble anything like what it became, if at all? Ryman is a good example of how Imagineers lent themselves anywhere and everywhere. While working for the company, there aren't many areas that he didn't create concept sketches and paintings for. Collectively, they total in the hundreds. These include Main Street USA, Jungle Cruise, New Orleans Square, and for the opening, the Tomorrowland Gateway. When interviewed about the latter, he again felt uneasy; a rather daunting task visualizing the symbol of the future. He was well aware of how important this land was, what it represented to Disney and his vision. Like the other lands, it needed a gateway. During preproduction, ideas for the entrance varied in both shape and scope. One vision for the future entrance was a monorail themed concept. The monorail had already been on the drawing boards in the first half of the 50s, and would appear in the park in late June of 1957 as the Viewliner, a precursor to the currently operating monorail. I will come back to this attraction as we move through the evolution of the early years in the park.

Meanwhile, Walt asked Ryman to come up with an appropriate representation for the Tomorrowland entrance. Everyone involved was nervous because with Walt, the unwritten rule was you didn't tell him it couldn't be done. In turn he expected everyone to push the limits of their imagination, but if he didn't like a design or idea, he wouldn't use it to belittle anyone. He would say, "you know, that's good, but let's change this and see what it looks like," or "let's take it in this direction." He never wanted his artists to quit on anything, until they had a success. George Pal, the skilled European stop-motion animator, who created the Puppetoons, had a very similar demeanor with his artists. Walt and company made several trips to Europe, looking for images and ideas for several attractions, so it was no surprise that the two became fast friends. In fact, as a side note, in an interview with Roy E. Disney he related that Disney and Pal had a rare unwritten agreement. The agreement was that when it came time to produce 20,000 Leagues under the Sea, that if one wasn't ready to go ahead with the project, and the other was, he, being Disney could go ahead and complete the project with the others' blessing.

Back in Tomorrowland, when the concepts were narrowed, Walt pressed for a futuristic fountain cre-ated out of flowing water and dimensional representations of molecules moving through it. When I look at the concept sketches, it is very similar to some of the renderings for the subsequent attraction, Adventures thru Inner Space, that opened in August of 1967. As I described in part seven, the dilemma over how to populateTomorrowland, and the lack of funds, had finally reached critical mass. At one point, it was decided to cease construction on that section and postpone completion until later in the year. Instead, Walt resolved to make the best of it and instructed his Imagineers to complete what had been approved; he wanted the entire park opened. At any rate, they were out of time, which is ironic, because that was what the Imagineers created for the gateway.

Does anybody really know what time it is?

As Disney regrouped his Tomorrowland team, Ryman focused on a new gateway concept. The Imagineers moved forward, working on installing several exhibits supported by sponsors. Tomorrowland would, in fact, be "ready" for the opening. Meanwhile, Ryman was conferring with Disney on his renderings for the gateway. What was finally approved by Disney, became the World Clock and the Flags of the States. The clock was centered at the entrance with a large flower bed surrounding it. Adorning the sidewalk at the courtyard entrance were the Flags of the States. Forty-eight states, that is. The clock was an intricate chronograph that guests could see what the exact time was anywhere on the planet. In design it resembled two large dixie cups, the bottom part being slightly wider and shorter than the top section and inverted. The top section was centered on top of the base, right side up. The color scheme for the clock was a very faint blue and purple mix, fading from one to the other with a simple abstract pattern for the bottom. When I studied the images, my thought was that it resembled the sky at daylight or dusk. Wrapped around the upper section was a light gold world map on a grey-based background. The map was marked with longitudinal lines with the hours in military time on a white background that also wrapped around the top portion of the map. Atop the clock was a stylized crescent-shaped man in the moon attached to a hollowed-out half-section representation of a gold colored satellite. Attached to the map was a black sphere that would display the minutes in a cut-out window. What's interesting is that in 1998 the AstroOribitor was introduced, close to where the World Clock stood. With its' kinetic movement, this concept was part of the original atom and water fountain concept that Walt had way back in the beginnings.

"We'll be right back after a message from our Sponsors"

Just as Disney had laid out a contingency plan utilizing corporate sponsorship, those plans had been moving ahead for the most part in Tomorrowland. The frontmost building structures on the right and left, beyond the gateway, were similar in design with a circular building and a square building offset ninety degrees on either side of the center structure. On the immediate left in the first structure was America the Beautiful sponsored by Bell Telephone System. The attraction was a 360 degree motion picture experience where the audience enters through the queue and then into a circular viewing area. Attached to the wall and wrapping around the entire room was a large screen that entirely surrounded the audience. Upon closer inspection, the filmed narration of a tour of the country was viewed by having each projector projecting its' image on the screen across the room on the opposite wall. This setup continued around the room in the same manner. The film itself was achieved by creating a camera rig that held eleven cameras filming simultaneously. For the opening the film used the title, "A Tour of the West," but the most famous and the most popular was "America the Beautiful," which premiered in 1960, narrated by Jack Wagner. Nothing like this had ever been attempted. Roger Broggie, who's specialty was researching and building specialized film equipment, was experimenting filming with three cameras to create a panoramic experience. While working on this project, he was still dividing his time with Gurr on Autopia. This is a good example where Disney, seeing something that he liked, wanted his artists to go even further. He liked the CinemaScope panoramic perspective, but to him, it was not really pushing the envelope far enough. He queried Broggie, about surrounding the audience in a filmed experience. Broggie knew it was possible, so that was all he had to tell him. He continued working on the design until he assembled the eleven Cine Special cameras required to create the desired effect, which was a true sensory experience. The film process was dubbed Circarama and several years later, CircleVision 360. Like many attractions, they were upgraded; this one, before the end of 1955. Broggie refined the filming process, reducing the cameras to nine, and improving the projection quality. Adjacent to Circarama in the center building was Space Station X-1. This attraction was a high altitude satellite view, panning across the United States. Before the end of the year, it would be retitled Satellite View of America. In the adjacent building was another Atlantic Richfield contribution, The World Beneath Us. It focused on the creation of the earth from a geological standpoint and involved several dioramas depicting the geological layout of Los Angeles. In addition to the dioramas and physical layout of the local area, the free attraction also showed a short film produced by the Walt Disney Studios that covered the different eras during the creation of the earth. Underneath the dimensional Los Angeles layout was a large mechanical arm used to simulate the effect of plate tectonics creating simulated earthquakes. Although this was yet another sponsorship "filler" it became very popular with a good, regular, draw of guests. Kids loved the effects, while parents were probably wondering what the actual likelihood was of the exhibit becoming a pretty good predictor of the future Los Angeles Valley.

Across the corridor Disney filled yet another area with an exhibit that, when looked at from the proper perspective, was a vision of the future courtesy of a well known writer and futurist. Disney's film version of 20,000 Leagues under the Sea, from the Jules Verne novel, was a big hit the prior year. Although the book didn't look upward but, once again, like The World Beneath Us, looked downward, this time acknowledging the sea as liquid space. A very clever and good fit for the opening utilizing both familiarity and already existing props from the movie to address cost control. Like the movie, it drew well as walk-through exhibits go. Guests never had a venue outside of the studio itself to see a collection of sets and props from a current major successful film. With the attention to detail by many of Disney's most skilled artists including Harper Goff, Roger Broggie, Robert Mattey and Peter Ellenshaw, this only added to the exhibits' drawing power.

It's A Small World

A lot of artists for Disney were familiar with each other in one arena or another. Some met at artistic institutes, others worked at other studios before migrating over to Disney. Ub Iwerks worked for Dis-ney as an animator since the very beginnings. Our next Imagineer was friends with one of his sons. Cross referencing him with another artist, while he was a student at the Chouinard Institute, Herb Ryman was displaying his artwork there. Feel like you need a map to keep them all straight? That's okay, because that's something this next artist specialized in.

Disney's Boy Wonder

I say this because when I look at pictures of Sam "Sammy" McKim, he's just one of those people who never seemed to age and maintained his boyish looks for many, many years. All-American freckle- faced kid, always smiling and it was genuine, which served him well, because he didn't originally start out as an artist, but a very proficient child actor. During his years in front of the camera he worked with such notable stars as Hoot Gibson, Gene Autry, John Wayne, Maureen O'Hara, and Tyrone Power. He was well-mannered and had an impressive reputation for always knowing his lines. Early on he was already developing his artistic skills and signed with Republic Studios as a contract player. During his down time he loved to sketch and became proficient at caricatures. Even with his professionalism in his film work and self-deprecating manner, he was still impressed enough by the stars he worked with to draw their caricatures to have them autograph. When he worked with James Cagney, who also liked to sketch, they would spend their production breaks sketching together. He was the first of five brothers and sisters to become involved in film work. He survived the hazards of child stardom and continued taking small film parts in assorted B-Westerns, while attempting to enlist in the armed services in the early 1940s. Because he was originally from Vancouver, he would have to become naturalized before enlistment. So, in 1943, he and his brother, achieving American citizenship, enlisted in the United States Army. When he returned, he attended the Art Center College of Design and continued acting. He returned to active duty in the army to serve during the Korean War. He was decorated several times before returning to the states. He enrolled at the Chouinard Institute, which I mentioned happened to be the same venue at which Herb Ryman was displaying his art work. Researching, I found that many of the Imagineers attended either the Art Center or the Institute, or had some connection to it. I've also found in researching Sam McKim interviews that he always enjoyed telling the story of when he decided to become an artist. He often referred to it as a "turning point" in his life, always amused that with an opportunity to work on an upcoming film with several major stars, he opted to bow out of acting altogether to become a sketch and paint artist. And he always bookended that story by saying he never regretted it and never looked back.

In the introduction of part seven I talked about the proposed areas: Edison Square and Liberty Street. This was one of the areas that McKim conceptualized. He also designed a great many of the store-fronts and shops for Main Street as well as The Golden Horseshoe Revue over in Frontierland. If there is one contribution that he is best known for, that would be cartographer. Maps are a big part of Disneyland. If you've never been there, it's a daunting task finding your way around. So, the hand- held maps came into existence almost immediately. There were also the maps of Frontierland and Tom Sawyer Island. However, the most sought after are the oversized maps created by McKim. As a guest, there are hundreds of items to choose from as mementos or collectables. As a historian and a collector, there's something about being able to study the different versions and changes, or "patch-es," that have been made over the years. Not to mention that although McKim's style was consistent, sometimes the format changed. For example, one of my favorite versions is the 1968 and 1972 ver-sions that have a lot of the scenes from inside the attractions labeled as well as the attractions them-selves. The incredible amount of detail that goes into these "treasure maps" is a tribute to his skill as an artist.

With the Imagineers there is an obvious, common thread -- an innate creative sense, whether it be artistic or mechanical. Included in this profile is a self-motivating drive to focus, become single-minded to achieve what they see in their heads. The Imagineering philosophy is a collection of man-tras that are based on the philosophy of limitless possibilities, not restrictive boundaries; "nothing is impossible" and "the only limitations are the ones you put on yourself" would both qualify. Just like the cinematic character from a galaxy far, far, away said, "Only do, there is no try."

Although many of Disney's creations are from an origin of fantasy, with Tomorrrowland, he wanted it based on scientific fact -- not fiction. He was close. Choosing the 20,000 Leagues exhibit was a wise choice. When you follow the story of Captain Nemo and the Nautilus, it was a submarine powered by batteries recharged continuously utilizing a combination of mercury and sodium, the latter being replenished by the salt from the oceans. Jump ahead to the advent of harnessing nuclear power and desalinization plants; we can see that these are forms of continuous energy and renewable resources -- ideas decades before they were coming into being. An unofficial, updated version of the Verne classic suggests that the Nautilus was nuclear powered. In the final part exploring pre-opening Tomorrowland, we will meet two of the men that made significant contributions to Disney's future land, both in form and function, creating it's one attraction that truly set its sights on the heavens.