How Trader Sam Enchanted Tiki Bar Makes Magic By Bringing Disney Tiki Culture And Booze Together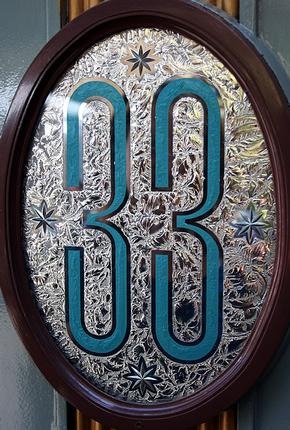 ID:
TMS-3439
Source:
uproxx.com
Author:
Ariel Woodruff
Dateline:
Posted:
Status:
Current
I first visited Disneyland's Enchanted Tiki Room when I was 6 years old. The catchy songs, the magical, leaping fountains, the singing flowers, the drumming idols, the bursts of fire; one visit was all it took to have me hooked. The tiki room was a must-visit for every trip. I had to wait a significant amount of time to taste my first Mai Tai, and a few years later to taste my first real Mai Tai, but after I did, I knew I loved tiki culture, and I began to explore it in earnest. I visited bars across the nation - sipping exotic cocktails, relaxing to the hypnotic strains of exotica, and, in the back of my mind, always thinking, the Enchanted Tiki Room would be an amazing place to serve cocktails (were it not for Disneyland"s dry campus policy, excepting Club 33).

How does that saying go: When you wish upon a bar, dreams do come true? Five years ago, Disneyland Hotel opened Trader Sam's Enchanted Tiki Bar. It didn't take long for this little piece of pop-Polynesian paradise to become a classic. Just like the Enchanted Tiki Room, it's a must-visit for me on every Disneyland trip, and if it's not for you yet, it will be. I had the opportunity to speak with one of Trader Sam's lead bartenders, Kelly Merrell, about why this bar is a must-visit.

For me, the Enchanted Tiki Room is what started my obsession with tiki culture, so when Trader Sam's Enchanted Tiki Bar opened, it was my dream bar. What is it like to be part of Trader Sam's? How does it fit into tiki culture?

I think that a lot of people's obsession with tiki - and not even just tiki drinks, but tiki itself - started with just that. Walt was huge into tiki, and being here in southern California, we were kind of the birthplace, the epicenter of tiki culture. Walt was going right along with that. I think that everyone growing up with the tiki room kind of felt the same way.

I started getting into tiki culture a couple years before Trader Sam's opened. It just fell in line with my love of midcentury aesthetics and cocktails and whatnot. I was actually already working here at the Disneyland Hotel and it was just my dumb luck that there was a tiki bar opening where I already worked! I made sure I was a part of that; I couldn't wait.

The way that Trader Sam's has been running, and the way that it was built - between Walt Disney Imagineering and the food and beverage team - it is, in my opinion, a perfect meld between the sentimentality we have for the tiki room and actual tiki culture. We have thrown together the perfect mix of family between historic tiki culture and Disney magic. There's the things that make a tiki bar a real tiki bar: beachcomber aesthetic, everything looks very thrown-together and a little shabby, but on purpose. But there's also the sense of magic. Even Don the Beachcomber, he had his place back in the 1930s, he had fake waterfalls, he had fake rainfall.

Here at Trader Sam's, we've got our volcanoes, and we've got our storms. But of course, being Disney, we take that a step further. In that sense, it all melds together, very, very perfectly, and it's pretty special to be a part of.