Hunny In The Briar Patch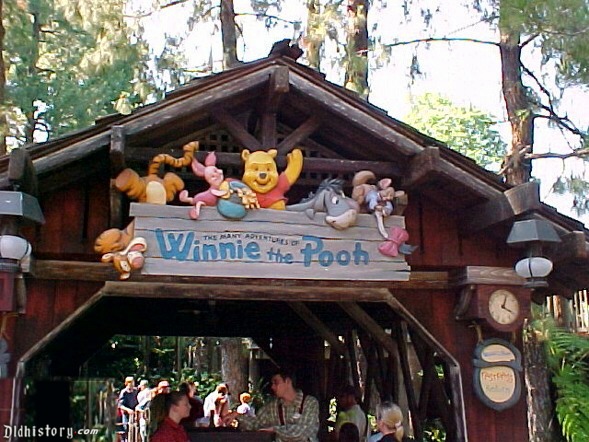 ID:
TMS-3496
Source:
MickeyMousePark.com
Author:
Dateline:
Posted:
Status:
Current
"Critter Country" was originally called the "Indian Village." Until 1971, that section of Frontierland contained Native American shows and attractions. The following year, it became "Bear Country," the first major expansion since the "Haunted Mansion" and cost $8 million. "Bear Country" was themed like the forest of the Pacific North-West. The centerpiece attraction was "Country Bear Jamboree" and was also home to "Davy Crockett Explorer Canoes."

It became "Critter Country" in 1988 for the opening of "Splash Mountain" the next year. The Land and ride were inspired by the film "Song of the South." While the bear themes remained, other critters were added throughout. Some shops were renamed to include the other critters. Golden Bear Lodge eatery became the Hungry Bear Restaurant in 1977.

"Country Bear Jamboree" became the "Many Adventures of Winnie the Pooh" in 2003, two years after the ride closed. Most of the ride is a dream sequence from old Pooh Bear. Three of the mounted animals from the Jamboree are still on the ride, on the back of one of the walls, as you leave the Heffalumps and Woozle room. The trophy heads are not from the Jamboree, but the Mile Long bar, which was across from the Playhouse were the attraction was.

Many buildings, like the Briar Patch store, have small scale houses of Pooh Bear and Piglet.

"Splash Mountain" is a composite of a few Uncle Remus stories: southern African-American Aesop's Fables, in a sense. Br'er (brother) Rabbit is the main character, likable and prone to cause trouble, and opposed by Br'er Bear and Br'er Fox. It culminates with Br'er Fox throwing Br'er Rabbit into the briar patch, and our logs going down a 50 foot drop.

It was originally to be called Zip-a-Dee River Run, with scenes from "Song of the South." Michael Eisner had suggested that the attraction could help market the movie "Splash." The background characters came from the "America Sings" attraction. It took about three months to reprogram the characters with a decent level of realism. Each animatronic carries 45 seconds of movement and dialogue that plays on a loop.

The opening day of the ride was supposed to be July 17, 1989, but it didn't go well. Riders were getting completely soaked instead of lightly sprayed. The boats were redesigned to hold fewer passengers, be lighter, and less likely to splash so much water on board.

At four acres, "Critter Country" is the smallest of all the Lands.

---
---
Copyright: (c) 1997-2022 by
ThrillMountain Software
---
MickeyMousePark.com is not associated in any official way with the Walt Disney Company,
its subsidiaries, or its affiliates. The official Disney site is available at
disney.com
Troubleshooting Info:

BrowserBrand: IE
LocalHost: NO
BrowserOS:
BrowserServer: mickeymousepark.com
BrowserAgent:CCBot/2.0 (https://commoncrawl.org/faq/)
BrowserURL:Page=5&Ident=3496
BrowserCurrentPage: /disneyland-article.aspx
Login: 0
FilterBy: 0
SortBy: 0
DB: MMParkB