How To Solve Disneyland Stroller Problem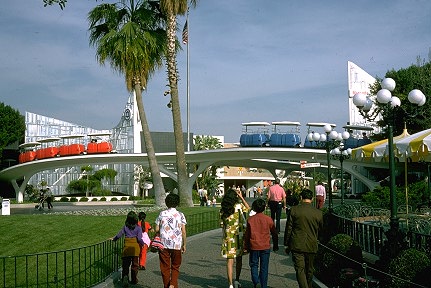 ID:
TMS-3508
Source:
Orange County Register
Author:
Robert Niles
Dateline:
Posted:
Status:
Current
If Disneyland is correct, the most popular thing in tomorrow's world will be, wait for it, strollers.

That's what you see most days when you enter Disneyland's Tomorrowland from the central hub: rows upon rows of strollers, clogging the pathway between Star Tours and Buzz Lightyear. Disney's cast members seem to be trying their best to keep the strollers organized and the crowds moving past them, but the Tomorrowland entryway remains one of the worst bottlenecks in the park.

But that's hardly the only place in Disneyland where parents park their SUV-sized strollers that have become so common today. So, why is it so bad in Tomorrowland?

For the answer, look up then next time you're there. (Or just imagine the scene if you're regular like me, and have the whole park committed to memory.)

The support columns for the old PeopleMover track, which remain standing above the land, amplify Tomorrowland's stroller bottleneck. From 1967 through 1995, the PeopleMover carried visitors on an elevated tour of the land, previewing an automated mass transit system than Walt Disney had hoped to use in his Experimental Prototype Community of Tomorrow at Walt Disney World in Florida.

After his death in 1966, Disney abandoned the idea of building a futuristic city, but went ahead with the PeopleMover anyway. The Florida version of the ride, which opened in 1975 and still operates, includes a portion of the model for Walt's Progress City. But Disneyland's PeopleMover track has stood unused since 2001, when Disney closed the high-speed Rocket Rods ride that never ran reliably on the PeopleMover's unbanked track.

In my perfect fantasy of Tomorrowland, Disneyland would reopen its PeopleMover, using a modern propulsion system that would look like a mass transit system of the future. Or, if Disney can't find a sponsor to pay for that, just put on any old trains that Disney can find to get this ride running again. But that also means bringing it up to current standards for access for those with disabilities, making it a costly upgrade.

Barring that, I wish park managers would confront the hard truth that its current crowd levels don't afford the park the luxury of keeping those track supports in place.

Disneyland already crams an incredible number of attractions into a relatively small space. That's one of the qualities that endear the park to me, but it's also makes visiting a challenge many days. With so many rides, shows, restaurants, stores, people - and now strollers - competing for space, there's no room in the park for the skeletons of dead attractions.

Of course, tearing down the PeopleMover track would cost Disney a lot of money. And I suppose that Disney would have to block off a lot of space around the PeopleMover track support columns to give crews the space they need to work on the tear-down, while protecting the safety of park visitors. That would just compound the foot traffic problems in Tomorrowland for however many weeks or months Disney would need to complete the demolition.

With construction walls running down the middle of the Tomorrowland entryway, there would be no space for strollers during the project. That would mean assigning even more cast members to direct traffic in the area and move strollers out of the way.

Given all that expense and hassle to clear the PeopleMover's track, maybe the most cost-effective way to solve Tomorrowland's traffic problem is find a new, high-capacity attraction that would clear the entryway into the land by drawing fans from the overflowing queues at Star Tours and Buzz Lightyear.

Like, say, oh, maybe, a refurbished and reopened PeopleMover?

If Disney's choices are a) leave Tomorrowland a frustrating mess, b) spend a ton of money and make Tomorrowland an even bigger mess to tear down the PeopleMover track, or c) spend a ton of money to bring the track up to code and reopen the ride, making millions of fans happier ... well, I know which option I'd pick if I were running the show.

Let's get some people moving again.