Matterhorn Macaroon Donuts Are Here So Buy Your Park Ticket ASAP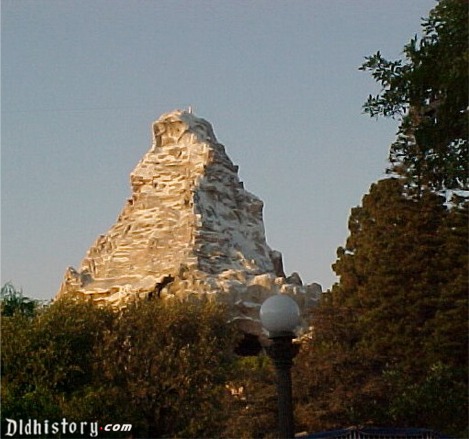 ID:
TMS-3593
Source:
bustle.com
Author:
Claire Warner
Dateline:
Posted:
Status:
Current
If you're still deciding where to go for your summer vacation, Disneyland is about to shoot to the top of your list. The beloved theme park has begun selling Matterhorn macaroon donuts, which combine the famous Matterhorn-shaped cookie with everyone's favorite ring-shaped form of fried dough consumption. If you're not already looking up flights to California this very minute, I urge you to reconsider your priorities and give specialty pastries the importance they deserve.

For those unfamiliar with theme park cuisine - a niche area of expertise, to be fair - the Matterhorn macaroon is a giant, coconut-flavored cookie shaped like Disneyland's Matterhorn Bobsleds. (This attraction, in turn, is based on the real Matterhorn, a mountain in the Alps between Switzerland and Italy.) Found in the Jolly Holiday Bakery, the macaroon is even topped with melted a "snowy" combination of melted white chocolate and sugar. Needless to say, it's a huge hit with parkgoers. Apparently, it's been popular enough that Disneyland has taken things a step further.

In mid-May, Matterhorn macaroon donuts began appearing on social media. According to Delish, the pastry is topped with caramel sauce, coconut flakes, and of course, mountainous macaroons. You might get cavities just from looking at a picture, but when something looks that freakin' delicious, who cares?

Tragically, getting your hands on one might be a matter of being at the right place at the right time. According to Pop Sugar, the donuts are found at the coffee cart on Main Street for around $6. The catch is that the cart's offerings vary from day to day, so Matterhorn macaroon donuts may only be available for a limited time. Womp, womp.

It might not be the best idea to plan a cross-country pilgrimage to Disneyland just for the Matterhorn donut. On the bright side, the coffee cart offers a bunch of other unique donut flavors every day, so you can still try whatever other strange, sugary offering the Disney gods (er, food scientists) come up with.

Matterhorn macaroons can be found at the Jolly Holiday Bakery year-round, so if you're truly desperate, you can snag one and stick it on a donut yourself. Or just enjoy the macaroon on its own merits - as long as you remember to snap a picture it first. After all, if you visit Disneyland and fail to Instagram any brightly-colored confections, did you really visit?

---
MickeyMousePark.com
Contact Us
Privacy
Payment Options
Disclaimer
Email Policy
Site Map
Clear Cookie
---
Copyright: (c) 1997-2020 by
ThrillMountain Software
---
MickeyMousePark.com is not associated in any official way with the Walt Disney Company,
its subsidiaries, or its affiliates. The official Disney site is available at
disney.com
Troubleshooting Info:

BrowserBrand: IE
LocalHost: NO
BrowserOS:
BrowserServer: mickeymousepark.com
BrowserAgent:CCBot/2.0 (https://commoncrawl.org/faq/)
BrowserURL:Page=5&Ident=3593
BrowserCurrentPage: /disneyland-article.aspx
Login: 0
FilterBy: 0
SortBy: 0