Fantasmic Dining Reservations Open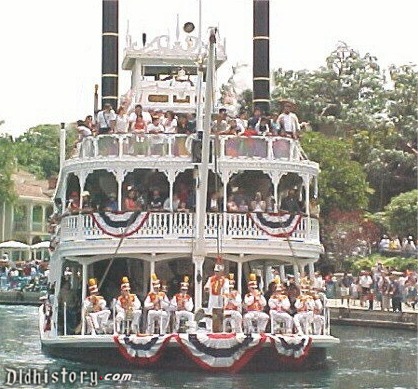 ID:
TMS-3616
Source:
NBC 4 News
Author:
Alysia Gray Painter
Dateline:
Posted:
Status:
Current
Perhaps you've visited a certain theme park located at 1313 Disneyland Drive in Anaheim over the last few months with a specific, sparkly-eyed goal in mind: Be dazzled, once again, by the Main Street Electrical Parade.

The limited-time experience, which has wended its way through Disneyland Park since January 2017, at least on this particular go-around, came with something a bit tantalizing to those hoping to A) do dinner at the theme park and B) score a solid viewing area for the parade: The chance to book a dining package.

Of course, dining packages and special events at the park have a lengthy history, a history that will add a few new pages when "Fantasmic!" re-debuts in Frontierland on Monday, July 17.

The nighttime spectacular's popular dining package option will also return with a trio of eateries fans will recognize from bygone "Fantasmic!" experiences: Blue Bayou Restaurant, River Belle Terrace, and Hungry Bear Restaurant.

Reservations for "Fantasmic!" dining packages opened on July 6, just about a week and a half ahead the opening of "Fantasmic!," for all three restaurants.

Your next step? Reviewing the menus for each - Blue Bayou Bouillabaisse is available at the Pirates of the Caribbean-adjacent landmark, while a Fried Chicken Sandwich is a choice at the River Belle Terrace and Hungry Bear has BBQ Chicken - and going over some of the must-knows of the dining package experience, like the fact that your "Fantasmic!" viewing area is separate from where you dine.

Also? Reservations are taken up to 60 days in advance, so keep that in mind if you know you'll be headed to the Happiest Place on Earth this fall or winter.

And if you don't have time for a sit-down supper, because you need to ride Space Mountain all evening, which is a noble pursuit, there's an On-the-Go Package, too, which comes with reserved viewing.

While you chow down, you and your pals'll likely discuss what is ahead for "Fantasmic!," which has been on hold since January 2016, due to the construction of the new "Star Wars" land. Perhaps you've heard "Aladdin" will make thrilling cameo, and "The Lion King," too and that some of the tech has been burnished and updated, too (think mist screens).

If you must see the return of the beloved extravaganza on July 17, note that the Rivers of America attractions, like the Sailing Ship Columbia and Mark Twain Riverboat, as well as the Disneyland Railroad, will re-open on Saturday, July 29.

And if you're still humming the bouncy theme for the Main Street Electrical Parade? Keep in mind that the last bulb blinks at the already extended event on Aug. 20, 2017.

---
MickeyMousePark.com
Contact Us
Privacy
Payment Options
Disclaimer
Email Policy
Site Map
Clear Cookie
---
Copyright: (c) 1997-2020 by
ThrillMountain Software
---
MickeyMousePark.com is not associated in any official way with the Walt Disney Company,
its subsidiaries, or its affiliates. The official Disney site is available at
disney.com
Troubleshooting Info:

BrowserBrand: IE
LocalHost: NO
BrowserOS:
BrowserServer: mickeymousepark.com
BrowserAgent:CCBot/2.0 (https://commoncrawl.org/faq/)
BrowserURL:Page=5&Ident=3616
BrowserCurrentPage: /disneyland-article.aspx
Login: 0
FilterBy: 0
SortBy: 0