After Yearlong Absence Fantasmic Returns As Park Celebrates 62nd Anniversary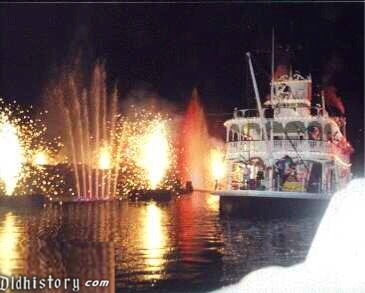 ID:
TMS-3628
Source:
KTLA News
Author:
Tracy Bloom
Dateline:
Posted:
Status:
Current
Just in time for Disneyland's 62nd anniversary, the nighttime Fantasmic attraction is returning to the Anaheim theme park Monday after it was closed for more than a year due to construction for the upcoming Star Wars land.

The nearly 30-minute long spectacle along the Rivers of America will take place three times Monday night, at 9 p.m., 10:30 p.m. and 11:30 p.m., according to Disneyland's website.

Fantasmic, which has been around for a quarter of a century, incorporates special effects, pyrotechnics, music and action sequences as it offers a vivid glimpse into Mickey Mouse's imagination.

The newly reopened attraction "will combine with innovative, state-of-the-art projection technology for brighter and more vibrant visuals than ever before," Disney said in a blog post.

It will also feature new scenes inspired by "Aladdin" and "The Lion King," as well a live-action adventure "Pirates of the Caribbean."

FastPass is also now available for the attraction.

Fantasmic has been closed since Jan. 2016, as Disneyland prepared to begin construction on the Star Wars-themed land.

It's reopening happens to coincide with the iconic theme park's 62nd anniversary, which Disneyland is also celebrating on Monday.

---
MickeyMousePark.com
Contact Us
Privacy
Payment Options
Disclaimer
Email Policy
Site Map
Clear Cookie
---
Copyright: (c) 1997-2020 by
ThrillMountain Software
---
MickeyMousePark.com is not associated in any official way with the Walt Disney Company,
its subsidiaries, or its affiliates. The official Disney site is available at
disney.com
Troubleshooting Info:

BrowserBrand: IE
LocalHost: NO
BrowserOS:
BrowserServer: mickeymousepark.com
BrowserAgent:CCBot/2.0 (https://commoncrawl.org/faq/)
BrowserURL:Page=5&Ident=3628
BrowserCurrentPage: /disneyland-article.aspx
Login: 0
FilterBy: 0
SortBy: 0