Local Horse Lover Is The Happiest Gal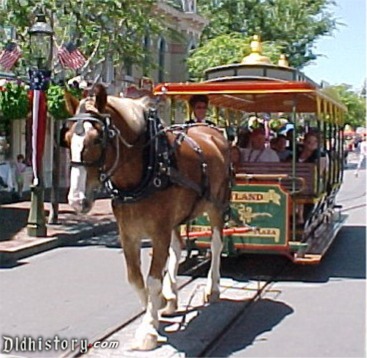 ID:
TMS-3644
Source:
vvdailypress.com
Author:
Kathy Young
Dateline:
Posted:
Status:
Current
Alexis Cole has grown up in the High Desert, graduating from Granite Hills High School in 2012. Describing herself as the typical "horse crazy girl," Cole says she has always been interested in horses. When she was three years old, her mother gave her riding lessons as a gift.

After that, Cole says, "I was hooked."

What better career for someone with a love of horses than working with and around them, and Cole set her sights high, seeking a job working with the horses at Disneyland.

"I started my employment with Disney in April of last year as a stable attendant," Cole reports. "I work with the draft horses at Disneyland."

Disneyland's stable consists of 18 draft horses that participate in special events - parades and such - but according to Cole, they mainly pull the streetcar down Main Street at the Park.

The draft horses at Disneyland include six Belgians, three Clydesdales, seven Percherons and two Shires. "The largest horse is Ducky," she says. "He stands 19.1 hands tall and weighs in at more than a ton."

Yes, you read that right. Ducky stands almost six and a half feet tall at the withers.

Cole has other horses to work besides those working for the Happiest Place on Earth. She has a stable full of her own mounts at home.

"I have three horses," she says. "Mr. Muffin is a Tennessee Walking Horse stallion, Pecos is a Quarter horse mare, and Shilo is my Mustang gelding."

She does all her own training. Before she began working for Disney, she had a mobile horse training business here.

"Mr. Muffin was unbroken when I purchased him three years ago," Cole says. "He was 10 years old and since then we have put many miles under our feet."

The pair participates in endurance rides and trick training/liberty clinics and demonstrations at Horseman's Center in Apple Valley and at the Day of the Horse in Valley Center.

"I ride a lot with the Oak Hill Riders and the Oak Hillbillies, two amazing local groups in the High Desert who put on a lot of fun activities," Cole says. Her favorites are the trail rides followed by a barbecue afterward.

"If I have learned anything through my experiences working with horses, I've learned that anyone can be a rider," Cole says. "That's just the art of not falling off."

To be a real horseman, she says, is the ultimate goal.

---
MickeyMousePark.com
Contact Us
Privacy
Payment Options
Disclaimer
Email Policy
Site Map
Clear Cookie
---
Copyright: (c) 1997-2019 by
ThrillMountain Software
---
MickeyMousePark.com is not associated in any official way with the Walt Disney Company,
its subsidiaries, or its affiliates. The official Disney site is available at
disney.com
Troubleshooting Info:

BrowserBrand: IE
LocalHost: NO
BrowserOS:
BrowserServer: mickeymousepark.com
BrowserAgent:CCBot/2.0 (https://commoncrawl.org/faq/)
BrowserURL:Page=5&Ident=3644
BrowserCurrentPage: /disneyland-article.aspx
Login: 0
FilterBy: 0
SortBy: 0