Everything We Saw At First-Ever Vintage Theme Night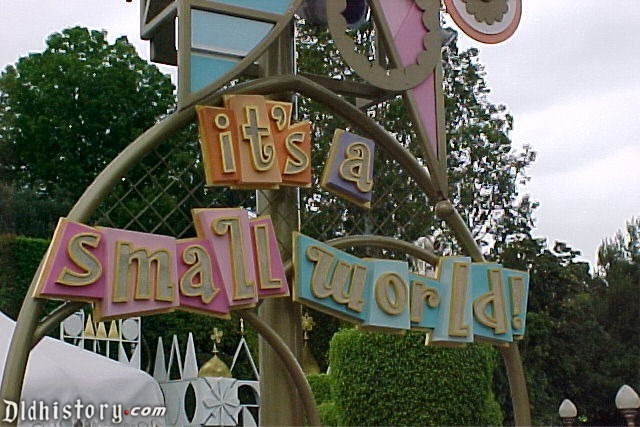 ID:
TMS-3840
Source:
popsugar.com
Author:
Carlye Wisel
Dateline:
Posted:
Status:
Current
When Disneyland throws a party, you know we're gonna be there - and Disneyland After Dark: Throwback Nite was no exception. Disneyland's first event in a forthcoming series of themed nights this year was an ode to the rides, tunes, and thrills of yesteryear, complete with food, music, entertainment, and characters fit for vintage-obsessed Disney fans.

There were few details announced before the Jan. 18 festivities, so we went in excited to discover what '50s- and '60s-inspired experiences would be on offer for Disneyland's very first After Dark event - and what the differences would be between this moonlit celebration and the park's other nighttime event, Mickey's Not-So-Scary Halloween Party. Future Disneyland After Dark themes have not yet been announced, but dive in for an idea of what could be up next.

Yes, this is what Disneyland used to be like!

Throwback Nite was inspired by the famed "Disneyland After Dark" TV special, a charming 1962 episode of Walt Disney's Wonderful World of Color. Think Dapper Day at dusk, but the whole park is in on it, staying open until 1 a.m., just like the old days. Louis Armstrong isn't going to host a private concert on the Mark Twain Riverboat like he did on the show, after all, but there were plenty of retro tunes to suffice.

The music was spot-on.

I can't express how much the live music really, really set the mood at Disneyland After Dark's Throwback Nite. Watching guests dance to a big band outside It's a Small World or take in the tunes of the Atlantic City Boys from atop the Main Street Train Station was so special.

And the entertainment had us wishing every night was Throwback Nite.

Even the DJs, dressed in full costume, fit the of-the-era vibe, making radio show announcements of other happenings throughout the park. The playlist was impeccable, with small groups of dancers stopping by throughout the evening. Put it this way: you'll never appreciate five hours of snap-happy '50s tunes in Disneyland until you see and hear it for yourself!

It put the school in old-school.

If you've ever wanted to go to "Disney prom," this was the night. Between the couples swing dancing and doing the jive throughout Disneyland, it had a romantic magic that couldn't compare to any other event it's ever thrown. High school dance vibes were on high - with a bit of a grad night feel - but with everyone dressed so nicely, it was more so a date-night take on Dapper Day.

Talk about atmosphere!

Having a dress code transformed the night, making little things, like waiting in line for a photo op, a grand people-watching experience. The outfits! The accessories! The older couples dressed in letterman jackets! With everyone in on the theme, there was a joyous sense of camaraderie.

Even the tickets were retro.

Upon entering, special event guests were given a lanyard credential styled like the old-school Disneyland ticket books as well as a vintage Disneyland map outlining the festivities for the night. Disneyland After Dark is a five-hour event, but ticket holders were able to enter two hours before it began.

Though it didn't all go smoothly.

Throwback Nite officially began at 8 p.m., but we gotta say - the switchover from day to night guests did not go so smoothly. Many experiences didn't begin right at 8 p.m. because cast members were still turning over the crowds, and decorations and props were still being added to some photo opportunity areas as late as 8:40 p.m. Credential checkpoints throughout the park were intended to make the evening's start smoother, but for the first half hour, it was somewhat chaotic.

Disney characters took home the best dressed award.

We had high hopes for the almost-scary-looking throwback costumes of the '60s - we know, we know, totally never going to happen - but our favorites came dressed and ready for the party. Zorro Mickey, Minnie in her soda shoppe best, and Goofy wearing a letterman jacket all made appearances. (Note his letter, in particular. It's the Disneyland "D"!)

There were even some unexpected faces.

Disneyland After Dark also had a few rare character appearances by Merlin, the Blue Fairy, and penguins from Mary Poppins.

You could actually hang out with characters.

Another added bonus? Instead of lining up for endless family photos, characters were given the freedom to mingle and be silly, which is so unique. There was a dance-off between the Queen of Hearts and Tweedledum and Tweedledee, as Alice and the Mad Hatter looked on - something you'd never, ever see during normal park hours!

The fireworks were not what you'd expect.

The most old-school entertainment of the night came by way of Disneyland's "Fantasy in the Sky" Fireworks Spectacular, which debuted in 1958. It may have only been four minutes long - seriously! - but to see a fireworks show set to instrumental music without Pixar characters or familiar songs was unexpectedly refreshing and full of vintage feels. Short but sweet, it was one of the more magical moments of the night.

Old favorites became new again.

Even though diehard Disney fans have seen The Dapper Dans millions of times, there's nothing like wandering toward the end of Main Street, U.S.A., and seeing a private - and hilarious! - appearance with just 20 other people, all dolled up in vintage duds.

But . . . Maybe don't arrive hungry.

Disneyland promised "sips and snacks that were a hit in the park's early days," and, well, it didn't totally deliver. Items like hot fudge cake sundaes, Mickey cloud cakes, and Dreamsicle Mickey beignets sound more like Summer 2017 foods with slight changes, which is a shame, because Disneyland has been killing it in the Instagram-worthy snack department lately. As for the specialty Pepper Jack Mac and Cheese Chili Mac? It was apparently great but not very 'gram worthy.

Two words: shorter lines.

It doesn't matter if you don't care about Disneyland After Dark's next theme - just go for the rides! You could easily treat this event as your nighttime free-for-all and cram in so many experiences you could never have in a regular day. There's no FastPass, and with a significantly smaller crowd, Mad Tea Party and Astro Orbiter were walk-ons, Big Thunder Mountain Railroad's line took four minutes, and even the wait for Space Mountain, which was posted as 35 minutes, was 18. If you are a roller-coaster nut or simply want to ride Peter Pan's Flight without it taking all day, this is the time to do it!

The crowds were so small!

Tickets to Disneyland After Dark were announced to be sold out, but we have our doubts. There's no complaining here, though. Look how blissfully empty Main Street was!

Pro tip: take your outfit photos beforehand.

There were a few photo opportunities throughout the park, including a makeshift malt shop and a Mickey Mouse clubhouse, but the two best were the 1961 Chevrolet Bel Air convertible perched in front of the old-school Disneyland marquee and a Skyway bucket. The lighting was subpar, making it tough to show off in all its glory on Instagram, but all PhotoPass downloads from the party were free, making for a helpful solution to all those dark iPhone photos.

Frankly, the merchandise could have been better.

The branding of Disneyland After Dark was so good - how cute was that lanyard! And those maps?! - that the specialty souvenirs, which are probably intended to be sold at more than just this event, felt mainstream and a little lackluster. We wish there were even more vintage touches here, like what Walt Disney World did with its retro clothing line, YesterEars. (Which, psst - still has a few things available!)

But thank goodness for those AP giveaways.

Don't forget the freebies for Annual Passholders - here, it was a complimentary button sporting the same nighttime design as featured on the event's exclusive t-shirts.

Kids were few and far between.

Another unexpected perk of a Disneyland party that goes past midnight? No kids! The majority of attendees were high school age and older, infusing the park with a definitively adult feel.

We're still not sure what these exhibits were.

The historical displays throughout the park honoring the origins of attractions like Carousel of Progress and It's a Small World were confusing at best, especially considering the informative signs were strangely used as photo backdrops. Given that it was a ticketed event run by the park itself, Disneyland After Dark could have been better served with a collection of vintage memorabilia or props, which it surely would have access to.

We need to talk about the temporary construction walls.

I don't want the future betterment of Disneyland to bring a damper to the night, but aesthetics aside, the construction zones throughout the hub and Town Square areas of Main Street, U.S.A., made it logistically difficult to know what was going on during Disneyland After Dark. From the heart of Main Street, you couldn't see performers or characters right around the corner; in front of the castle, the DJs, though a few steps away, were completely hidden. I'm all for improving the front of Disneyland, but it really made it difficult to know what was happening, especially with so much going on in those areas.

So - is it worth it?

It's difficult to deny that between Disneyland After Dark and Mickey's Not-So-Scary Halloween Party - Disneyland's other ticketed nighttime event - the holiday event is the better deal. Both are the same price and the same length, but Disneyland Park's Halloween festivities come with a more elaborate fireworks display, a special parade, and complimentary sweets in addition to themed entertainment and specialty food. Guests arrive dressed in costume for that event as well, but Mickey's Not-So-Scary is generally more immersive, with cast members wearing themed outfits and the park itself decked out with decorations.

Still, for Disney's first time throwing it back to the '50s, guests had a good time, even if it lacked a certain oomph. For the same price as a value ticket, you'll get seven full hours in the park, most of which is filled with special one-night-only occurrences - like an ode to yesteryear's Tahitian Terrace dinner show. It's a tougher buy for Annual Passholders, but conversely, these events are more interesting to Disney fans than fair-weather guests. And, for what it's worth, Walt Disney World's late-night event - which includes free snacks but is only three hours long with no entertainment - costs $25 more.

If you're curious, give Disneyland After Dark's next event a shot. With smaller crowds, special entertainment, and an undeniable buzz in the air, you're bound to have a memorable, magical night.