Star Wars Galaxys Edge Lets You Build A Custom 200 Dollars Lightsaber But Will Not Let You Play With It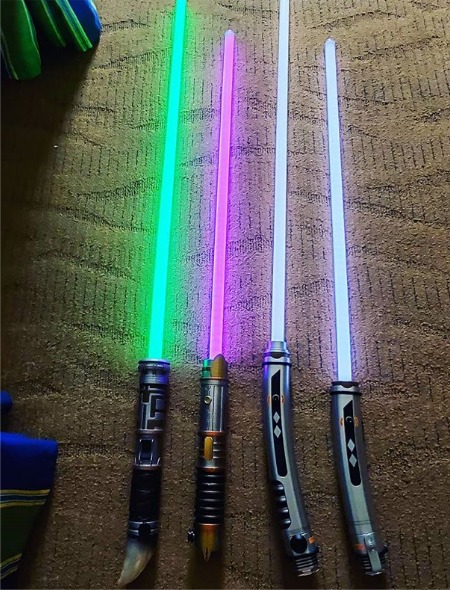 ID:
TMS-4473
Source:
ign.com
Author:
Ryan Mccaffrey
Dateline:
Posted:
Status:
Current
I had no intention of paying $200 to let my eight-year-old daughter build her own custom lightsaber at Disneyland, no matter how much she loves Star Wars. That's just… a lot of money, even by "we're-already-bankrupting-our-savings-account-by-coming-here" Disney standards. Little did I know that when I finally gave in, my daughter wouldn't even be allowed to play with her pricey Star Wars souvenir...

Building the lightsaber is, I have to say, genuinely an experience – one of the most impressive ways Galaxy's Edge successfully brings Star Wars to life. And my daughter ate it up. As a dad, was I buying a memory? Yeah, I was. But after she had watched the original trilogy of films and listened to the audiobooks countless times, designing her own personal Jedi weapon in Savi's Workshop made for a fun and unique Star Wars moment for both of us to enjoy together.

But then a cast member approached me and said something about keeping my scrap metal out of sight.

With her new toy in hand, she naturally wanted to walk around showing it off. And so we sought out the pair of Stormtroopers roaming the Land, followed them around, and tried to get noticed. Hilariously, anytime we'd spot the Stormtroopers, she'd run and hide, egging me on to use her saber to draw their ire. Her goal was for me to get "arrested" by the soldiers, as she'd seen it happen to other guests (you get taken a short distance to a public area, fake-yelled-at, given a photo opp, and send on your way). So, when she didn't want to take the saber herself to get their attention, she asked me to. I unsheathed the radiant blue beacon and stood near them with it lit up, pressed against my back with the blade peeking up over my shoulder, so as to be intentionally poorly concealed.

No dice, though; the Stormtroopers just strolled on by. But then a cast member approached me, my daughter's lightsaber still aglow in my hand and said something about keeping my scrap metal out of sight. I wasn't really sure what he meant – the employees in Galaxy's Edge all try to stay in-universe, you see, meaning purchases are made in "credits," Coca-Cola comes in a thermal detonator-shaped container marked with a logo redesigned in the Star Wars alphabet of Aurebesh, etc. But as we roamed Star Wars Land, still seeking out Stormtroopers to get joshed by, day had turned to dusk and the bright-blue lightsaber now really stood out. And soon another cast member came over and, in slightly plainer terms, told us the blades were "illegal" here in the Black Spire Outpost, and hammered home his point by helping me secure the lightsaber in its case as I finally grasped his point.

Seems backwards to get ignored by the "evil" troops and reprimanded by the "good" people of the Black Spire Outpost!

I get it – Disney doesn't want its guests spontaneously breaking out into lightsaber duels in the middle of Galaxy's Edge and potentially stabbing another random park-goer in the eye. Because you know someone would. But for an eight-year-old kid to not be able to even walk around with the darn thing out, when all around you is the most elaborate, celebratory recreation of Star Wars ever opened to the public, not to mention the fortune we'd spent on flights, hotels, tickets, and food just to be there, it feels like it goes against the spirit of the entire park. And were the Stormtroopers ignoring us intentionally because they'd been told not to engage with any lightsaber-wielding guests, so as not to encourage their use? Seems backwards to get ignored by the "evil" troops and reprimanded by the "good" people of the Black Spire Outpost!

But we didn't let that stop us from enjoying the expensive new toy. We walked around Galaxy's Edge and started taking photos with the lightsaber proudly wielded in the area's many photo spots, like the main street lined with strange alien shops and the landing overlooking the Millenium Falcon. Normally my daughter isn't one to smile for the camera but the lightsaber clearly made her happy, turning her into an enthusiastic, grinning photo subject – which made our evening memorable. And there were plenty of other rogue blue, green, red, and purple blades jutting into the sky for photo opps as well, not just hers. Perhaps those people got chastised too, but it would seem that the cast members are willing to look the other way for photographs but otherwise won't hesitate to scold you in Star Wars-ese. Sigh…

Though I was annoyed at the apparent anti-lightsaber policy in, of all places, STAR WARS LAND, I still found the investment worthwhile. My daughter had a ball designing her saber, we had fun wandering the park interacting with the roaming character actors, and her face lit up – figuratively and literally – during our impromptu night time photoshoot, even if we had to annoyingly put the saber away between photo spots so as not to risk getting yelled at again. I also later learned that the lightsaber experience can continue by purchasing different colored Kyber crystals or even a Holocron that interacts with the various colored crystals. So now we have a good reason to go back, lightsaber in hand. And if we're lucky, maybe Disney will have wised up by then and offered some kind of outlet – a lightsaber training class, perhaps? – for people to enjoy Disneyland's priciest souvenirs.