45 Surprising Secrets About Disneyland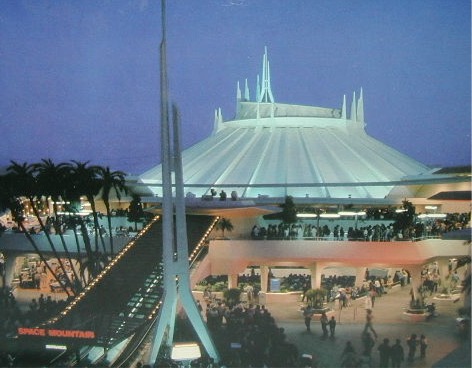 ID:
TMS-4583
Source:
Eonline.com
Author:
Billy Nilles
Dateline:
Posted:
Status:
Current
It's been 45 years since Disney Parks first took intrepid thrill seekers into the darkest corners of outer space.

We're talking, of course, about Space Mountain.

And while it's true that the iconic indoor roller coaster opened first at Walt Disney World in Florida on January 15, 1975, did you know that it was first dreamed up, at the request of Walt Disney himself, by designer John Hench (whose fingerprints were all over the original Tomorrowland) in 1964? As it turned out, Disney's original belief that thrill rides wouldn't work in his family park was proven wrong by the massive success of the Matterhorn and he wanted to push things even further. The only problem? The technology to pull off what Hench dreamt up didn't even exist yet. As for the tech that was available, it was way too slow, taking hours to model the data for just one curve.

But when the tech finally did catch up and it was built, arriving at Disneyland two years after its Florida debut, it became the world's first roller coaster to be controlled by a computer. Over the years, the coaster and its white-spired exterior have become an iconic and enduring part of the parks, appearing in five across the world, but not its fastest. Despite how it may feel, thanks to the total darkness and sudden drops the ride only ever reaches a top speed of 28 miles per hour. By comparison, Big Thunder Mountain tops out at 30 mph and Splash Mountain's descent can hit 40.

In honor of the ride's big birthday, we thought we'd take a look at 45 more surprising secrets from the park it was originally intended for. Let us tell you, the Happiest Place on Earth has a truly wild past.

1. Walt Disney originally planned to build his tourist attraction, originally called the Mickey Mouse Park, near his Walt Disney Studios in Burbank, Calif. The project soon grew much larger than the land could hold and he looked southeast in the neighboring Orange County and purchased 160 acres of orange groves and walnut trees in Anaheim.

2. Construction began on Disneyland on July 16, 1954 and, miraculously, was finished in time for opening day one year and one day later.

3. A local plumbers' strike prior to opening meant that Disney had to choose between having operable drinking fountains or running toilets. Naturally, he chose the latter, as there were other options for beverages for purchase in the park. Guests believed the decision to be a cynical way to force them to purchase soda.

4. For the first five years, Disneyland was owned by Disneyland, Inc., which, in turn, was jointly owned by Disney himself, Walt Disney Productions, Western Publishing and ABC, which aired previews of the park as it was being built as well as a live broadcast of opening day. By 1960, Walt Disney Productions bought out all other shares.

5. In those first five years, Disney also rented out many of the shops on Main Street to outside companies. For a very short time, until just 1956, one such shop was the Intimate Apparel Shop, presented by the Hollywood-Maxwell Brassiere Co., where you could purchase a bra and watch a slideshow, entitled the Wonderful Wizard of Bras, that gave a history of undergarments.

6. Main Street uses forced perspective to give the illusion of height to all its buildings. While all are three stories, the second and third are scaled down by 1/8 each level, making it appear much taller than it is. The same technique is employed on Sleeping Beauty's castle, where bricks at the top are smaller than on the bottom to make the 77-foot tall castle seem even larger.

7. The ground when you first enter the park is red brick. Why? To give guests the feeling of walking in on a red carpet.

8. While the park opened in 1955, the King Arthur Carrousel, located in Fantasyland, was actually built in 1922 and operated at Sunnyside Beach Park in Toronto until the park closed. It was relocated in 1954 and refurbished in time to open with the park.

9. There's a reason Main Street sounds so great. The hooves of the horses pulling the streetcars are coated with a special polyurethane to give them better traction and increase the "clip-clop" sound as they walk.

10. If there's ever a space in the park they don't want you to see, they paint it with what they call a "no-see-um-green." "The goal of this color is to cause the object to fade into your color spectrum so that your eye will miss it completely," Disney expert Gavin Doyle told Business Insider in 2015. "The best example can be found on the outdoor lift hill of Big Thunder Mountain, where you can easily see backstage by turning your head to the right. Most guests simply don't see this backstage area as everything is covered in Disney's special green-colored paint."

11. Sleeping Beauty's Castle is the only one in any of the Disney parks worldwide to have an operable drawbridge. It's only been used twice: on opening day and for the reopening of Fantasyland after a remodel in 1983.

12. The Disneyland Time Capsule was buried in the front of the castle on the park's 40th anniversary, containing different items from the history of Disney parks. It is scheduled to be opened in 2035, 40 years after it was first sealed.

13. The proceeds deposited into the wishing well in Snow White Grotto, located on the east side of Sleeping Beauty's Castle, go to local children's charities. An engraving on the well reads, "Your wishes will help children everywhere."

14. All the horses on the Carousel have names—a complete list is available at City Hall on Main Street—but Jingles was Disney's favorite. In 2008, the specially decorated horse was dedicated to Julie Andrews as "Honorary Ambassador" for the parks, with the title painted on the horse's cantle.

15. When Fantasyland first opened, the stars of Peter Pan, Snow White and The Adventures of Ichabod and Mr. Toad made no appearances in their respective attractions, as Disney and his Imagineers wanted the guests to feel as though they were the star character. "Almost no one understood this concept," Doyle told BI. "And the characters were eventually added."

16. Disneyland is home to a palm tree over 120 years old. The tree, a Canary Island date palm, was planted in 1896 as a wedding gift and belonged to the Dominguez Family, who sold their farm to Disney so he could build the park. They made one request: that the tree remain, living on as a part of the park. It stands in Adventureland and can be found near the Indiana Jones FastPass distribution kiosk near the Jungle Cruise ride.

17. The flags atop the buildings on Main Street may look like American flags, but they're not. They have only 45 stars, rather than 50, so they don't have to fly under official rules that would require them to be illuminated at night or taken down at the end of the day. The one official American flag stands at the front of Main Street.

18. Disney kept a "secret" apartment above the Main Street fire station. A lamp in the window remains on at all times in honor of the visionary.

19. Two of the most important rules all Disney cast members must follow are: never point with one finger and never answer a guest question with "I don't know." As pointing with your index finger is considered rude in some cultures, employees will always use two fingers instead.

20. Under the Candy Palace and Candy Kitchen window on Main Street is a small vent that's integral to the experience. Inside is the Smellitzer, which releases the aroma of candy onto the street. It's one of many areas where scents are purposely pumped into the park.

21. Inside the Matterhorn is a small basketball court open only to employees looking to blow off some steam during a break.

22. The park is home to hundreds of feral cats, permitted to live there to keep the rodent population down. They are said to be mostly nocturnal.

23. In the early 1960s, Frito-Lay owned the Casa de Fritos in what is now Rancho Del Zocalo Restaurante in Frontierland. The restaurant was known for frying surplus tortillas and adding basic seasoning to them. Their popularity caught the eye of Arch West, VP of marketing at the time. In 1966, Doritos were released nationwide.

24. If you listen carefully while waiting for the Disneyland Railroad at the New Orleans Square station, you can hear the telegraph office across the tracks transmitting the first two sentence of Disney's opening day speech in Morse Code.

25. Thurl Ravenscroft, the brilliantly-named man who voiced Tony the Tiger in the Kellogg's Frosted Flakes commercials for more than five decades, lent his booming voice to several attractions at Disneyland, including Haunted Mansion, Pirates of the Caribbean, Disneyland Railroad and the Enchanted Tiki Room.

26. Speaking of the Tiki Room, it was originally planned as a restaurant featuring the Audio-Animatronic birds (a technology Imagineers invented wholesale for the attraction) serenading guests as they dined. Plans eventually changed, however, and it became the show it is today. The building was the park's first fully air-conditioned building, to battle the significant heat generated by the rudimentary computers that powered the attraction, and remains one of two attractions to have a dedicated restroom.

27. When the Jungle Cruise originally opened, live alligators were kept in pens near the lines to entertain guests, the last vestige of Disney's hope of using live animals in the attraction.

28. Over at Pirates of the Caribbean, originally envisioned as a walk-through wax museum, several sets of real human skeletal remains were used, courtesy of UCLA's medical center. They were eventually returned, though rumor has it one skull remains above the bed in the treasure room at the beginning of the ride.

29. In 1974, an observation coach on the Disneyland Railroad was converted into a parlor car and named Lilly Belle, after Disney's wife Lillian. Containing plush velvet seats and artifacts from Disney history, including a scrapbook of Disney family photos, it only seats a few lucky guests a day.

30. The Partners statue, unveiled in the central hub in 1993 portraying Disney holding hands with Mickey, has several references to the park's founder. "On Walt's tie there is a small insignia for the Smoke Tree Ranch in Palm Springs, CA," Doyle told BI. "Disney had a house there and had the logo stitched into many of his ties. On Walt's right hand there's a Claddagh ring in honor of his Irish heritage. Both Walt and his wife, Lillian, purchased Claddagh rings during their 1948 trip to Ireland and wore them often."

31. Fans waiting in line for Star Tours can often hear an announcement addressing a passenger named Mr. Egroeg Sacul. That's Star Wars creator George Lucas spelled backwards.

32. And the C-3PO and R2-D2 used on the ride? Real props from the movies on loan from Lucas, who wanted the simulator to look and feel authentic.

33. Most of the plants in Tomorrowland are edible, with lemons, oranges, lettuce, peppers and herbs sprinkled among the landscaping, a nod to Disney's fantasy for a future involving sustainable agricultural technology.

34. When Space Mountain was built, the complex, which also included the 1,110-seat Space Stage, Space Place restaurant and Starcade video arcade cost $20 million—more than the $17 million spent to build the original park itself.

35. When the Monorail opened in 1959, it was the first daily operation monorail system in the entire Western hemisphere.

36. When groundbreaking began on the Indiana Jones Adventure in 1993, an area of the former Eeyore parking lot had to be demolished. Imagineers didn't want to evict the mopey old pal of Winnie the Pooh entirely, though, so they hid one of the old parking signs for the lot in the line, near the projector in the projection room.

37. While Big Thunder Mountain Railroad was originally conceived of in 1972 for Walt Disney World, it was put on hold for the 1973 opening of Pirates of the Caribbean at the Florida park. Space Mountain's arrival further delayed the mine train roller coaster until it was opened in Disneyland in 1977. When it opened, it did so decorated with authentic mining equipment found at swap meets, abandoned mines and ghost towns throughout Wyoming, Nevada, Colorado and Minnesota.

38. Every popcorn cart in the park has an animated figure appearing to rotate the drum and pop the corn themselves. These little guys are known as Roastie-Toasties and they are themed to match the land they appear in. They've become a mini-attraction of their own, with super fans trying to clock all of them while the park rotates some out and pops in seasonal surprises. Just another reminder of the "Disney Difference."

39. Designed originally for the 1964 New York World's Fair UNICEF Pavilion before making its way to Disneyland in 1966, It's A Small World has an iconic white facade with gold trim. And rumor has it the gold is all real—22k to be exact—after it was realized it was cheaper than using gold paint, which would fade and oxidize so quickly that the upkeep would be a constant cost.

40. Bill Rogers, the official voice of Disneyland since 1991, and Camille Dixon, the official voice of neighboring park California Adventure since its re-dedication in 2012 after performing several announcements since its opening in 2001, are husband and wife.

41. Several famous faces got their start in the park, including Steve Martin, whose first job was selling guidebooks beginning in the park's first year on weekends and full-time when school was out before starting work in the magic shop in Fantasyland in 1960, Michelle Pfeiffer, who played Alice from Alice in Wonderland in the Main Street Electrical Parade in the mid-1970s, and Kevin Costner, who worked as a Jungle Cruise skipper.

42. Until Star Wars: Galaxy's Edge opened in May 2019, the infamous Club 33 was the only place in Disneyland that served alcohol. However, you couldn't just walk in to the place, in existence since 1967, and order a cool beer. Developed for Disney to host his corporate sponsors and industry VIPs, membership to the exclusive club has a steep price (an initiation fee of $25,000, in addition to annual fees around $12,000) and an intense waiting list that, in 2011, was 14-years long. While the official story behind its name states that it's solely named as such because it's found at 33 Royal Street in New Orleans Square, the lesser-known speculation is that it was to honor the 33 corporate sponsors at Disneyland at the time the club was built.

43. Four babies have been born at Disneyland, beginning with Teresa Salcedo on July 4, 1979. While she did not get a lifetime pass, as a persistent urban legend claims, she was visited in the hospital by Mickey, Donald and Goofy, who presented her with "Disneyland Birth Certificate No. 1."

44. When the park first opened, it had 18 attractions. Today, there are 56 total, including 14 that were there on opening day.

45. A year before Disneyland opened, the Fujishige family purchased 56 acres of strawberry fields that sat across from the park for less than $10,000. As the park grew, the family resisted offers in the millions to sell their land so Disney could expand even further. Just before the family patriarch passed away in 1998, they finally sold 52.5 acres for an astounding $99.9 million. Yes, you read that right.