Why Splash Mountain Redesign Should Mean An Even Bigger Change In The Park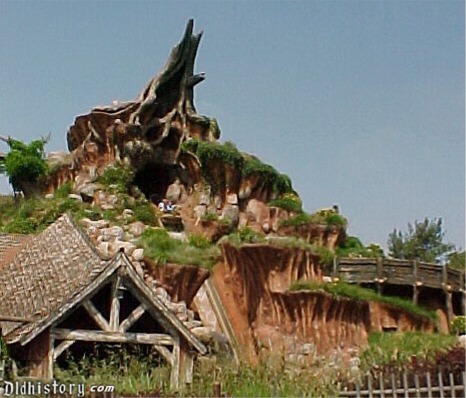 ID:
TMS-4653
Source:
cinemablend.com
Author:
Dirk Libbey
Dateline:
Posted:
Status:
Current
It has been a wild ride worthy of a Disneyland attraction. After a groundswell of support built up for the idea of re-theming Splash Mountain at both Disneyland and Walt Disney World, Disney responded by announcing that the parks would do exactly that. While no timeline has been given, both parks' Splash Mountain rides will be replacing the existing Song of the South theme with The Princess and the Frog at some point down the road.

The decision to turn Splash Mountain into a Princess and the Frog attraction makes particular sense at Disneyland, as the ride is located on the edge of New Orleans Square. So rather than simply changing the attraction, the new Splash Mountain can be incorporated into a new, larger New Orleans Square. However, if that is done, then that leaves Critter Country as a small land with only a Winnie the Pooh-themed dark ride and a canoe attraction, neither of which are particularly popular in the grand scheme of things. So is it time for a complete redesign and replacement of Critter Country?

The History of Bear Country To be fair, when the area that is now Critter Country first opened in 1972, all it had was the Davy Crockett's Explorer Canoes and one other attraction, the Country Bear Jamboree. It was called Bear Country back then because the Country Bears had proved so popular at Walt Disney World that the land was built specifically to house that one attraction. It was with the addition of Splash Mountain in the late 1980s that the land was renamed Critter Country, to reflect the fact that more than bears were in residence.

In 2001, the Country Bear Jamboree was showing its age at Disneyland, and the long-running performance was replaced with a simple dark ride that took you through the events of The Many Adventures of Winnie the Pooh. Thus, the ride would be given the same name. It's a somewhat unusual place for such a ride, as the attraction is very much the sort of thing you'd expect to find in Fantasyland. In fact, at Walt Disney World, that's exactly where you'll find it. It's certainly not out of place in Critter Country, but it also doesn't feel entirely at home.

Critter Country has always felt like something of an afterthought at the park. It's in the back of Disneyland, and before the opening of Star Wars: Galaxy's Edge, it was a dead end that led nowhere. The fact that Galaxy's Edge is there now means the land can see a lot more traffic than it used to, but that's all the more reason that Walt Disney Imagineering should take a good hard look at Critter Country as a whole.

Certainly the new Splash Mountain can still technically fit as part of Critter Country. Most of the characters in The Princess and the Frog are talking animals, not entirely unlike the characters that they'll be replacing from the previous version. And ultimately, which land Splash Mountain falls into is somewhat semantic. It won't change the attraction itself if it exists in New Orleans Square or Critter Country.

New Orleans Square Should Expand Even More But because Splash Mountain is literally next door to the Haunted Mansion, it makes too much sense not to make both of them part of New Orleans Square. The new version of the ride needs to exist in one place or the other, and putting Tiana in New Orleans makes too much sense. When Princess Tiana is found as a walk-around character at Disneyland, New Orleans Square is where she can be found. As a human, she belongs there rather than moving her into Critter Country.

But if Splash Mountain does become part of New Orleans Square, then we have to ask the question, is The Many Adventures of Winnie the Pooh enough of an attraction to anchor the now smaller Critter Country?

Probably not, and as such, Imagineers should consider looking at Critter Country as a whole for potential redevelopment. Specifically, they should consider giving the entire area over to New Orleans Square.

The biggest problem is that because Star Wars: Galaxy's Edge has taken over most of what little available space existed on that edge of the park, there's just no place for the existing land, or any new land, to go. Whether you keep Winnie the Pooh or look to replace the ride as part of a new land, you basically only have space for one attraction, so any new land that you come up with is going to be small and will only have one attraction to anchor it.

Tiana's Palace And so, perhaps the solution is to just let New Orleans Square annex all of Critter Country. I see one really exciting opportunity if we go that route, as we could turn the major food location in Critter Country, the Hungry Bear Restaurant, into Tiana's Palace. However, I'm thinking this isn't just about changing the menu and changing the sign out front. Let's really go all out.

Disneyland is missing a high end restaurant inside the park itself. The Blue Bayou has possibly the greatest location of any theme park restaurant ever, but the menu really lets it down when you compare it something like Carthay Circle Restaurant at Disney's California Adventure. To that end, let's completely redesign the Hungry Bear into a restaurant worthy of the name Tiana's Palace. Think of it: a beautiful New Orleans-themed location with table service, high quality food and great music. Perhaps there could even be live jazz music.

A location like this is going to need more space than the Hungry Bear Restaurant has. As such, a complete redesign of the rest of Critter Country would likely be needed. This means a chain reaction of updates and changes that likely means removing Winnie the Pooh. While I'm sure there are people who love the ride and I don't have anything against it, I'm just not sure it's necessary under the circumstances.

With a complete redesign of the area, there's still room for another small attraction. Since there aren't really any other New Orleans themed Disney films, maybe Imagineering could come up with something entirely original. There are a lot of people who would be excited by an idea like that.

This is only one idea for the change, and there are numerous other directions this part of Disneyland could go down, but it does seem like this change to Splash Mountain could ultimately spell the end of Critter Country. Much like Splash Mountain itself, the possibilities for the future are quite exciting, and I can't wait to see what happens.