Your Dairy Free Guide To Food And Dining At The Parks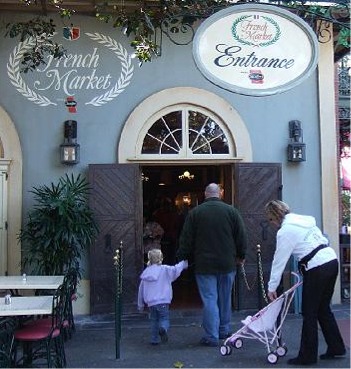 ID:
TMS-4801
Source:
godairyfree.org
Author:
Alisa Fleming
Dateline:
Posted:
Status:
Current
Disney World is an iconic spot for allergic travelers, but what about Disneyland? It doesn't get as much coverage, and the options aren't quite as prolific, but Disneyland in Anaheim, California can still be a great dairy-free vacation. This quick guide covers the dairy-free food to look for in each section of Disneyland Park, California Adventure, Downtown Disney, and the on-site Disneyland Hotels. We also have a section for Snack Carts to watch for in the Parks.

When Disneyland reopened in 2021, some of their eateries remained closed, and most of their menus were downsized – some dramatically. This has affected the amount of dairy-free and allergy-friendly options available in the parks. The guide below covers the food options available as of the summer of 2021. We will update as we learn about more openings and menu expansions.

Disneyland: Your Dairy-Free Guide to Food & Dining at the Parks

For Disneyland Park and California Adventure we've grouped the eateries by theme sections in the parks. Using the map of the parks, we've listed these sections clockwise from the entrance – or heading left when you enter the park. If you discover any changes, or find some additional dairy-free options, kindly leave a comment!

Please Note: In many cases, the dairy-free or food allergy-friendly options at Disneyland require special ordering. So always let the staff know what your dietary needs are and if you have a food allergy. Disneyland restaurants have protocols in place for handling allergy orders. Menu items and ingredients are subject to change at any time, and potential cross-contamination with allergens should always be considered a risk in commercial kitchens. The following is a guide for informational purposes. It is intended to help with your planning, but should not replace your own due diligence. Only you can decide what is "safe" for your needs.

Disneyland Park: MAIN STREET

Candy Palace and Candy Kitchen – Of course, they have several candies that are dairy-free. But some other fun finds here include kettle corn, cinnamon candied apples, and Enjoy life chocolate bars and breakfast ovals (with Mickey packaging).

Jolly Holiday Bakery Cafe – At last check, all of their sweet baked goods contained milk, but you can pop in for an oven-roasted turkey sandwich on an allergy-friendly bun with house-made chips. Other sandwiches and salads can be custom ordered.

Market House / Starbucks – This is essentially a Starbucks, with the same menu. See our Starbucks Dairy-Free Guide to help with options.

Refreshment Corner – Hot dogs and kids' turkey dogs are available dairy free, and served with chips and mandarin oranges. They also sell those Bavarian-style Mickey pretzels.

Disneyland Park: ADVENTURELAND

Bengal BBQ – Their Outback Vegetable Skewers are vegan, and we've been told select meaty skewers can be dairy-free on request – just be sure to check on the sauce (some contain dairy).

Tiki Juice Bar – Their menu is simple: dairy-free pineapple Dole Whip, pineapple juice, and pineapple floats. Enjoy!

The Tropical Hideaway – Ready to mix things up? They swirl multiple fruity flavors of dairy-free Dole Whip and offer a few different Dole Whip floats. They also sell a few grab-and-go snacks.

Disneyland Park: NEW ORLEANS SQUARE

Blue Bayou – They offer dairy-free jambalaya and a vegan cauliflower and steak grits that can be made with Chao cheddar. And they have a couple additional menu items that are easy to customize for dairy-free guests.

French Market Restaurant – Their milk allergy menu includes jambalaya and two healthy kids' meals: chicken with rice and pasta with marinara. They can reportedly make their jambalaya vegan on request, if preferred.

Disneyland Park: FRONTIERLAND

Rancho del Zocalo Restaurante – Their plant-based offering is a cauliflower taco plate, complete with Mexican rice and refried beans. They might be able to make their other street tacos without dairy for you, but the meats aren't listed on their allergy menu specifically.

River Belle Terrace – Their BBQ Tofu is a great protein-rich vegan option, made with additional beans and vegetables. The chopped salad can also be custom ordered vegan, and they have kids' oven roasted chicken that can be ordered dairy free.

Disneyland Park: CRITTER COUNTRY

Hungry Bear Restaurant – They serve dairy-free hamburgers, cheeseburgers (with non-dairy cheese), vegan Impossible burgers, fries, and BBQ chicken salad.

Disneyland Park: STAR WARS

Docking Bay 7 Food and Cargo – This allergy-friendly dining spot has a lot for dairy-free guests. They offer a plant-based meatballs dish, and also have fried chicken, grilled chicken, beef pot roast meals and an Impossible entrée that can be ordered milk allergy-friendly.

Kat Saka's Kettle – They typically offer salted chocolate popcorn and savory "outpost" popcorn mix, both of which are dairy-free and vegan. This vendor is temporarily closed, but you can still find the popcorn nearby via a kiosk behind Droid Depot.

Milk Stand – Their legendary blue and green milks are dairy-free and made with a blend of coconut and rice milks. You can also order the Toydaria Swirl, but skip the mango jelly, which contains milk.

Oga's Cantina – They offer a good selection of dairy-free cocktails and mocktails for all-day refreshment at the Galaxy's Edge. Ask about the Batuu Bits – we have heard they are dairy-free (but contain egg and fish).

Ronto Roasters – Their very small menu boasts wraps and specialty juice drinks. They have a plant-based wrap that's served all day, and is made with vegan sausage, spicy kimchi slaw, sweet pickled cucumber, plant-based gochujang spread, and wrapped in pita. Their meat wraps aren't dairy-free, but you might be able to sub pork into the plant-based wrap, if desired.

Disneyland Park: FANTASYLAND

Maurice's Treats – Their popular Boysen Apple Freeze is dairy-free and vegan, and reportedly a cool slush on a hot day.

Red Rose Taverne – The plant-based Enchanted Cauli-Flower Sandwich has become a popular vegan option, and they have a dairy-free version of their angus burger for "just" dairy-free guests. Both come with fries (reportedly made in a dedicated fryer) and mandarin oranges. For breakfast, they have a plant-based garden vegetable hash, complete with dairy-free cheese!

Disneyland Park: TOMORROWLAND

Alien Pizza Planet – They offer simple cheese and pepperoni pizzas that you can order with dairy-free cheese and/or with a a gluten-free crust. You can also get dairy-free Garlon Bread and their Satellite Salad without dressing.

Galactic Grill – This other-worldly spot serves dairy-free hamburgers, fries, and Outshine frozen fruit bars. They also have a plant-based veggie wrap with dairy-free cheese (so yes, you can order a cheeseburger!).

California Adventure: HOLLYWOODLAND

Award Wieners – They offer a plant-based Philly dog, complete with dairy-free crema, and have other all-beef hot dogs that can be ordered dairy free.

Hollywood Lounge – This is purely a watering hole, but they use almond milk and make some fun dairy-free cocktails.

Schmoozies! – They serve a dairy-free mangonada smoothie, and a couple other smoothies that can be made dairy-free if ordered without yogurt. We've read that they also serve soymilk and almond milk for their coffee drinks, so you can skip the Starbucks line. Studio Catering Co. – You can actually get vegan nachos with soyrizo, house-made chips, and dairy-free cheese and crema at this quick-serve spot. They also have a couple dairy-free taco options.

California Adventure: AVENGER'S CAMPUS

Pym Test Kitchen – For breakfast, they have another Impossible option, with a plant-based omelette and sausage. Later in the day, they serve an Impossible vegan pasta dish, with meatballs, tomato sauce, basil, and dairy-free parmesan. You can also order a vegan Bavarian-style quantum pretzel if you want a snack with beer. But be warned that a milk stout is poured in their Tasting Lab.

Shawarma Palace – They offer a plant-based breakfast wrap, with Impossible sausage, egg omelet, and dairy-free cheese. They also make a chicken shawarma wrap and plant-based falafel-cauliflower wrap, complete with dairy-free garlic spread and coconut-based yogurt sauce, for lunch. C alifornia Adventure: CARS LAND

Flo's V8 Cafe – You can order dairy-free hamburgers, vegan Impossible burgers, chicken tenders, and fries at this diner.

California Adventure: PACIFIC WHARF

Cocina Cucamonga Mexican Grill – Their milk allergy menu includes a whole array of tacos, along with a dairy-free crema topping and their seasoned rice and beans.

Ghirardelli Soda Fountain & Chocolate Shop – This legendary chocolate shop has added Coconut Bliss Madagascan Vanilla ice cream to their scoop menu, and they reportedly have a couple other dairy-free flavors, too. They also offer floats, and select dairy-free toppings for sundaes. In the chocolate shop, check out their hot cocoa mixes – they have options made without dairy.

Lucky Fortune Cookery – As you might expect, this Asian eatery has several good milk allergy-friendly options. They include ramen, bulgogi, banh mi, potstickers, and a couple stir-fry dishes.

Pacific Wharf Distribution Co. – Take time out to enjoy a Karl Strauss beer and a German-style Mickey Mouse pretzel at this pit stop.

Sonoma Terrace – Their snacks are cheese-heavy, but you can enjoy a Bavarian pretzel with your wine, cocktail, or beer.

Wine Country Trattoria – You can order vegan spaghetti aglio olio, get a simple kids salmon or chicken dinner, or custom order a few of their dishes. They can reportedly swap sautéed vegetables for the mashed potatoes or other sides.

California Adventure: PIXAR PIER

Adorable Snowman Frosted Treats – Their frosty treats include dairy-free lemon soft serve that you can enjoy in a cup or cone, with or without blue raspberry swirl.

Lamplight Lounge – On their brunch menu, they have vegan potato flautas with soyrizo and a dairy-free crema, and the avocado toast (with steak) and chilaquiles can be custom ordered without dairy. For lunch and dinner, both vegan and non-vegan burgers can be ordered with their allergy-friendly buns and dairy-free cheese. They also have grilled tenders and PB & J wraps for "budding artists." Some poke options might also be available.

California Adventure: PARADISE GARDENS

Bayside Brews – Need a recharge? This is where you can enjoy a cold beer and a Micky Mouse shaped pretzel in paradise.

Paradise Garden Grill – Enjoy their Asian influenced entrees, Pork Belly Bánh Mì and Asian-style Beef Barbacoa Street Tacos, which are dairy-free. The street tacos can be made top allergen free.

California Adventure: GRIZZLY PEAK

Smokejumpers Grill – Their dairy-free menu includes hamburgers, vegan Impossible burgers, Impossible chili, and waffle fries.

Downtown Disney Black Tap Craft Burgers & Shakes – They offer a vegan burger, and some of their beef burgers can be made dairy-free without cheese and with a vegan bun swap. Their chefs can also make dairy-free salads on order.

Jamba – They blend several of Jamba's plant-based, dairy-free smoothies and smoothie bowls.

La Brea Bakery – Most of their breads are dairy-free, including their gluten-free options (but those do contain egg). So you can custom order most of their sandwiches and salads without dairy. They also offer some vegan flavors of Nancy's Fancy Gelato for dessert, like Passion Fruit, Chocolate Fondente, and Coconut Stracciatella.

Ralph Brennan's Jazz Kitchen – They offer dietary menus, including one for dairy-free, and they make a special order vegan pasta that's brimming with vegetables (just ask for it). Additional dairy-free items include the French Quarter Salad, Pasta Jambalaya ordered without butter, Jazz Kitchen Burger ordered with no cheese, and the plant-based Impossible Burger.

Ralph Brennan's Jazz Kitchen Express – Christine let us know a while back that their beignets are dairy-free and egg-free. We have verified that they are made without dairy or egg ingredients, but do have a cross-contamination warning for "traces." They're made from a dry mix.

Salt & Straw (Downtown Disney) – See our Salt & Straw Dairy-Free Menu Guide for full details.

Splitsville Luxury Lanes – Vegans can enjoy their veggie sushi, custom order Impossible burger, and edamame. But there are additional sushi, poke, bowl, and other dishes for "just" dairy-free guests.

Sprinkles – They offer a vegan red velvet cupcake at all of their stores, including this Downtown Disney location.

Taquería at Tortilla Jo's – This is a build-your-own taco, bowl, or burrito place with basic options. They offer some meats and vegan quinoa meatballs.

Tortilla Jo's – Guacamole and ceviche are obvious choices, but you can also custom order dairy-free tacos, burritos, and fajitas.

Wetzel's Pretzels – Their original, cinnamon, and almond crunch pretzels are dairy-free by ingredients, when ordered without butter. You can enjoy them with the pizza sauce dip.

Disney Hotel: DISNEYLAND HOTEL

Tangaroa Terrace Tropical Bar & Grill – This is a great restaurant for dairy-free eats. In the morning, you can order a full American breakfast, acai chia breakfast bowl, or kids scramble. For lunch and dinner, they have even more options, including poke bowls, ramen, Hawaiian platters, tropical salads with salmon or chicken, vegan rongo salads, rice bowls, kids' hamburgers with sweet potato fries, and panko-crusted long beans. They also serve Dole Whip and Dole Whip Floats, and have some additional grab-and-go items.

Trader Sam's Enchanted Tiki Bar – They have a very similar menu to Tangaroa Terrace (only smaller) with a vegan rongo salad and poke bowl, ramen, Hawaiian platter, tropical salad, rice bowls, and panko-crusted long bean options that can be ordered dairy free.

Disney Hotel: GRAND CALIFORNIAN HOTEL

GCH Craftsman Grill – In the morning, they offer dairy-free egg breakfast plates and avocado toast, and for lunch and dinner, the poke bowl is a good option. Some other items can be custom ordered without dairy, but those are the items recommended for milk allergies specifically.

Storytellers Café – Janet, an Anaheim local, recommended this in-character restaurant. "They will always either have something or make me something with no trouble. (Mention a dietary restriction and you will find a chef coming to your table. Great service!) And it is always good. I have kids and their all you can eat buffet goes over well with them." They can also make you Mickey waffles at this restaurant, and have custom order dairy-free dishes for breakfast and dinner.

Disney Hotel: PARADISE PIER HOTEL

At the time of writing, the PCH Grill at Paradise Pier Hotel had permanently closed (though they might reopen it in another park location), and no other restaurants at this hotel had reopened. The Surfside Lounge and The Sand Bar are still anticipated to reopen, but we don't yet know when and what their menus will look like.

Disneyland: Dairy-Free Snacks & Treats throughout the Parks

There are snack carts and concessions throughout the park. Here are some dairy-free items to keep an eye out for.

Bavarian-Style Mickey-Shaped Pretzel Carts (skip the cheese dip)

Cotton Candy Carts

Fresh Fruit Carts

Lemonade Carts

Popcorn Carts (they use a canola oil and coconut oil blend, not butter)

Turkey Leg Carts

Dill Pickles

Frozen Popsicles

Sabra Hummus Snacks

Silk Almond Milk Singles

Note: Unfortunately, the churros do contain milk.