Weird Reason The Peoplemover Left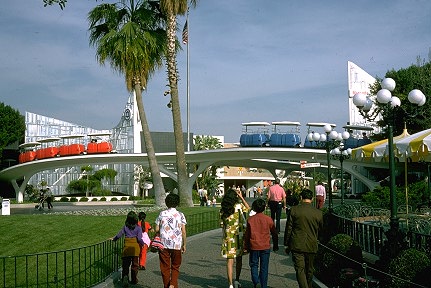 ID:
TMS-4805
Source:
insidethemagic.net
Author:
Alex Lue
Dateline:
Posted:
Status:
Current
Many Disney Park enthusiasts often have a hard time letting go of the past, especially when it comes to Disneyland's historic PeopleMover attraction called the popular Disney theme park home for nearly three decades.

The PeopleMover, sometimes called the Goodyear or WEDWay PeopleMover, was a popular transport attraction located in Disneyland's Tomorrowland in Southern California. Officially opening on July 2, 1967, Guests boarded four rows of futuristic cars propelled over and throughout Tomorrowland by Goodyear tires positioned in the tracks that pushed the cars on the beams.

Quickly gaining popularity, the attraction saw various updates and temporary re-themes as the PeopleMover made its way through Space Mountain and the now extinct Adventures Thru Inner Space. The attraction was a brainchild of Walt Dinsey himself, hoping to provide an example of efficient intercity public transportation.

Unfortunately, the ride closed forever on August 21, 1995. Being replaced by the infamous and short-lived Rocket Rods, many Disney fans believe that the PeopleMover closed down due to a lack of popularity.

What most fans don't know, however, is that the PeopleMover left town due to, well, merchandise.

In one way or another, Disneyland's PeopleMover was eventually closed down for good due to management at the famous Anaheim theme park as it was shifting most of its focus and investments towards merchandising and marketing campaigns.

In 1994, Disney Store head Paul Pressler was tapped to become Disneyland's head executive. Pressler was widely known for unpopular cost-cutting measures throughout the park, such as closing attractions and buildings early and removing customer service training for Cast Members.

Soon enough, attractions began seeing some wear-and-tear, including Walt Disney's Enchanted Tiki Room. However, no other rides received such a lack of refurbishment or attention by management than Disneyland's Skyway and PeopleMover attractions.

Paul Pressler isn't exactly the one to blame for the PeopleMover's disappearance and replacement by the Rocket Rods, as many other Disney executives were intrigued in adding another E-ticket attraction in Tomorrowland.

Still, Pressler's heavy focus on merchandising and marketing pulled necessary funds to maintain the quality of attractions and ensure their preservation, and time went on. As a result, Disneyland became a dreary and unkempt ghost town, one that Disney Legend Marty Sklar regarded as Disneyland's dark ages — one that included barely any Guest.

Disneyland's PeopleMover officially closed on August 21, 1995. Thanks to an unhealthy focus on selling merchandise in the parks rather than maintaining them, Disney fans lost one of their favorite attractions.

Since then, PeopleMover has gained somewhat of a cult following throughout the Disney community. So much so, many fans have created petitions that earned thousands of signatures asking Disney to restore the PeopleMover in Southern California.

Will Disneyland's PeopleMover Return? At the moment, no information or news is coming from Disney or Walt Disney Imagineering regarding Disneyland's PeopleMover.

You can still see the empty beams that once propelled Guests high above the Disneyland ground throughout Tomorrowland, including in the Space Mountain queue and Monorail loading area. While driving through Autopia, you'll see the skinny, discolored PeopleMover beams standing tall throughout the area.

The support rails for the PeopleMover began deteriorating when the Rocket Rods called Tomorrowland home, as the attraction demanded too much of the beams to carry the fast-moving and always breaking cars throughout Disneyland.

While there has been speculation by many that Tomorrowland would receive a massive refurbishment that would last multiple years, there have been no recent confirmations from The Walt Disney Company stating that this will happen.

So, the PeopleMover will still have to live on only in the Magic Kingdom at the Walt Disney World Resort.

---
MickeyMousePark.com
---
Copyright: (c) 1997-2023 by
ThrillMountain Software
---
MickeyMousePark.com is not associated in any official way with the Walt Disney Company,
its subsidiaries, or its affiliates. The official Disney site is available at
disney.com
Troubleshooting Info:

BrowserBrand: IE
Mobile: NO
LocalHost: NO
BrowserOS:
BrowserServer: mickeymousepark.com
BrowserAgent:CCBot/2.0 (https://commoncrawl.org/faq/)
BrowserURL:Page=5&Ident=4805
BrowserCurrentPage: /disneyland-article.aspx
Login: 0
FilterBy: 0
SortBy: 0
DB: MMParkA