A Look At Cafe Daisy And Good Boy Grocers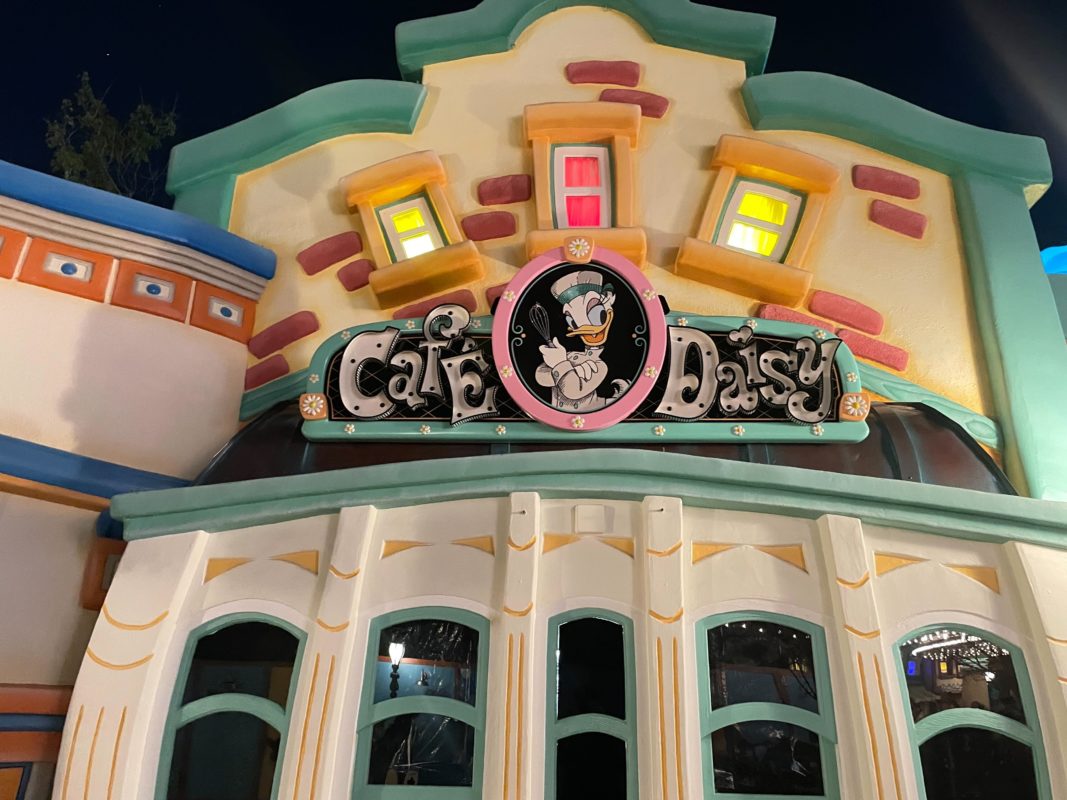 ID:
TMS-5240
Source:
thedisneyblog.com
Author:
Michelle Snow
Dateline:
Posted:
Status:
Current
The revamped Mickey's Toontown is set to open on March 19, 2023, and Disneyland has made sure everyone has access to snacks and more when visiting this area of the park with two new eateries: Café Daisy and Good Boy! Grocers.

Café Daisy Nosh on diner classics concocted by acclaimed culinary expert, Daisy Duck, at this new quick service location named after her.

Serving up lunch and dinner, Café Daisy offers diner-style dishes like Daisy's Dressed-up Dog, which features an all-beef foot-long hot dog, chili-cheese sauce, mac & cheese, and parmesan potato crispies with house-made chips. For those looking for a simpler hot dog, The Daisy Dog is an all-beef foot-long hot dog with house-made chips and gives you the option of adding on some chili-cheese sauce.

Pizza lovers can choose from the Cheesy Pizza Flop-Over, which features mozzarella and provolone with tomato sauce, or the Pepperoni Pizza Flop-Over has pepperoni, mozzarella, and provolone with tomato sauce. Disney says allergy-friendly offerings are available, too – just ask at the location.

For plant-based eaters, Daisy has the Spring Garden Wrap, which combines romaine and quinoa into a wrap with a creamy lemon dressing and toasted pumpkin seeds accompanied with house-made chips.

Speaking of the chips, you can get them plain as a side or in the Toontown 'Tater Chips, which pairs those house-made chips with chili-cheese sauce.

For the kids, there are several options: the Cheese Please! Pizza with cheese and tomato sauce, the Pepperoni Please! Pizza with pepperoni, cheese, and tomato sauce (and how cute are the Mickey ears?), the bite-size Minnie's Mini Corn Dogs, and the Mini Mac and Cheesy.

And everyone can finish their meals with a sweet treat of Daisy's Goody-Goody Donuts with cinnamon sugar.

Café Daisy also offers three special beverage options, in addition to the normal fountain sodas, milk, water, juice, coffee, and hot cocoa.

The Picnic Time Watermelon Lemonade features Minute Maid Zero Sugar Lemonade, watermelon premium syrup, and watermelon gummies or try Granny Goof's Garden Sweet Tea, a Gold Peak® Sweet Iced Tea with honey-mango premium syrup and mango flavor-filled spheres.

Coffee connoisseurs will want to try the Specialty Cold Brrr-ew made up of Caramel Mudslide Cold Brew from Joffrey's Coffee & Tea Co. with sea salt and whipped topping.

Good Boy! Grocers Located in the Toontown Farmers Market of Mickey's Toontown, Good Boy! Grocers is a friendly roadside stand with grab-and-go drinks and tasty treats.

Some of the snack-sized items you can pick up include pickles, Mini Babybel snack cheese, Coca-Cola beverages, waters, Topo Chico Sparkling Mineral Water, gluten-allergy-friendly cookies, fruit bars, and whole fruit.

It's also where you'll find the Perfect Picnic Basket. After picking up your basket, you can choose three snack-sized items such as Cuties Mandarin Orange, yogurt smoothie, applesauce, granola bar, gluten-allergy-friendly fig bar, and more. You'll also be able to choose between a small DASANI water or Minute Maid Juice Box. And if you want to enhance your outing even more, you can also get a Perfect Picnic Blanket to go with your basket.

Then you can sit on one of the newly greened areas and enjoy an outdoors picnic at Disneyland.

The "Perfect Picnic Basket," which includes the basket and 3 select food items and drink, will be priced at $25.99. Adding the blanket brings the total to $36.99, and the basket and blanket are yours to keep.