New Toontown Channels The Parks Lost Land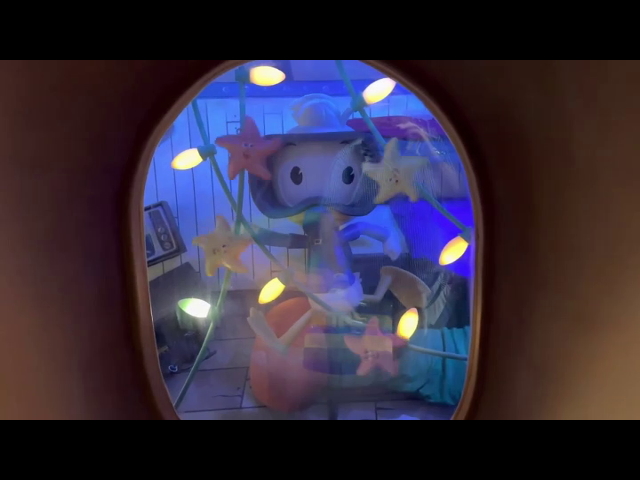 ID:
TMS-5249
Source:
SFGate
Author:
Julie Tremaine
Dateline:
Posted:
Status:
Current
In Disneyland's newest ride, Mickey and Minnie are headed out to the country to go on a "perfect picnic" — that is, until Goofy gets involved and everything goes wrong.

Mickey and Minnie's Runaway Railway, a trackless dark ride that's the first Disney attraction to star the world's most famous mice, opened in January 2023. It's the centerpiece of the massive renovation and reimagining of Toontown, which officially opened March 19 after a yearlong closure. (The ride opened early for the start of Disney100, the yearlong celebration of the 100th anniversary of the Walt Disney Company, but the rest of Toontown remained walled off in the intervening months.)

The new land includes refurbishments of existing attractions and new additions. Gadget's Go Coaster has been "plussed" — Disney's word for enhancement — into Chip 'n' Dale's Gadget Coaster, and Roger Rabbit's Car Toon Spin underwent changes just before the land closed in 2022. New elements include Goofy's How-to-Play Yard and Donald's Duck Pond. Goofy's attraction features seating for weary adults and lots of interactive elements for kids, like a sound garden, "spongy" faux grass play areas and a new clubhouse. The pond has "larger-than-life spinning water lilies, balance beams and rocking toys that will keep adventurous kids busy," Disney said in a press release.

The reopening revealed more open spaces for kids to play, and "CenTOONial Park" offers more shady spots to relax and take a break from the hectic park. In fact, there's one area specifically designed for picnics, just like Mickey and Minnie (spoilers ahead) eventually enjoy on the ride. That kind of picnic area has been missing from inside Disneyland park for decades.

Until now, the only dedicated picnic area had been in the esplanade, between the parking lot tram loading area and the park gates; it's so tucked away that most people walk right by without realizing there's a shady, secluded spot with picnic tables to have a rest. But there was once a place at Disneyland dedicated specifically to picnics and the kind of play the new Toontown makes space for: Holidayland.

In concept, Holidayland was similar to the area of Griffith Park where Walt Disney used to bring his daughters to ride the carousel. That's where he famously sat on a bench, watching the girls enjoy themselves while he just waited, dreaming of a place where both kids and adults could have fun. That area of Griffith Park also has a playground and a baseball diamond, which were two of the main features of Holidayland. It was a huge grassy space just beyond New Orleans Square — or, in Disney parlance, "outside the berm" that separates the park from the real world. The original vision for Holidayland was for it to be an area inside the park where the Matterhorn now sits; it would be a year-round celebration of holidays like Christmas, Halloween, Fourth of July and Easter. That was scrapped, and the area briefly became Holiday Hill.

Sometimes called Disney Peak or Snow Hill, Holiday Hill grew out of necessity and didn't last long — but for a while, it was a grassy hill where people could relax and enjoy the park. During the construction of Disneyland in 1954, excavating the moat around Sleeping Beauty Castle created an enormous mound of dirt that proved to be too expensive to remove, with scarce money for the project and expanding construction costs.

Rather than spend more to take it out, Disney opted to landscape it, adding walking paths and benches where people could sit and enjoy the view. Legend has it that the place was so secluded that it became a kind of lovers' lane, and extra security patrols needed to be added to keep heart-eyed teenagers from getting carried away. Holiday Hill was removed in 1958 and converted into the foundation for the Matterhorn.

Though the concept for Holidayland was scrapped, the name lived on. The green space opened on June 16, 1957, as an area for large-scale events like company picnics.

"Commonly known as the 'lost land of Disneyland,' this area was still a picnic area, but it dropped the whole holiday theme (making the name kind of a mystery)," Cole Geryak wrote for Disney blog Laughing Place. "With playgrounds, horseshoes, and baseball fields, this area felt more like traditional amusement parks of the time."

"The nine-acre space could actually hold about 7,000 people, so it was perfect for gatherings of large groups of guests," Geryak continued. "Many companies would have their summer parties there, giving guests the opportunity to experience a taste of the Disney magic."

The playground had equipment that vaguely looked like Disney attractions. "The covered slides looked just like the Conestoga wagons in Frontierland," Todd James Pierce wrote for the Disney History Institute. "The climbing structure — with its wooden drawbridge and spires topped with flags — resembled Sleeping Beauty's Castle." Guests would also be served picnic lunches from a food service vendor that served food inside the park as well. Though it was attached to Disneyland, guests couldn't enter the park until late in the afternoon if they were attending a Holidayland event.

"Imagine this: You're packed in a car, you're dreaming of what lies on the other side of that berm, and your parents, instead of taking you into Disneyland, take you into Holidayland," Disney Legend and Imagineer Tony Baxter said at the D23 Expo. His presentation on Holidayland included footage of events in the space during the late 1950s. There was a huge red-and-white-striped circus tent serving as the entry, decorated with posters for Disneyland attractions — but the area was really nothing like Disneyland.

"Just think," Baxter added to his tongue-in-cheek narration, "you're waiting to go through those turnstiles, you're hearing the Mark Twain [Riverboat] and Autopia, all of these things just beyond the berm … but you're not going to go on those, because today, you get to do sack races. At Disneyland. Wouldn't that be great?"

"Now, remember, we don't want to go on the Jungle Cruise or the Matterhorn; we want to do baseball," he continued. "... The whole family's out there. Meanwhile, the [whistle] of the Mark Twain right on the other side of that, but no, we're going to play baseball."

Likely because of the throngs of disappointed kids who would much rather be next door — and also because the area had no shade and few bathrooms — Holidayland closed in 1961. There was one major selling point for those baseball-playing dads, though: Holidayland sold beer, which Disneyland didn't do at the time and still only does in limited ways.

"Drunk guests entered the main areas of Disneyland and spoiled the atmosphere for families on vacation," Pierce added. "As Holidayland was designed primarily for adults, the area sat empty during the workweek and was only booked for weekend events."

The space was utilized shortly after for show buildings to house Pirates of the Caribbean and the Haunted Mansion. There hasn't been another dedicated area in Disneyland for kids to run around and play since then — though in Disney California Adventure, the Redwood Creek Challenge Trail is a similar idea. The new Toontown aims to add it back in. The land's market, Good Boy! Grocers, sells picnic baskets of food for people to eat as they sit in the grass, along with picnic blankets, sold separately. It's reminiscent of Holidayland — although this time, it's inside the berm.