From Stagecoaches To Monorails Rare Disneyland Artifacts Bring 18 Million Dollars At Heritage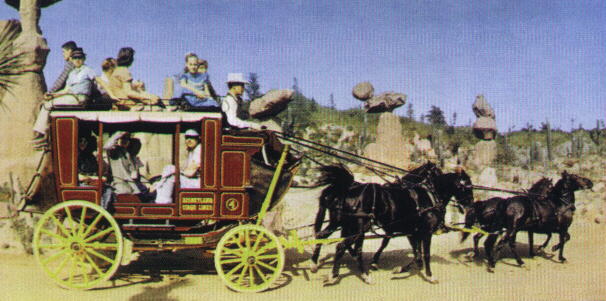 ID:
TMS-5251
Source:
AntiquesAndTheArts.com
Author:
Dateline:
Posted:
Status:
Current
On Saturday, March 25, a lucky bidder rode off into the sunset with a one-of-a-kind original stagecoach offered by Heritage during its two-day Disney Theme Parks auction. The Art of Disneyland: From Stagecoaches to Monorails… and More! spanned the Parks' fascinating evolution and brought in $1.8 million, with 100 percent of lots sold and some significant results for rarities from Disneyland, Disney World and Disney Stores.

This Heritage Disney event, the first of 2023, follows last year's record-breaking $2.2 million Art of Disneyland auction, and it just happened to coincide with the 100th anniversary of the Walt Disney Company and the 50th anniversary celebration for Walt Disney World. "This event showcased every aspect of the Parks," says Jim Lentz, Heritage's director of animation art. "More than 850 lots spread over two full days offered collectors precious slices of Main Street, Frontierland, Adventureland, Fantasyland, Tomorrowland and more."

The most unusual lot yielded the top result at $84,000 and reached back into Disney Parks history with something that kicked off Disneyland itself: the original full-size, nine-passenger Overland Stagecoach that evokes the "Rainbow Mountain Stagecoach" ride from Disneyland's earliest years. Very few authentic frontier stagecoaches still exist, making this a rare piece of Americana as well as the inspiration behind the iconic Disneyland attraction of the 1950s; the "Stagecoach" ride defined Disneyland's opening years and preceded the famed Monorail.

Another top lot on the move: An astonishing Autopia Mark VII car from Disneyland, circa 1967-99, professionally restored to drivable condition, sold for $48,000. Autopia's vehicles were designed by Imagineer Bob Gurr, who fashioned this car with a front inspired by the Corvette Stingray, and the back inspired by an Opal GT. Another Autopia car in this event, a Mark VI park-used vehicle body, brought in $26,400. Also from Disneyland: the Skyway ferried guests over Disneyland for some excellent views, and Heritage sold an exceptionally rare original Skyway gondola from the era of Tomorrowland, with its iconic rounded design, for $48,000.

From Disney World and its famed Monorail, an original Mark IV Monorail cabin was a top attraction in this event and sold for $36,000. This particular cabin hummed into service at the park in 1984, its doors still open and close, and all of its windows are intact. Also from Disney World, this park-used vehicle from Snow White's Scary Adventures sold for $33,600; the ride took guests through the dwarves' diamond mine and cottage, crashed through the castle's walls, and made an escape through the forest. This just scratches the surface of a lively, robust weekend-long Heritage Disney event.



---
MickeyMousePark.com
---
Copyright: (c) 1997-2023 by
ThrillMountain Software
---
MickeyMousePark.com is not associated in any official way with the Walt Disney Company,
its subsidiaries, or its affiliates. The official Disney site is available at
disney.com
Troubleshooting Info:

BrowserBrand: IE
Mobile: NO
LocalHost: NO
BrowserOS:
BrowserServer: mickeymousepark.com
BrowserAgent:CCBot/2.0 (https://commoncrawl.org/faq/)
BrowserURL:Page=5&Ident=5251
BrowserCurrentPage: /disneyland-article.aspx
Login: 0
FilterBy: 0
SortBy: 0
DB: MMParkB