1st Look At The New Tianas Palace Restaurant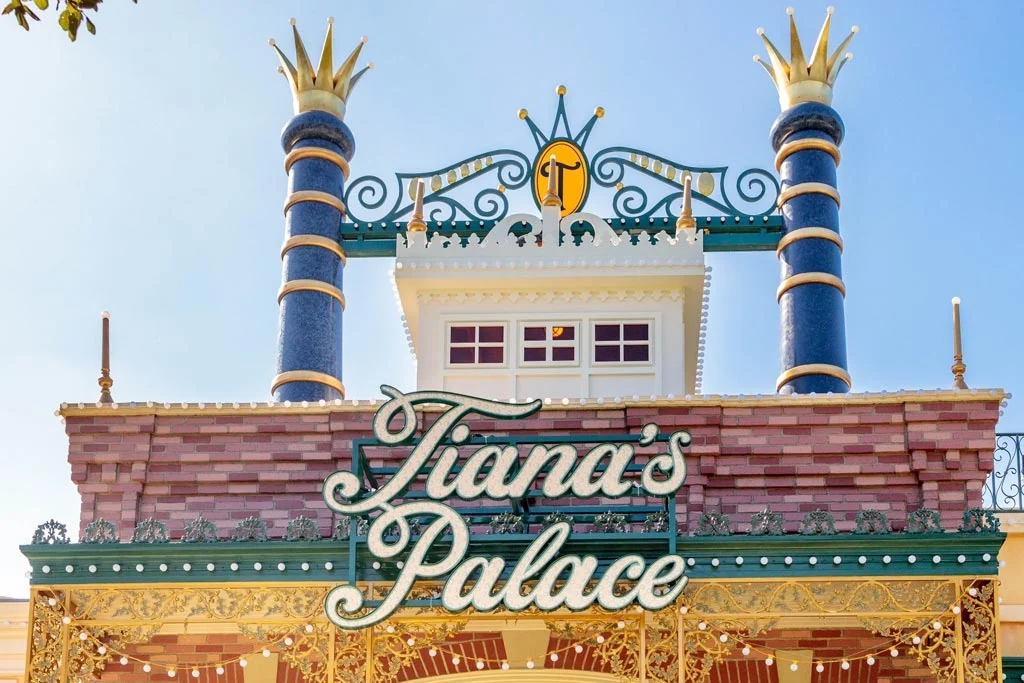 ID:
TMS-5337
Source:
thepointsguy.com
Author:
Leslie Harvey
Dateline:
Posted:
Status:
Current
A new themed restaurant, Tiana's Palace, is opening Thursday at Disneyland Park in Anaheim, California.

The restaurant's opening is just one of several steps in bringing Princess Tiana from 2009's "The Princess and the Frog" film into the Disney parks permanently. This multiyear process will culminate in the opening of Tiana's Bayou Adventure, a reimagining of the attraction formerly known as Splash Mountain, in 2024.

I had the opportunity to take a sneak peek inside Tiana's Palace on the eve of its grand opening, taste some of the new dishes and see what Disney Imagineers and chefs have done to transform the restaurant space.

Here's a first look at what Disneyland guests can expect when dining at Tiana's Palace.

What is Tiana's Palace?

Tiana's Palace is a new counter-service restaurant offering lunch and dinner in New Orleans Square in Disneyland Park. It occupies the same restaurant space formerly occupied by French Market, by the New Orleans Square train station just beyond Cafe Orleans.

Tiana herself won't be present, so this won't be a Disneyland character meal. But she often can be spotted strolling around the square nearby.

In the film, Tiana opened her own restaurant, Tiana's Place, serving dishes from her native New Orleans. Giving her a companion eatery in Disneyland's New Orleans Square surely seems like a natural fit. She's had a restaurant of her own aboard the Disney Wonder cruise ship for the better part of a decade now.

When the restaurant was first announced, it was met with some criticism because French Market was already one of the more popular Disneyland quick-service eateries. Of all the restaurants in Disneyland Park, it was probably less in need of an overhaul than a few others. But the location and size of the restaurant, not to mention the obvious synergy, likely made the change compelling.

Tiana's Palace is exclusive to Disneyland Resort. While both Walt Disney World in Florida and Disneyland will get their own versions of Tiana's Bayou Adventure in 2024, only California will have an eatery along with the ride.

New theming and decor

The restaurant space at Tiana's Palace has been entirely transformed, with new exterior signage and interior decor. The color scheme features Tiana's signature light green, and it has yellow accents and pops of purple blended in to evoke a Mardi Gras-like atmosphere.

There are several Easter eggs on the walls mixed into the restaurant's decor. The restaurant's lamps are inverted flowers on a lily pad. By the restaurant's side entrance is a rack where the coats of several key characters from the movie hang. There are nods to New Orleans jazz in multiple locations.

Food is served on an indoor buffet; there is outdoor seating, mostly under the shade of celebratory banners and the large tree in the adjacent square.

The restaurant will also offer mobile ordering, available for pickup at a large window facing the Rivers of America on the restaurant's front.

Best dishes at Tiana's Palace As compelling as the interior and exterior spaces appear, guests really want to know one thing: How is the food? It's not perfect, but it's about as high quality as a Disney quick-service restaurant can get.

Its New Orleans Square restaurant neighbor, Blue Bayou, has gradually been phasing out Cajun and Creole dishes in favor of standard American fare in the last few years. In contrast, Tiana's Palace is putting New Orleans cuisine front and center.

As a transplanted Southerner who has been waylaid in California for the last two decades, I'm a tough critic when it comes to West Coast takes on the cuisine of my youth. However, Disney went to great lengths to bring authentic New Orleans dishes to Tiana's Palace. I'm thrilled (and a little relieved) to say that it shows.

I was most looking forward to trying the Gulf Shrimp and Grits, and it was tasty, although not flawless. The shrimp were large and flavorful without being too spicy, but the cheesy grits were more cream than grit in texture.

Fans of gumbo have three choices on the menu. I tasted the 7 Greens Gumbo (which comes in a vegetarian version as well as a version with chicken and andouille sausage), and it was fresh and not too heavy. There is a classic house gumbo on the menu that some guests rated a tad too spicy, but I didn't have a chance to try it myself this visit.

Rounding out the entree choices are the Cajun Spiced Half Chicken, Muffuletta Sandwich, and Beef Po'boy Sandwich. The restaurant serves an impressive number of entrees compared to many other quick-service restaurants in Disneyland. Whether Disney pares back the variety, as it has with other new restaurants once they settled in, will be the ultimate test.

As the parent of one picky eater, I was also relieved to find some less adventurous fare on the kids menu. The three kids meal options are a chicken drumstick with barbecue sauce, a macaroni and cheese plate, and a toasted ham and cheese sandwich.

The macaroni and cheese is a casserole-style bake and was, in my opinion, the most delicious item I tasted on the entire menu. It's a side for some of the other adult menu items. But parents of extra-picky kids should know that it isn't exactly like the standard Disney creamy mac and cheese dish found in multiple other quick-service park restaurants.

I'd be remiss not to mention that the menu also includes a side of cornbread large enough to share, as well as a glazed beignet filled with lemon cream. The cornbread was dense and a tad sweet — a definite highlight and highly authentic. The beignet seems a bit duplicative, given the restaurant's location right next to the Mint Julep Bar, which will continue serving classic Mickey beignets.

Logistics of getting a meal at Tiana's Palace Any time a new restaurant opens at Disneyland, the buzz is tremendous in the opening days. The prime location of Tiana's — and the fact that the food is some of the most high-quality quick-service fare in the park — is likely to make the restaurant exceptionally popular for some time to come.

If you want to dine at Tiana's Palace in the coming weeks (and perhaps even months), your best option is to place a mobile order on the Disneyland app early in the morning as soon as times are released. There, you can select a time window for later in the day.

As odd as it may seem to order lunch or even dinner at 8 a.m., it may be necessary for a while. Return windows will surely be booked completely as soon as they are released, as was the case for mobile ordering at Pym Test Kitchen when Avengers Campus opened. And the physical line for the restaurant will surely be significant.

What's next in Disneyland's New Orleans Square? Tiana's is a strong dining addition to New Orleans Square. It gives guests several much-needed alternative dishes to the standard pizza, burgers and chicken fingers of most quick-service restaurants. It also offers the flavors of the more expensive New Orleans Square eateries like Blue Bayou and Cafe Orleans at a lower price point with no reservations required.

Furthermore, it paves the way for even more to come in this area of the park.

So what's next? For now, construction walls surround Tiana's Bayou Adventure, but progress is visible for its targeted 2024 opening.

Just last week, Disney announced that it would be changing several spaces on the perimeter of the neighboring Haunted Mansion. The proposed refurbishment will move the extended queue for the attraction, eventually freeing up more space for seating at Tiana's and ideally creating a more spacious and open New Orleans Square.