A Rare Character Debuts At Oogie Boogie Bash Halloween Party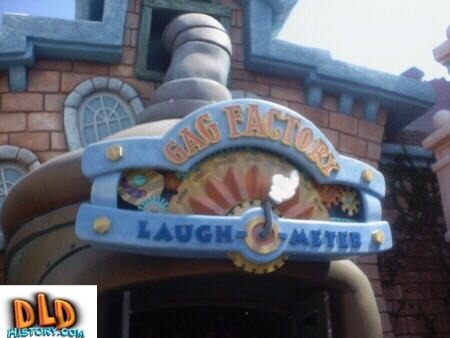 ID:
TMS-5344
Source:
SFGate
Author:
Julie Tremaine
Dateline:
Posted:
Status:
Current
"I'm looking for a rabbit," he says, sinister gaze peering down from his perch in a grimy back alley. "You wouldn't happen to know where the rabbit might be, do you?"

Judge Doom, the villain from "Who Framed Roger Rabbit," a character played by Christoper Lloyd in the 1988 film, made his first-ever Disneyland appearance at opening night of Oogie Boogie Bash on Sept. 4. And he was out for justice.

Doom appeared on a "treat trail," a trick-or-treating path dotted with cast members giving out handfuls of candy and snacks. Many of the treat trails during the event have a villain as part of the attraction, like Oogie Boogie from "The Nightmare Before Christmas" or Sid from "Toy Story." While you listened to him lay out his plan for vengeance against Roger Rabbit, you could pick up some candy bars or Goldfish crackers and take photos.

Most other characters on the treat trails made banter with guests. Madam Mim from "The Sword in the Stone" gleefully greeted people by saying, "I hope you're having a terrible time!" Cruella de Vil passed down judgments about people's clothing choices (and had glowing praise for anyone dressed like her, especially kids). Ernesto de la Cruz from "Coco" sang "Remember Me" as people shuffled past, taking selfies and collecting their loot.

Judge Doom, though, had an entire story line, punctuated by his movie-famous, toon-killing concoction called "Dip." While there, he took out the cartoon shoe from the movie, and forced him down into a barrel of the stuff.

"Toons are a nuisance," he said just before he offed the sad little shoe. "They serve no purpose in life other than to entertain."

He then explained to fans as they encountered him on the treat trail that he's hunting down Roger Rabbit, wanted for the murder of Marvin Acme, as a final farewell to his career as a judge. "Once Roger Rabbit is convicted," he explained, "I plan to take a part in Cloverleaf Industries." They'll build freeways, he said. They'll even pave over Toontown, giving him his final victory over the toons he hates so much.

Does he succeed? Not likely. Disneyland just put so much work into its Toontown renovation, even adding a new ride, that Bob Iger will probably have a thing or two to say about it.

---
MickeyMousePark.com
---
Copyright: (c) 1997-2023 by
ThrillMountain Software
---
MickeyMousePark.com is not associated in any official way with the Walt Disney Company,
its subsidiaries, or its affiliates. The official Disney site is available at
disney.com
Troubleshooting Info:

BrowserBrand: IE
Mobile: NO
LocalHost: NO
BrowserOS:
BrowserServer: mickeymousepark.com
BrowserAgent:CCBot/2.0 (https://commoncrawl.org/faq/)
BrowserURL:Page=5&Ident=5344&FontSize=2
BrowserCurrentPage: /disneyland-article.aspx
Login: 0
FilterBy: 0
SortBy: 0
DB: MMParkA