Disneyland May Bring Back Peoplemover And Skyway For Theme Park Expansion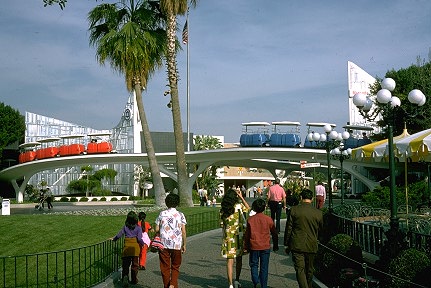 ID:
TMS-5352
Source:
Orange County Register
Author:
Brady Macdonald
Dateline:
Posted:
Status:
Current
Disneyland could tear a page out of the history books and bring back two classic rides as a way to move visitors between theme parks and parking garages under a massive expansion plan envisioned for the Anaheim theme park resort.

The proposed "themed ride systems" are buried deep in the 17,000-page Environmental Impact Report released this week by the city of Anaheim for Disney's expansion initiative known as DisneylandForward.

Photos labeled "Example of Ride Crossing" in the DisneylandForward EIR show the Disney Skyliner and the Tomorrowland Transit Authority PeopleMover at Walt Disney World in Florida.

The themed ride systems are envisioned as a possible complement or alternative to proposed pedestrian bridges across Harbor Boulevard and Disneyland Drive as a way to move visitors between their cars and the parks.

"These crossings may be in the form of a bridge and sunken roadway similar to the existing Downtown Disney bridge, an elevated bridge with similar aesthetic treatment and dimensions as the existing Downtown Disney bridge, or a themed ride system," according to the DisneylandForward EIR.

Disneyland was once home to earlier versions of the Skyliner and PeopleMover attractions. The Skyway operated at Disneyland over Fantasyland and Tomorrowland from 1956 to 1994. Disneyland's PeopleMover traveled along an elevated track in Tomorrowland from 1967 to 1995.

The DisneylandForward plan envisions two pedestrian bridges over Disneyland Drive and up to three over Harbor Boulevard that would connect to a proposed 17,000-space eastside garage along Disney Way.

The proposed pedestrian bridges would "serve as a continuation of the themed environment across the roadway with no access to and from the public right-of-way," according to the DisneylandForward EIR.

Disneyland hopes to have the DisneylandForward project go before the Anaheim City Council for approval before the end of 2024.

---
MickeyMousePark.com
---
Copyright: (c) 1997-2023 by
ThrillMountain Software
---
MickeyMousePark.com is not associated in any official way with the Walt Disney Company,
its subsidiaries, or its affiliates. The official Disney site is available at
disney.com
Troubleshooting Info:

BrowserBrand: IE
Mobile: NO
LocalHost: NO
BrowserOS:
BrowserServer: mickeymousepark.com
BrowserAgent:CCBot/2.0 (https://commoncrawl.org/faq/)
BrowserURL:Page=5&Ident=5352&FontSize=2
BrowserCurrentPage: /disneyland-article.aspx
Login: 0
FilterBy: 0
SortBy: 0
DB: MMParkA