He Climbed Matterhorn Mountain 300 Times With Mickey And Goofy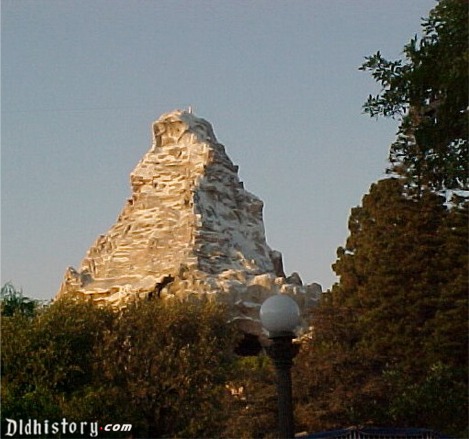 ID:
TMS-5375
Source:
Orange County Register
Author:
Brady Macdonald
Dateline:
Posted:
Status:
Current
During his 50-year career at Disneyland, Jimmie Payton was the first to climb Matterhorn mountain with Mickey Mouse and scaled the man-made peak more than 300 times — including during the 50th anniversary of the park when he planted a flag at the top.

Disneyland honored Payton and eight other employees this week for more than 50 years of service each with a ceremony in the Golden Horseshoe restaurant and a cavalcade along Main Street USA.

Payton got his start at Disneyland in 1973 as an atmosphere performer and stage production dancer.

Starting in the character department, the 19-year-old worked with some of the biggest names at Disneyland — including Mickey Mouse, Minnie Mouse, Donald Duck, Peter Pan, Pinocchio, Dopey, Robin Hood, Mr. Smee and Scrooge McDuck.

At 4 feet, 9 inches tall, Payton was about the same height as Mickey Mouse and could even do the famous high-pitched falsetto of the Disney icon once voiced by Walt Disney himself.

The gym rat, rock climber and backpacker was a natural fit when Disneyland was looking for mountain climbers interested in conquering the 147-foot-tall Matterhorn Bobsleds attraction — a 1/100th scale replica of the 14,700-foot-tall original.

Disneyland had climbers ascend the peak when the world's first modular steel roller coaster opened in 1959 — and off and on in the years that followed.

Payton became the first person to climb Disneyland's Matterhorn with Mickey Mouse and went on to scramble up the mountain hundreds of times as the manager of the park's 13-person climbing team in the 1980s and '90s.

The Matterhorn climbers developed a few regular show routes traversed by Mickey and Goofy while also carving out more than 30 alternate routes of differing difficulties while practicing on the mountain.

Trekking up the faux mountain covered in painted snow was challenging.

"In the summertime it's blistering hot," Payton said during an interview at Disneyland. "It doesn't have the same traction that real rock has. It's a bit slippery."

The highest peak in Disneyland's famed mountain range offers a commanding view of the Anaheim theme park.

"It's one of the tallest points of view of the park," said Payton, 70, of Chino Hills. "Being able to look down at the submarine lagoon, the teacups and Storybook Land and going 'Oh, wow.' It was even above the sky buckets."

One of the biggest perks of making it to the top of Disneyland's Matterhorn: Playing basketball on the tiny half court tucked inside the mountain peak.

"It was kind of shaky up there because there's an attraction and the whole mountain moves a little," Payton said.

Payton's last trip to the top of the Matterhorn was also the highlight of his Disneyland career: Planting a "50" flag on the peak for the 50th anniversary in 2005.

During marketing tours in the 1970s, Payton traveled with Mickey Mouse aboard Walt Disney's plane to promote Disneyland to all 50 states, Canada, Mexico, Japan, Australia and New Zealand.

In the 1980s, Payton worked as a manager in Disneyland's character development department where he was focused on safety protocols and accident prevention.

In the 1990s, Payton was a duty manager who oversaw entertainment for all of Disneyland — a job that required him to circle the park eight times a day to check in on every live show and atmosphere performance.

"I did about 23 miles one day," Payton said with a chuckle.

Since 2000, Payton has been Disneyland's parade maintenance manager — overseeing the floats and vehicles. He's worked on every Christmas Fantasy Parade in some capacity since 1973.

"This will be my 51st Christmas parade," Payton said. "It's a lot of fun. I'm not a Scrooge. I love Christmas."

Payton has had 50 jobs in his 50-year career at Disneyland. He's got no plans to retire just yet. He's still having fun at the summer job he got as a teenager.

"Working at Disneyland has been an amazing career," Payton said. "A lot of people don't realize that when you get in here there are hundreds of opportunities. I act as a mentor for new hires and say, 'If you find a place that you're not really happy with, explore something else.' It's just an amazing place to work."

The best perk of all about working at Disneyland? Payton met his wife, Reina, a Disneyland custodian, 15 years ago while she was cleaning a parade float. They've lived happily ever after ever since.

Disneyland's other 50-year honorees include Security Officer Enrique Lugo, Avengers Campus Retail Clerk Michael Boettger, Goofy's Kitchen Cook Alfredo Salas, Security Officer George Stecher, Main Street USA Retail Clerk Liane Teubner and Custodian Billy Morton.

The 55-year honorees include Staff Shop Lead George Montano and Model Mold Shop Lead Louie Montero.



---
MickeyMousePark.com
---
Copyright: (c) 1997-2023 by
ThrillMountain Software
---
MickeyMousePark.com is not associated in any official way with the Walt Disney Company,
its subsidiaries, or its affiliates. The official Disney site is available at
disney.com
Troubleshooting Info:

BrowserBrand: IE
Mobile: NO
LocalHost: NO
BrowserOS:
BrowserServer: mickeymousepark.com
BrowserAgent:CCBot/2.0 (https://commoncrawl.org/faq/)
BrowserURL:Page=5&Ident=5375
BrowserCurrentPage: /disneyland-article.aspx
Login: 0
FilterBy: 0
SortBy: 0
DB: MMParkA