Everything You Could Ever Want To Know About Haunted Mansion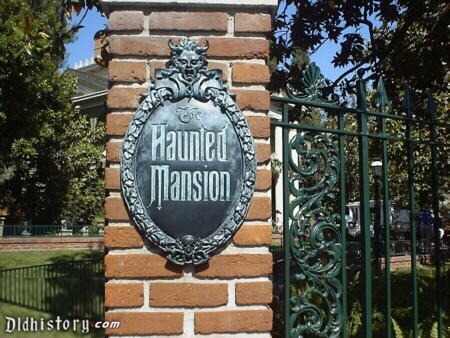 ID:
TMS-5378
Source:
SFGate
Author:
Julie Tremaine
Dateline:
Posted:
Status:
Current
It's one of Disneyland's most beloved rides for a reason: The Haunted Mansion has it all. There's ghostly lore, historical drama, 999 Easter eggs and more than a few secrets waiting to be explored. But, believe it or not, the Haunted Mansion that you know and love almost didn't exist at all.

We've collected all of our favorite stories about the Haunted Mansion, from the dramatic backstory of its creation to the many hidden spots that only a lucky few guests get to see.

Museum of the Weird: What Haunted Mansion almost was

Walt Disney always knew he wanted to have a spooky attraction in Disneyland, but beyond that, he didn't know what he wanted for what would eventually become the Haunted Mansion. In assembling the team tasked with conceiving it, he paired legendary Imagineer Yale Gracey, who pioneered many of the effects in the Pirates of the Caribbean ride, with a younger Imagineer, Rolly Crump, who was newer to the team but who had caught Disney's attention with his innovations working in the animation studio.

What the team got from Gracey and Crump was much scarier than expected. So much, in fact, that the custodians at WED Enterprises (the department that would eventually become Walt Disney Imagineering, which creates new Disney attractions) refused to go into that studio to clean at night.

Some Disney fans say the 'death certificate' never existed. We found proof.

The existence of the Disneyland death certificate is one of the most hotly contested Disney history topics among online fans. For as many people swearing up and down that they definitely got one personally, there are just as many who are completely positive it's a rumor and it never happened.

The controversy seems to date back to a Buzzfeed article about the secrets of Disneyland. But by the time the article was published, Disneyland had already stopped distributing them to guests.

A new Easter egg was just added to the Haunted Mansion

A one-of-a-kind Easter egg was added to Disneyland's Haunted Mansion during its yearly conversion into "Haunted Mansion Holiday," the seasonal overlay for both Halloween and Christmas. The tribute was first spotted during the ride's reopening for the Halloween season. Blink and you'll miss it: a spooky figure seemingly made of white candle wax hidden among a cluster of colorful presents.

Disneyland's Haunted Mansion changed Halloween forever

Think of Halloween's most basic elements: candy, costumes, spooky parties and haunted houses designed to scare you for fun. But what if those haunted houses didn't exist? It turns out we have Walt Disney to thank for revolutionizing modern Halloween entertainment. And it all started with Disneyland's Haunted Mansion.

There's a secret cemetery — and it's not the one you're thinking of

The Matterhorn Bobsleds may have a hidden basketball court, but there's no other ride in Disneyland that has more secrets than the Haunted Mansion. The 1969 ride, one of the last overseen (at least in part) by Walt Disney himself, is full of surprises and strange legends. But a secret cemetery? That was a new one, even for me. When I got a bit of extra pixie dust one day, a cast member let me see it.

The secret entrance at Haunted Mansion has an even bigger secret inside

Rather than send people down through the "stretching room," this entrance, through a subterranean door in the crypt area, takes guests through a "servant's entrance" of the New Orleans-style mansion. Going through this secret entrance, which involves a flight of stairs followed by a descending ramp, allows guests to see a different side of the mansion, from the servants' perspective.

There's one thing, though, that's out of place. Or is it?

Are there really 999 happy haunts?

"As a lifelong Disney fan, I've heard this ominous greeting countless times. As a journalist, however, I had some questions." SFGATE freelancer Tarah Chieffi took on a herculean task: She attempted to count every single ghost in the Haunted Mansion.

Love the Haunted Mansion? There's more on the way.

Disneyland's revamp of New Orleans Square has gotten even bigger: Receently, Disney Parks announced the "grounds" of the Haunted Mansion ride are expanding.



---
MickeyMousePark.com
---
Copyright: (c) 1997-2023 by
ThrillMountain Software
---
MickeyMousePark.com is not associated in any official way with the Walt Disney Company,
its subsidiaries, or its affiliates. The official Disney site is available at
disney.com
Troubleshooting Info:

BrowserBrand: IE
Mobile: NO
LocalHost: NO
BrowserOS:
BrowserServer: mickeymousepark.com
BrowserAgent:CCBot/2.0 (https://commoncrawl.org/faq/)
BrowserURL:Page=5&Ident=5378
BrowserCurrentPage: /disneyland-article.aspx
Login: 0
FilterBy: 0
SortBy: 0
DB: MMParkA