California vs. Paris: The Castle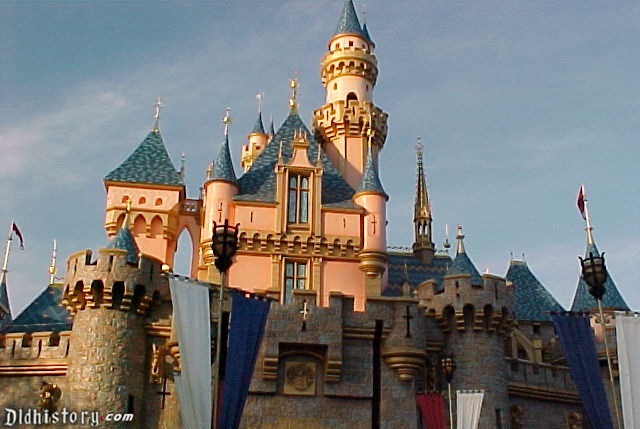 ID:
TMS-1956
Source:
MickeyMousePark.com
Author:
Dateline:
Posted:
Status:
Current
In the first of a monthly series of comparisons between the two Disneyland's' closest to my heart (California and Paris), I will be looking at Sleeping Beauty Castle.

The French equivalent, officially known as "Le Chateau de la Belle au Bois Dormant", is 167ft high, to California's 77ft. The latter features a coat of arms with three lions passant thereon. Although not officially the Disney Crest (which features three fleurs de lis) this same emblem appears in The Backlot Express in Disneyland Resort Paris, also above a door.

The design of California's castle is based mainly on Bavaria's Neuschwanstein Castle (with the windows being a tribute to Notre Dame), whereas the one in Paris is based more on the one in the Disney film (including the surrounding square trees) and also the Mont Saint-Michel in Normandy.

Both castles have dioramas telling the story of their eponymous heroine. Paris had these from the park's opening in 1992, whereas California's opened 1957, two years after the rest of the park opened to the public. Whereas the only major change during the history of the one in Paris is the recent addition of markers to guide the guest around the exhibits in the correct order, the "original" has had three totally different experiences. The most recent also including a virtual tour on the ground floor, to make the attraction more wheelchair accessible. Le Chateau has an elevator for this purpose, which also leads us down to La Taniere du Dragon, a much publicized audio-animatronic when the Park first opened which now isn't mentioned on the free park guides or maps.

Obviously, Hong Kong also has a Sleeping Beauty Castle, whereas Florida and Tokyo have a differently themed structure, Cinderella Castle. Of the five castles, the one in Paris is the only one to be made of stone rather than fiberglass.

---
MickeyMousePark.com
Contact Us
Privacy
Payment Options
Disclaimer
Email Policy
Site Map
Clear Cookie
---
Copyright: (c) 1997-2021 by
ThrillMountain Software
---
MickeyMousePark.com is not associated in any official way with the Walt Disney Company,
its subsidiaries, or its affiliates. The official Disney site is available at
disney.com
Troubleshooting Info:

BrowserBrand: IE
LocalHost: NO
BrowserOS:
BrowserServer: mickeymousepark.com
BrowserAgent:CCBot/2.0 (https://commoncrawl.org/faq/)
BrowserURL:Page=5&Ident=1956
BrowserCurrentPage: /disneyland-article.aspx
Login: 0
FilterBy: 0
SortBy: 0
DB: MMParkA