California vs. Paris: Fantasyland Shops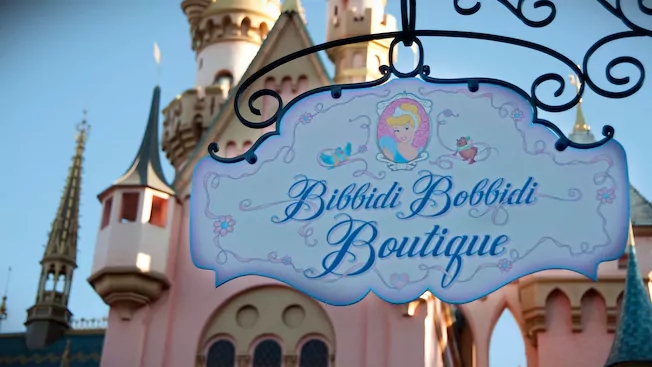 ID:
TMS-2371
Source:
MickeyMousePark.com
Author:
Dateline:
Posted:
Status:
Current
This article shall finish off my series of comparisons between the Fantasylands of the Disneylands closest to my heart (California and Paris) by looking at the shops found in that Land.

The shops in the Paris Fantasyland are La Bottega di Geppetto (Geppetto's Shop), La Boutique du Chateau (The Castle Shop), La Chaumiere des Sept Nains (The Seven Dwarfs' Cottage), La Confiserie des Trois Fees (The Three Fairies' Sweet Shop), La Menagerie du Royaume (The Kingdom Menagerie), Merlin l'Enchanteur (Merlin the Magician), La Petite Maison des Jouets (The Little House of Toys) and Sir Mickey's Boutique.

In terms of architecture, the shops which are most similar are La Chaumiere des Sept Nains in Paris, and Bibbidi Bobbidi Boutique in California. Both feature similar columns, clock towers and window design, although Anaheim's roof seems rather plain compared to France's, which is based on the tiling designs of several structures within the region of Burgundy.

Both are located behind Sleeping Beauty Castle and are designed to include battlements to imply the shop was built at the same time as the castle, and to defend it. However, whilst Bibbidi Bobbidi Boutique exists so as to sell youngsters a princess make-over, La Chaumiere des Sept Nains is a much more conventional toy and clothes shop. The Paris resort does have an equivalent make-over option though, called "Princess for a Day", which is based in the Disneyland Hotel.

Inside Sleeping Beauty Castle in Paris is the Christmas themed La Boutique du Chateau and Merlin l'Enchanteur. The latter (named for the French title of the 1963 Disney film The Sword in the Stone) is very similar to California's Heraldry Shoppe in terms of location and merchandise, although the French one's design is much more interesting, including ancient tools, kitchen wear, magic potions, maps, wooden owls and a futuristic flying machine.

Both Merlin and Heraldry Shoppe sell swords and knives but neither allows a customer to carry these products within the park. This permits Disney to charge shipping on top of the price the weapon was sold for.

La Confiserie des Trois Fees is a sweet shop which features an effect whereby the three fairies from Sleeping Beauty occasionally appear above a fireplace. This shop is mildly frustrating to many, as there is a Cast Member outside who makes cotton candy, but a person has to enter the building to pay for this confectionary in advance of having it made for them.

La Bottega di Geppetto is by the exit to Les Voyages de Pinocchio and sells toys, candy and babywear. Its interior features various clocks, including a very bizarre one in which a boy is leaning over a pumpkin, with his hand in a pot of jam, whilst his mother spanks him with a rolling pin.

There is no real equivalent to Sir Mickey's in California, but there is a version in Florida. Both are based on the Mickey and The Beanstalk section of the 1947 film Fun and Fancy Free (as well as the 1938 Mickey Oscar nominated short Brave Little Tailor) and feature Willie the Giant peering in at shoppers through the roof.

In Paris, Sir Mickey's interconnects with La Menagerie du Royaume. This isn't as much of a zoo as the name implies; the only animals visible here are the toy ones for sale.

La Petite Maison des Jouets is merely a kiosk, much like Fantasy Faire or La Petit Chalet in Anaheim's Fantasyland, although its shape is closer to California's the merchandise it sells is nearer in content to "it's a small world" Toy Shop. However, whereas the "it's a small world" Toy Shop has quite an ornate roof, La Petite Maison has a much more abstract one, featuring tiling and various question marks. Although one may think these question marks are a reference to Alice's Curious Labyrinth which resides nearby, it is actually a reference to the structure's original use as an information kiosk.

---
MickeyMousePark.com
---
Copyright: (c) 1997-2023 by
ThrillMountain Software
---
MickeyMousePark.com is not associated in any official way with the Walt Disney Company,
its subsidiaries, or its affiliates. The official Disney site is available at
disney.com
Troubleshooting Info:

BrowserBrand: IE
Mobile: NO
LocalHost: NO
BrowserOS:
BrowserServer: mickeymousepark.com
BrowserAgent:CCBot/2.0 (https://commoncrawl.org/faq/)
BrowserURL:Page=5&Ident=2371
BrowserCurrentPage: /disneyland-article.aspx
Login: 0
FilterBy: 0
SortBy: 0
DB: MMParkB