California_vs. Paris: Main Street USA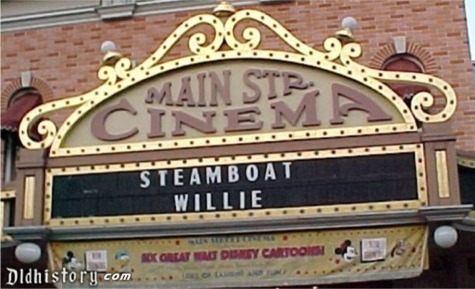 ID:
TMS-2387
Source:
MickeyMousePark.com
Author:
Dateline:
Posted:
Status:
Current
This month, I shall be comparing the Main Street, U.S.A.'s which can be found in the Disneylands closest to my heart (California and Paris).

Both are based loosely on Walt's home town of Marceline Missouri. Anaheim's is set in 1910, as part of the original idea that various Lands were set in years when Halley's Comet could be visible from Earth. According to themed studs in the pavement, Main Street in France was created in 1901. Nonetheless, it is based in the 1920s, with the decor representing this in various ways, such as commercial billboards above the buildings and an allegedly period Petrol Pump in one of the shops. The 1920s theming was never realized as strongly as was originally planned however, which would have featured a speakeasy, shops reflecting the history of the nations of the immigrants supposedly running them and a circle-vision cinema telling the history of early film.

Originally the theming of the Paris' Main Street Vehicles (taking Guests on one-way trips through their eponymous Land) was also to have been based on the 1920s, specifically demonstrating the period as being the advent of motoring being perceived as an achievable pastime. However, these ended up being "plussed" versions of the California originals (a Fire Engine, a Horseless Carriage, a Horse-Drawn Streetcar and an Omnibus) with the addition of a Coca-Cola selling Delivery Truck, a Limousine, a Mercer Motor Car and a Paddy Wagon, which is sometimes used to transport Disney Villains to and from Meet and Greets.

Officially, the Horse-Drawn Streetcars in Paris (of which there are three) are not Main Street Vehicles and are listed as a separate attraction in park guides. Compared to the California equivalent, these keep passengers much drier in the rain and are more themed to their Land, with stylized adverts for Main Street's shops along their sides.

The layout of both Main Streets is similar. When entering either park, this is the first Land Guests come across. For each, the visitors pass underneath the Disneyland Railroad station (which I shall expand upon in a later article) and then the street starts with Town Square and ends with The Hub, overshadowed by Sleeping Beauty Castle.

To the West of Town Square in both instances is City Hall; although where California has The Opera House to the East, Paris has shops. Paris's Main Street doesn't have The Disneyland Story presenting Great Moments with Mr. Lincoln, The Flag Lowering Ceremony, The Penny Arcade, The Firehouse, The Disney Gallery or Main Street Cinema. However, several of the short films shown in the Main Street Cinema are available to view in other sections of Disneyland Paris, such as in Videopolis or Art of Disney Animation.

Nonetheless, there are several features which can be found in Paris' Main Street, but in no other equivalents of that Land worldwide. One such example is a pair of covered walkways to get Guests from Town Square to The Hub whilst avoiding the crowds and the weather. On Main Street East is the science based Discovery Arcade, whereas Main Street West has Liberty Arcade. The latter is in three parts, which (going toward the Castle) are: a history of The Statue of Liberty; a tableau depicting its opening; and information regarding the legacy of the Statue. The display features murals inspired by the Philadelphia Universal Exhibition of 1876 (a.k.a. The First Official World's Fair) as well as faux gas lamps adorned by American eagles, original photographs and a floor mosaic of New York Harbor.

Originally, the whole of Paris' Main Street would have been covered (much as Tokyo Disneyland's equivalent, World Bazaar, is). However, even though funding for a glass and metal roof was provided, these plans were abandoned, due to perceived impracticalities with parade routes and due to a European love of streets which provide an exterior cafe culture.

As well as both Main Streets being part of the parade route, other similarities include: use of forced perspective; a faded red "carpet" underfoot; tracks for the Horse-Drawn Streetcars to travel along with an area where these can pass each other; sound effects and dialogue coming from upstairs of some of the buildings (such as a Dentist torturing patients); streets half way down which come out to the sides; windows commemorating Imagineers and Managers; prerecorded phone-calls Guests can listen in on by picking up a headset (in English); and pumped out confectionary smells.

The Main Street in California has a lot more in terms of Streetmosphere. For example, whilst the Dapper Dans Barbershop Quartet still perform in Anaheim, the Paris equivalent (The Mainstreet Quartet) ceased their vocals in 1995. In France's Main Street, there is nonetheless still Dapper Dan's Hair Cuts, a barber shop with a much darker, but wittier, decor than the Harmony Barber Shop in Florida's Magic Kingdom. Dapper Dan's features a mirror where Guests can view themselves sporting a moustache as well as a display of sport magazines and humorous cartoons. Although many shops do not appear in both parks (such as Main Street Pin Shop in California or Ribbons and Bows Hat Shop in Paris, which surprisingly no longer sells hats), there is an Emporium in each, as well as a Disneyana Store.

In terms of eateries, again there are only two in the Main Street, U.S.A. of California to have equivalents in the Paris Land of the same name. These are The Gibson Girl Ice-Cream Parlor and The Plaza Inn, although in Paris the latter is known as the Plaza Gardens Restaurant. Both Plaza's are at the Castle end of Main Street, on the right hand side, and are Victorian themed, with stylized windows to make the atmosphere light and relaxed. Both do character meals (mornings in California; later in the day in Paris) but whilst The Plaza Inn is a table service establishment, Plaza Gardens Restaurant has a buffet service. Whilst both cater to children of all ages celebrating their birthdays, the one in California is (thankfully) the only such restaurant to feature the awful Pat E. Cake.