Mystery Of Mr Lincoln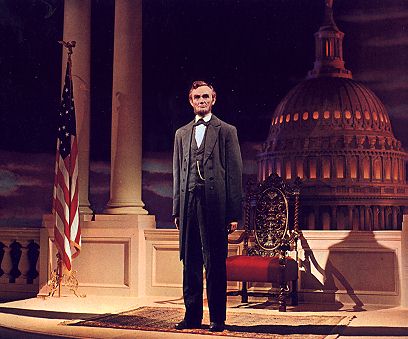 ID:
TMS-2514
Source:
MickeyMousePark.com
Author:
Dateline:
Posted:
Status:
Current
Fellow Disneyland Historians and Fans,

I have a mystery that hopefully someone reading will be able to solve or provide further insights or clues to aid in this endeavor.

Great Moments with Mr. Lincoln has been a wonderful mainstay at Disneyland blending the old Disneyland with the current day Disneyland. The show reveals the passion of Walt Disney for his boyhood admiration for Abraham Lincoln and shows the pioneer stages of WED's animatronics through the 1964 World's Fair. But that pioneer start of audio animatronics paved the way for the modern and amazing advancements we see today such as in the A-100 animatronic figures.

Here is the mystery of which I speak: I would like to know if anyone has information, photos, or behind the scenes stories about the attraction as a whole but especially the 1975 Abraham Lincoln model that was built for the Great Moments with Mr. Lincoln 1975-1984 show. As you recall, the attraction was shut down between the years of 1973-75. There seems to be no existing photos or information available of the particular Abraham Lincoln figure that was built and used during 1975 to 1984 for Great Moments with Mr. Lincoln. For that matter, does anyone have photos or articles or knowledge about the World's Fair two Lincoln figures that were used for the World's Fair show during 1964-1965?

It is quite well documented now on the internet, the discovery of the model of Lincoln that was not used at the World's Fair and seemingly lost until recently re-discovered in a crate and now housed in the museum of the Disneyland World's Fair artifacts at Disneyland. But I'm referring to the Abraham Lincoln model used between the years of 1975 to 1984. Then, another Lincoln was built that had more arm movement and that "Abe" held the reference note in his hand. Also, I read on the site that a 1977 animatronic Lincoln was built for touring the country. Does anyone know about that or have photos or information about that 1977 model?

Well, I enjoy the Disneyland history site very much and hopefully this article may open the door for others to provide more information or even pictures of the 1975 to 1984 Animatronic Abraham Lincoln used for Great Moment with Mr. Lincoln and possibly the 1977 Abraham Lincoln touring figure as well.

---
MickeyMousePark.com
Contact Us
Privacy
Payment Options
Disclaimer
Email Policy
Site Map
Clear Cookie
---
Copyright: (c) 1997-2021 by
ThrillMountain Software
---
MickeyMousePark.com is not associated in any official way with the Walt Disney Company,
its subsidiaries, or its affiliates. The official Disney site is available at
disney.com
Troubleshooting Info:

BrowserBrand: IE
LocalHost: NO
BrowserOS:
BrowserServer: mickeymousepark.com
BrowserAgent:CCBot/2.0 (https://commoncrawl.org/faq/)
BrowserURL:Page=5&Ident=2514
BrowserCurrentPage: /disneyland-article.aspx
Login: 0
FilterBy: 0
SortBy: 0
DB: MMParkB