A Diamond Celebration In Sardineland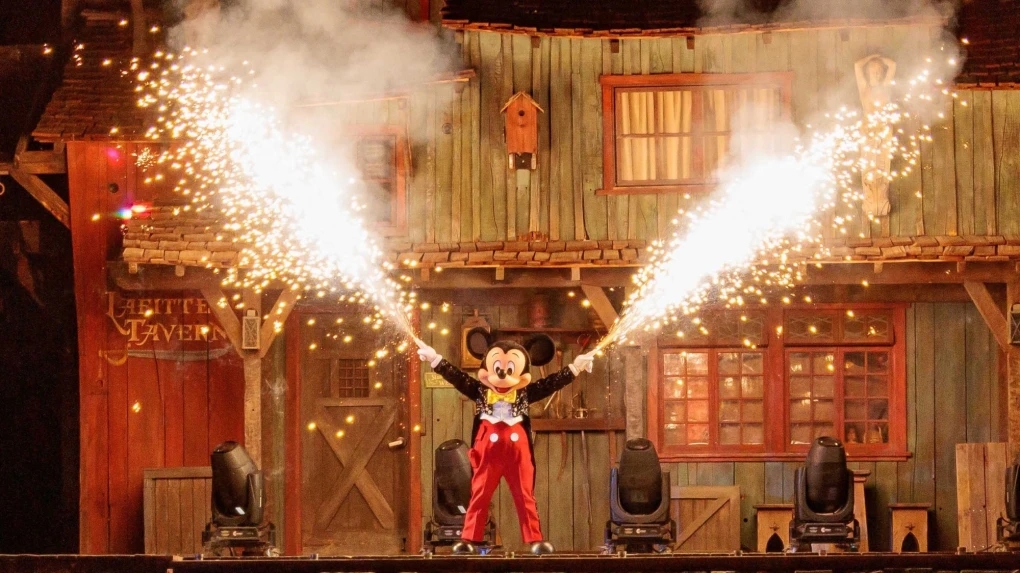 ID:
TMS-3075
Source:
MickeyMousePark.com
Author:
Dateline:
Posted:
Status:
Current
It had been three or four years since I had last been to Disneyland. But, on May 22, my mother and I went, just the two of us. That day was the opening day, for lack of a better term, of the park's Diamond celebration. As a part of that, the parks were open for 24 hours, closing at 6 A.M. on May 23 for a few hours.

Rather inadvertently, we ended up parking in the "Toy Story" parking lot instead of Mickey and Friends, like we usually would. We were so used to turning left upon entering the esplanade, that when we did it this time, we ended up at the entrance to California Adventure, and we only had tickets to Disneyland, so that was a little embarrassing.

We entered the park at a little before ten that morning and I had the urge to make an angelic sound when we passed through the gates. The lines to get in belied the massive crowd going down Main Street. That essentially began the epitome of the phrase, "Don't judge a book by its cover."

While waiting to get on Space Mountain, my mother had mentioned that it was interesting to see the variety of happy people there. There were an array of tattoos, clothing styles, fandoms (the newer term for fan-club), folk you'd never expected to like Disney, and yet, here they were, waiting to get on rides at the Happiest Place on Earth, smiling and joking with the people around them. She then proceeded to tell me that I needed to find a guy like them and that there should be a Disney-centric dating site. I will admit I've never had any desire to join a dating site, but if it was centered around all things Disney, I might be interested in doing so.

Some of my favorite rides had received at least one update since I had been here, last. With Indiana Jones, effects with the Mara idol and the doors of the room he's in were more elaborate, mainly being something like electrical arcs going along the length of the wall. When we were trying to turn in our Fastpasses to ride it a second time it had broken down, I think right as we got there.

As a child, my older brother had been terrified of Harold, the yeti on the Matterhorn, and that was when Harold was really just eyes. Harold is no longer the static creature that roars at you; now he actually swipes at you as you pass in your toboggan. An older toboggan and Skyway cup have crashed in the scene at the top. In a really cool projection on the wall of the first big hill, he also pounds on a slab of mostly transparent ice while growling. It startled me a bit but it wasn't exactly the near-pants-wetting experience two women waiting behind us apparently had. But, I'm a difficult person to scare.

Space Mountain remained, for the most part, unchanged, save the space module in the loading area, though that was actually done in 2005 rather than the 2010s. We got seated in the back for the first time ever and discovered that it was a bit whippy. My sea legs are better than my land legs and, it turns out, my space legs are clearly even worse. Thunder Mountain's updates were dynamite. Seriously, there were sticks of dynamite everywhere outside the caverns. On either side of one of the tunnels in which the train ascends, there were fuses that were "lit" and led to more explosives which, of course, blew up. It was awesome. We were in the front of that one, also for the first time ever, and I noticed that about three cars, excluding the engine, had to go over the larger hills before the train was released from the chain lift.

This month also marked the return of the Hatbox Ghost to the Haunted Mansion. Because the effect of his head vanishing from his shoulders and appearing in the hatbox he carries, then returning to his shoulders didn't work up close, he had to be taken away. Now, some forty-six years later, technology has caught up and he once again takes his rightful place across from the bride. Welcome back, old boy.

Star Tours: the adventure continues open about a year or two after I had last attended, so I've only seen it once, but rumor has it there was a multitude of experiences. The ride itself is certainly a bit different from the old Star Tours, but it was still a lot of fun. The warp speeds were more intense in that there was a third, almost wavy, level before slowing to a stop. Queue was almost the same except a few droids were different.

I'm really not entirely sure how I feel about the whole Fastpass deal with "Fantasmic." While it's nice to have a more-or-less sure spot up close, the forty-five minutes you have for a window to save them and wait can get uncomfortable. At least they played a lot of jazz music while we waited, so that made up for the pain and discomfort in my knees and ankles. When it finally started, I could hardly contain my excitement. Out of all of the Disney shows and parades, "Fantasmic" is my favorite.

Being that it had been a few years since I had last seen it, it felt as though there had been a few updates. Namely, more pyrotechnics (which is always fun), but a prop or two was different. Pinocchio and the dancers were in the center instead of to the left and the sword that Mickey uses to slay Maleficent appeared to glow a pinkish-red color.

I purchased a shirt from a kiosk outside of Haunted Mansion a little before the show started and struck up a conversation with a cast member while at the register. He was hilarious, starting with mouthing the countdown announcement spiel almost word for word, which cracked me up. The cashier seemed to enjoy his company, as she laughed as much as I did. A little before that, I was recognized by another whom I had spoken to at the Hungry Bear not long after getting off of Splash Mountain. According to my mother, they were both flirting with me. I will definitely admit that they were pretty attractive.

"Disneyland Forever" was one of the coolest firework shows I have ever seen. Tinkerbell and Nemo were both carried by drones. I couldn't tell if Tink was a real person or just a really light machine with movement limited to one leg. The fireworks went off from Sleeping Beauty Castle as well as the general direction of Toontown. We were right by the Casey Jr. train, so we couldn't hear the show music that was playing over the organ. In what I guess would be the climax of the show, the Matterhorn basically became a volcano. Flames shot up from the top and all around the castle, too. Since we had to look in two different directions when the fireworks went off (they were mostly alternating but occasionally went off at the same time), it was a little confusing, but apart from that, it was great.

The Matterhorn also acted as a screen for movie clips. I didn't realize what one was until I clearly heard the song "Let it go." That was all I saw, really, but I hope to watch it all soon.

"Paint the Night" is sort of a more modernized version of the "Main Street Electrical Parade," and even has a less electronic version of the main theme playing throughout. Almost every float had a set of dancers who wore clothes lit up in such a way that they were mostly in silhouette. The music itself is very modern and rather catchy, both in the original music and the remixed older stuff.

It starts with Peter Pan, who sits on a giant drum that acts as a screen for some firework-like effects, and Tink can fly. These dancers had wings, clothes, and hair that lit up. Following Peter were puppets of Tigger, Genie and Lumiere (complete with flaming candles). "Monster's Inc." had Sully standing at a console with a circle of screens, each shaped like a door and opened to show various monsters. Lightning McQueen and Mack were separated by what almost looked like Transformers, only not as bulky; I couldn't tell what they really were.

"Little Mermaid" came next with coral in front and a couple of spinning jellyfish, a perfect segue into Nemo and Marlin puppets. Jessie and cowpoke dancers introduced Woody and Buzz riding Slinky, whose springs were spinning disks, each one a different color. Belle had two large rose petals that acted as screens for a snippet of her dance with the Beast in the film's signature song, and dots in pretty patterns. The dancers wore dresses that were historically accurate for the French aristocracy.

Rapunzel and Cinderella followed on their own circular balconies. Cinderella had her glass slipper next to her. They were flanked by feather-winged pixies and had candelabrum between them. Anna and Elsa rode a float that was based on Elsa's ice palace with Olaf on the back. I'm not sure if the dancers were ice fairies or pieces of ice like Ariel's coral, but it's probably the latter.

Finally, we get to the classic characters: Donald, Minnie and Goofy, each riding a multicolored dome and separated by people with pinwheels on either shoulder which spun in choreograph. Sorcerer Mickey stood on a float that looked like it was made of magic and music. A curtain rod with large tassels on either end glowed blue, marking the end of the parade. Many characters were clad in glowing costumes but none glowed so much as Mickey's hat and robes.

As an introvert, my tolerance for being around a lot of people is a bit low. Disney is one of the few places on the planet where I have no problem. Both Disneyland and California Adventure were filled to capacity and had to close for a while. My mother and I tried our hardest to stay as long as we possibly could, but due to my developing a crick in my neck at around seven that evening, we left at 12:30 A.M. Upon exiting, we saw a massive crowd in front of California Adventure.

Souvenirs for the Diamond Celebration were really nice. I purchased a pin and a lollipop. The lollipop is shaped like a diamond and has a silver bow to close the wrapper. I doubt I'll ever eat it as it is far too pretty. The flavor says "cake" so I might have to buy another just to taste. The pin is beautiful in its simplicity. It has a silhouette of the Castle with "60" lined in gems, a dapper looking Mickey in blue, a silver ribbon which reads "since 1955" in front if it, and "Disneyland Resort Diamond Celebration" underneath. The cardboard holder has a large diamond on top, two shades of blue in checkered diamonds, with "60" and gems alternating in the lighter blue. Pressed pennies also got some 60th flair; a small "60" over a Disneyland "D" on the front and "Established July 17, 1955 Disneyland Resort" with the aforementioned "60" and "D," only larger. A souvenir cup from the Bengal Barbecue had the Classic Disney characters dressed up like a jazz band in New Orleans, with musical staffs all over it.

Though it isn't technically a Diamond souvenir, I found a light-up polychromatic Mickey hand and wand. When turned on, its colors flash in random patterns unless it synchronizes with the shows like the glowing Mickey ears. These products are called "Made-with-Magic." The bags all purchases are put in has the Castle basically built in diamonds on one side and a larger gem on a Disneyland "D."