Hang With Mickey And Friends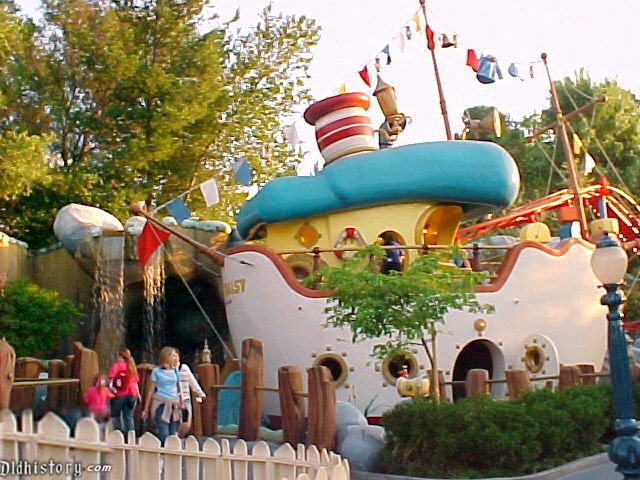 ID:
TMS-3520
Source:
MickeyMousePark.com
Author:
Dateline:
Posted:
Status:
Current
"Mickey's Toontown" is designed cartoonishly. Everything from "Mickey's House" to the post office looks, well, goofy. Opening in 1993, it was inspired by "ToonTown" in the 1988 movie "Who Framed Roger Rabbit?" It was originally planned to be behind "Main Street, USA" and called "Hollywoodland." "Hollywoodland" combined the concept of "Mickey's Birthdayland," which was to be in the Florida park for the Mouse's sixtieth birthday, and "Who Framed Roger Rabbit?" but instead opened behind "Fantasyland."

Mickey and Minnie's respective houses, as well as Goofy's, serve as play areas for small children. Until 2005, "Goofy's House" was "Goofy's Bounce House," after which it became the "Playhouse," though they have the same function, I believe. "Donald's Boat," the "Miss Daisy," is a play area as well.

"Gadget's Go Coaster" and "Roger Rabbit's Car Toon Spin" are the only two non-play area attractions. Gadget is a mouse who is an inventor on the show "Chip 'N Dale, Rescue Rangers." She builds with whatever she finds and constructed this coaster out of things like kid's blocks, cans, bits of rubbish, and using acorn pods for train cars. The Coaster and play area "Chip 'N Dale Treehouse" are built from the perspective of rodents, so everything is quite large. "Chip 'N Dale, Rescue Rangers" ran from 1989 to 1990, in 59 episodes over three seasons.

"Roger Rabbit's Car Toon Spin" was the first dark ride built in the park in a decade and the first time you could turn the steering wheel and change the direction of the car. The wheel operates like the wheel of the "Mad Hatter's Tea Party" cups in "Fantasyland," spinning the car as fast as one can. We ride in the cab with Lenny, Benny's brother, and encounter Judge Doom's Weasles, Baby Herman, Jessica and Roger Rabbit, various gags, and the dreaded Dip.

All of the aforementioned play areas also serve as meet-and-greet spots for the respective characters.

"Toontown" is bookended by two pretty cool fountains. Roger stands on top of a spewing fire hydrant complete with water coming out of his ears and surrounded by fish. This stands in front of his "Car Toon Spin." Mickey crowns the other one, surrounded by horns, as he holds a conductors wand. If you jump on any one of the manhole covers around the fountain, the horns make noise. This one is in front of Mickey's house. It might be the band geek in me, but that one's my favorite.

Judging by the maps I've seen from above, "Mickey's Toontown" and "Critter Counrty" are roughly the same size.

---
MickeyMousePark.com
---
Copyright: (c) 1997-2023 by
ThrillMountain Software
---
MickeyMousePark.com is not associated in any official way with the Walt Disney Company,
its subsidiaries, or its affiliates. The official Disney site is available at
disney.com
Troubleshooting Info:

BrowserBrand: IE
Mobile: NO
LocalHost: NO
BrowserOS:
BrowserServer: mickeymousepark.com
BrowserAgent:CCBot/2.0 (https://commoncrawl.org/faq/)
BrowserURL:Page=5&Ident=3520
BrowserCurrentPage: /disneyland-article.aspx
Login: 0
FilterBy: 0
SortBy: 0
DB: MMParkA