Designers Drew Inspiration From A Colorado Town When Constructing Main Street USA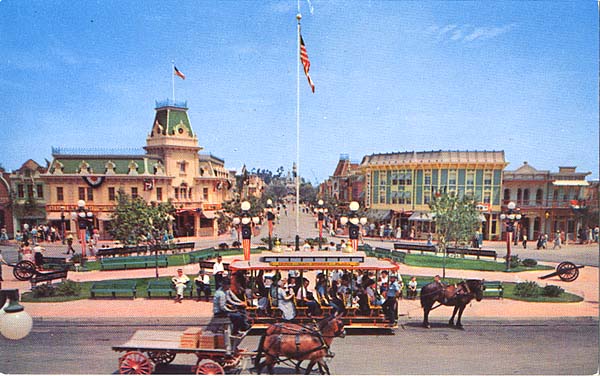 ID:
TMS-5103
Source:
outtherecolorado.com
Author:
Tamera Twitty
Dateline:
Posted:
Status:
Current
In the early 1950's, when an ambitious Walt Disney was at the height of his career and starting the process of designing Disneyland theme park, he famously used memories of his hometown of Marceline, Missouri as a reference for what he wanted the park to look like.

Harper Groff, one of Disney's production designers, had an instrumental role in the park's design. He, too, drew inspiration from his hometown. Today, a trained eye could tell you Disneyland's Main Street, U.S.A. shares a striking resemblance to 1920's Fort Collins, Colorado.

"Some of his early concept pieces featured small, rustic buildings adjacent to wooden sidewalks, harkening back to his days as a youth in Fort Collins," a post on the Walt Disney Family Museum website reads.

"Based on old photographs, it's easy to see that some buildings that ended up on Main Street were indeed based on structures in Marceline. But thanks to Goff, Fort Collins is well represented, too. City Hall is probably the most prominent example," it says.

When Goff was growing up, the population of Fort Collins was between 8,000 and 10,000 people. The Walt Disney Family Museum referred to it as "quintessential American small town".

Today, though the town's population has boomed to around 166,069, some relics that had a clear influence on Goff's vision for Disneyland still exist today.

For example, the 'Old City Hall' that inspired Main Street, U.S.A's city hall can still be visited in downtown Fort Collins today.

---
MickeyMousePark.com
---
Copyright: (c) 1997-2023 by
ThrillMountain Software
---
MickeyMousePark.com is not associated in any official way with the Walt Disney Company,
its subsidiaries, or its affiliates. The official Disney site is available at
disney.com
Troubleshooting Info:

BrowserBrand: IE
Mobile: NO
LocalHost: NO
BrowserOS:
BrowserServer: mickeymousepark.com
BrowserAgent:CCBot/2.0 (https://commoncrawl.org/faq/)
BrowserURL:Page=5&Ident=5103
BrowserCurrentPage: /disneyland-article.aspx
Login: 0
FilterBy: 0
SortBy: 0
DB: MMParkB