My Delight And Surprise Over Adventureland Treehouse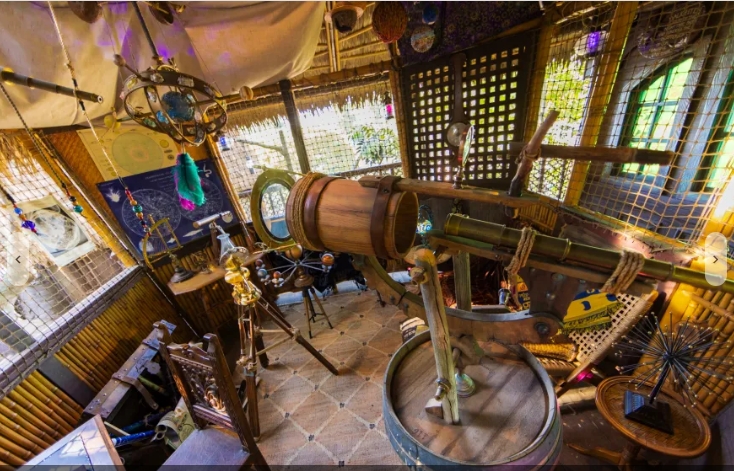 ID:
TMS-5176
Source:
attractionsmagazine.com
Author:
Jeff Depaoli
Dateline:
Posted:
Status:
Current
In 1962, just five years after Disneyland opened, the Swiss Family Treehouse was added to Adventureland. This new Disneyland attraction was themed after the hit 1960 Disney movie, "Swiss Family Robinson." The original version of the treehouse remained until 1999, when it was changed over to Tarzan's Treehouse based on the 1999 Walt Disney Animation feature, "Tarzan." In both cases, the treehouse was themed after Disney movies. So, when Tarzan's Treehouse closed in 2021 to make way for a new offering, this led many to believe it would be themed after a more current film. To my shock, surprise, and delight, Disney has reported that the new Adventureland Treehouse, opening in 2023, will feature an original storyline.

During a time when The Walt Disney Company seems to be fitting as much Disney intellectual property into the parks as possible, it is quite surprising to have a new attraction not themed around a franchise. We've seen Epcot, a theme park originally intended to stray away from Disney franchises, recently filled with them in new attractions like Frozen Ever After, Remy's Ratatouille Adventure, Beauty and the Beast Sing-Along, and more to come. So, it's not surprising for folks to assume the same would be done to Disneyland's treehouse. Especially considering its predecessors.

Disney fans quickly shared their theories on social media. One of the more popular ideas was a tree themed around Antonio's Tree House from the 2021 smash-hit animated feature, "Encanto." It's no secret that Disney wants to get "Encanto" in the parks in a major way. We've already seen a projection show added to the exterior of "it's a small world," a Mirabel meet & greet, and more. So, an "Encanto" themed treehouse for Disneyland wouldn't be too surprising. But alas, that will not be happening. My guess is they have bigger plans for "Encanto" in the parks.

A couple of other ideas shared on social media include a Mama Odie Bottle Tree overlay from the animated feature "The Princess and the Frog," and even a Tears of the Moon tree from Disney's live action "Jungle Cruise" movie. Disney fans sure can get creative with their Armchair Imagineering. I think a "Princess and the Frog" tree would be beautiful, and a "Jungle Cruise" tree would be fitting, given its proximity to the classic ride. But alas, neither of those are happening either.

Although the press release from Disney about the new Adventureland Treehouse does mention an original storyline, it also says it will be inspired by the original Swiss Family Treehouse. It's also worth noting how a Society of Explorers and Adventurers (S.E.A.) flag can be seen in the concept art, tying the story into other Disney attractions from around the world. Let's not forget that in 2020, Deadline reported a "Swiss Family Robinson" TV remake in the works, and this year they reported a Society of Explorers and Adventurers Disney film in the works. Perhaps this "original" storyline will quickly become part of an I.P. after all, if these projects are to move forward.

One thing to keep in mind whenever a new version of the treehouse is created is that it can't be too popular. The Adventureland Treehouse is located at an area that often bottlenecks as you exit Adventureland and head into New Orleans Square. They seem to have partially fixed that problem by removing part of the tree during its current construction. But I honestly wouldn't have been surprised if they had decided to entirely remove the tree, given the traffic jams.

Overall, I think this is an exciting move. Any time an original storyline or new characters can be added to the Disney parks, it's a win. Although a lot of Disney fans, myself included, often feel like everything new is simply based on an I.P., it's nice to know that someone with greenlighting power at the company is saying "yes" to new and original ideas.



---
MickeyMousePark.com
---
Copyright: (c) 1997-2023 by
ThrillMountain Software
---
MickeyMousePark.com is not associated in any official way with the Walt Disney Company,
its subsidiaries, or its affiliates. The official Disney site is available at
disney.com
Troubleshooting Info:

BrowserBrand: IE
Mobile: NO
LocalHost: NO
BrowserOS:
BrowserServer: mickeymousepark.com
BrowserAgent:CCBot/2.0 (https://commoncrawl.org/faq/)
BrowserURL:Page=5&Ident=5176
BrowserCurrentPage: /disneyland-article.aspx
Login: 0
FilterBy: 0
SortBy: 0
DB: MMParkA