Rides For Adults All The Thrills And Magic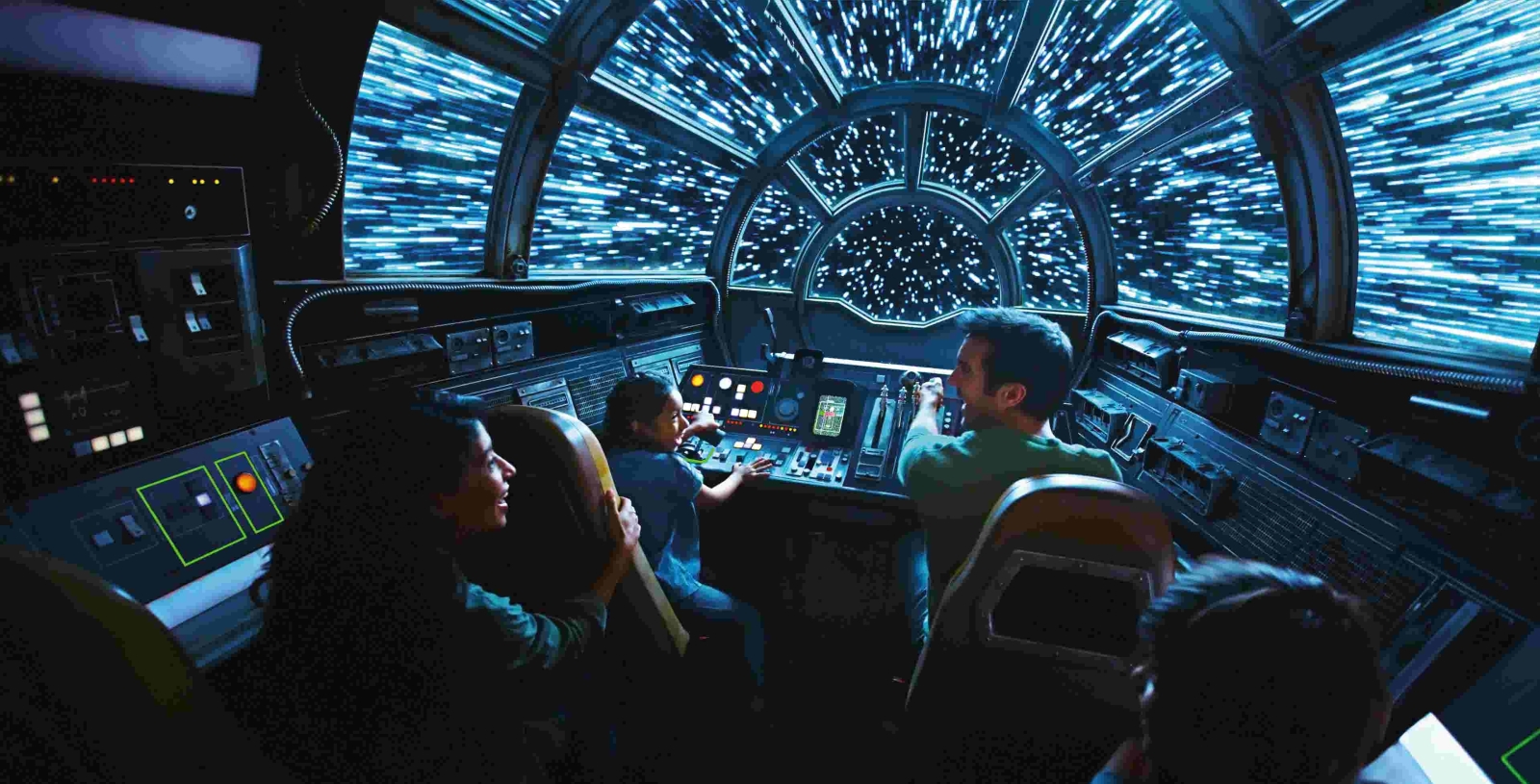 ID:
TMS-5182
Source:
wdw-magazine.com
Author:
Evelyn Long
Dateline:
Posted:
Status:
Current
Contrary to what some believe, Disneyland is far from a glorified kiddie-land. These days, you can get just as much thrill from a day at a Disney theme park as you could at Six Flags (with a whole lot more magic)!

If you're planning a trip to Disney but worried about getting your fix of big drops and high speeds, look no further; this complete guide to every adult-oriented ride at Disneyland isn't for the faint of heart.

Rides for Adults at Disneyland Park

Disneyland first opened in the summer of 1955, but Imagineers have come a long way from building carousels and dark rides. Today, you can embark on a harrowing journey through outer space, race across the desert, or zoom down the peaks of the Alps.

Disneyland is separated into several lands, which are Main Street, U.S.A., Tomorrowland, Fantasyland, Adventureland, Toontown, New Orleans Square, Frontierland, Critter Country, and Star Wars: Galaxy's Edge.

Matterhorn Bobsleds

Opening Date: June 14th, 1959

Ride Type: Steel Rollercoaster

Thrill Factor: Jerky ride movements and a territorial Abominable Snowman

The Matterhorn was the first-ever rollercoaster ride to be built in a Disney park, all the way back in 1959. Don't let its age fool you — the Matterhorn is not your granny's type of ride. The sudden movements of your bobsled combined with the fearsome Abominable Snowman on your tail make for a ride you won't forget.

Experienced climbers will tell you that ascending the mountain on the "Tomorrowland" side will strap you in for a more intense ride!

Star Wars: Rise of the Resistance

Opening Date: December 5th, 2019

Ride Type: Trackless Motion Simulator/Drop Ride

Thrill Factor: Steep drops, sudden fast movement

Rise of the Resistance is, without argument, the most immersive and ambitious ride ever built. This attraction uses elements from immersive theater, trackless dark rides, simulators, and drop towers to create a seamless immersion into the world of Star Wars.

Prepare to face off with the notorious Kylo Ren and his loyal army of stormtroopers. You truly won't know what's coming next!

Millennium Falcon: Smuggler's Run

Opening Date: May 30th, 2019

Ride Type: Interactive Motion Simulator

Thrill Factor: Dramatic movement, interactive gameplay

Millennium Falcon: Smuggler's Run takes everything from Star Tours and turns it up to ten. On this ride, you'll be assigned a position on the Falcon: pilot, gunner, or engineer. Soon after, you will enter the cockpit where you'll receive a mission from a space pirate, Hondo Ohnaka.

Blast off into outer space and travel to the planet Corellia with your flight crew using the equipment in the cockpit (yes, it actually works)! Think of Smuggler's Run as the best virtual reality experience you've ever had.

Space Mountain

Opening Date: January 15th, 1975

Ride Type: Indoor Roller Coaster

Thrill Factor: Fast-paced twists and turns

Space Mountain is an oldie but a goodie. It only goes about 30 miles per hour and its tallest drop is 26 feet, so what's so thrilling about it? To be blunt, I fear for my life on Space Mountain — in a good way! This classic coaster is rough, surprising, and feels much quicker than it is.

Be prepared for hairpin turns and rapid dips in the track that will make your stomach flip!

Big Thunder Mountain Railroad

Opening Date: September 2nd, 1979

Ride Type: Mine Train Roller Coaster

Thrill Factor: Curved drops, rapid dips

Big Thunder Mountain Railroad is a classic mine train-style coaster that takes you on a ride through the wild west. A large part of Big Thunder Mountain's excitement comes from its rickety nature and dramatic scenery.

With speeds nearing 40 miles per hour and relentless hills, dips, and turns, this coaster is one of the more intense rides in the park.

Splash Mountain – Soon to be "Tiana's Bayou Adventure"

Opening Date: July 17th, 1989

Ride Type: Dark Ride, Log Flume

Thrill Factor: Five-story drop

Splash Mountain won't be around for much longer, so ride it while you can! Thankfully, the thrills will be spared during the Princess and the Frog re-theme coming in 2024. Splash Mountain is primarily a dark ride, which you are led through via log flume.

After several fake-out mini-drops, you'll reach a 52-foot drop that will bring your log up to 40 miles per hour. Just watch out for thorns on the way down!

Star Tours: The Adventures Continue

Opening Date: June 3rd, 2011

Ride Type: Motion simulator

Thrill Factor: Rough movements, G-force sensation

Star Tours changed amusement park history in 1987 when it made history as the first-ever motion simulator ride. After receiving a hefty update in 2011, the ride now takes guests on a tour guided by C-3PO himself to a variety of faraway planets.

You'll experience rough movements, such as shaking or crashing, as C-3PO struggles to navigate the tour gone wrong and even experience a feeling similar to the G-forces on smaller coasters like Matterhorn or Space Mountain.

Rides for Adults at Disney's California Adventure??

The second park at Disneyland Resort is Disney's California Adventure. This park pays tribute to the great state of California by highlighting its breathtaking scenery, rich history, and cultural contributions.

Disney's California Adventure is also known for being home to attractions based on popular Disney, Marvel, and Pixar films. If you're more Avenger than princess, this park might be for you!

Guardians of the Galaxy – Mission: Break Out!

Opening Date: May 27th, 2017

Ride Type: Drop Tower, Dark Ride

Thrill Factor: Accelerated drops

Mission: Break Out! is a randomized drop tower that functions similarly to the ride it replaced, Tower of Terror. On this attraction, you'll help the Guardians of the Galaxy as they attempt to escape the clutches of the Collector.

You'll be flung up and down an elevator shaft at 40 miles per hour as scenes occur around you, experiencing drops up to 130 feet! Oh, and did I mention you can groove out at the same time? Your ride will be backtracked by one of six songs, including "Hit Me with Your Best Shot" by Pat Benatar and "Burning Love" by Elvis Presley.

Incredicoaster

Opening Date: June 23rd, 2018

Ride Type: Roller Coaster

Thrill Factor: High speeds, steep drops, 360-degree loop

Originally opened as "California Screamin'" in 2001, this steel coaster has been an icon of the park for over two decades. When Paradise Pier was re-themed to Pixar Pier, the coaster received a makeover that paid homage to a certain superhero family.

This ride reaches a top speed of 55 miles per hour, which is reached within 4.5 seconds of launch. Soon after, passengers are launched down several hills (the highest offering a 108-foot drop!). An impressive loop takes riders upside down, a rarity among Disney coasters. Pretty incredible, if you ask me!

Radiator Springs Racers

Opening Date: June 15th, 2012

Ride Type: Slot Car, Dark Ride

Thrill Factor: High speeds twists and turns

Start your engines and get ready to race! The Radiator Springs Racers will put you in the driver's seat of a high-speed race around a beautiful western landscape.

Using updated slot car technology as featured in Walt Disney World's "Test Track", you'll embark on a narrative adventure climaxing at 40 miles per hour. Thrilling turns and unexpected obstacles might just get the best of you!

Soarin' Around the World

Opening Date: June 17th, 2016

Ride Type: Flight Motion Simulator

hrill Factor: Heights, exciting visual gags

Soarin' is a bit different from any other ride you can find at Disneyland Resort. When the ride first opened in 2001, it was called "Soarin' Over California" — which as you may imagine, took riders on a flight over California. After 15 years of flight, Soarin' was re-themed to take riders across the globe.

On your ride, you'll be lifted up to 50 feet in the air, positioned in front of an 80-foot projection dome that encompasses you and your fellow riders. It appears as if you're flying over the Matterhorn, around the Eiffel Tower, and above the Great Pyramids. If you're afraid of heights, beware!

Pixar Pal-A-Round Swinging Ferris Wheel

Opening Date: February 8th, 2001

Ride Type: Swinging Ferris Wheel

Thrill Factor: Heights, sudden movement

Okay, I know what you're thinking — a Ferris wheel? But this isn't just any ole' fair ride! As one of only two swinging Ferris wheels in the country, this ride is a rarity. You'll ascend 150 feet above Disney's California Adventure in an open-air gondola that slips and slides along a closed track.

You'll be holding on for dear life as your gondola swings wildly 14 stories in the air! Don't believe me? A quick YouTube search for the Pixar Pal-A-Round will have you nervous to ride!

Grizzly River Run

Opening Date: February 8th, 2001

Ride Type: River Rapids Ride

Thrill Factor: Splashing water, drops, spins

Much like Kali River Rapids in Walt Disney World's Animal Kingdom, Grizzly River Run takes passengers on an unpredictable ride through the California wilderness. For seven and a half minutes, you'll fly over white water rapids and be pushed over waterfalls, including a 21-foot drop in which the entire raft is spun around.