Still Very Bitter The Closed Restaurant Fans Miss Most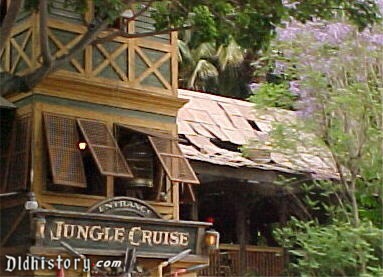 ID:
TMS-5217
Source:
SFGate
Author:
Carly Caramanna
Dateline:
Posted:
Status:
Current
"It was probably the best job I've ever had," says Vera Nitinthorn, a former cast member of the Tahitian Terrace. She is one of many who sing praises of a fondly remembered place from Disneyland's dining history.

The Tahitian Terrace was a Polynesian dinner show that opened in 1962 at the height of the post-World War II American fascination with the tropics and remained until closing in 1993. At a time when air travel wasn't as common as it is today but the appetite for anything that felt like it transported you to the South Pacific was at an all-time high, this restaurant brought far-off places directly to Disneyland guests — and was unlike anything most had ever seen before.

Housed in an open-air space in Adventureland, between the rivers of Jungle Cruise and Walt Disney's Enchanted Tiki Room, the Tahitian Terrace drew on Hawaiian and South Pacific influences. Guests were welcomed with a traditional lei by a flower-draped hostess and led to a table where they'd enjoy a meal, a luau show and a distinctly proud team of cast members.

"We were all really young, but we were all really energetic, responsible, and we all felt very privileged working there," says Nitinthorn, who worked there for three years in the late 1980s alongside her now-husband. "We knew how special the Tahitian Terrace was, and because of that we wanted to make sure that every guest had that magical experience."

With modern Tiki experiencing its heyday, many attribute their introduction to the world of Polynesian culture to Disney — the likes of Adventureland and, most recently, Trader Sam's Enchanted Tiki Bar playing a major role.

"Trader Sam's has really popularized Tiki in general. It's helped bring back the Tiki culture. Because of that, it leads them down a rabbit hole," says former Tahitian Terrace cast member Michael Cobb, now the owner of High Roller Tiki Lounge in Solvang, California.

And where does that rabbit hole lead to? The Tahitian Terrace. "It was magical. Escapism at its finest. You were transported to another time, another era," says Cobb, who began working at Disneyland in 1988 and would eventually work his way to management at Club 33 during his 17-year tenure with the mouse.

During summers and holidays, the star of the Tahitian Terrace was a Disney-fied version of a luau, inspired by the islands but also rooted in colonialist ideas of Hawaiian and Polynesian cultures. The live show featured a band, fire walkers and grass-skirt dancers set on a stage beneath a towering 35-foot tree. As the lights dimmed, island rhythms filled the air, and guests were utterly captivated.

"I've never once seen a show as well produced as the one at Tahitian Terrace," Cobb says, with many of the performers coming in from Samoa and the Hawaiian Islands. "You got the combination of that and Disney's ability to put a show on — you can't lose. They did it right."

An estimated 40,000 shows took place on that stage in its just-over-three-decade life span.

Along with the show came standout food, displayed on a menu that read, "Here, Walt Disney has opened the portals to an enchanting island world across the blue Pacific … a world of romance, beauty, and exciting entertainment."

The Tahitian Terrace was considered Disneyland Resort's best dining experience, with culinary highlights including Polynesian pineapple ribs, teriyaki steak and bananas Foster. Guests sipped on a signature nonalcoholic cocktail, the Tahitian Terrace Punch, from frosted glassware. The menu also catered to the non-adventurous with classic park bites, like hamburgers.

Producing high-quality foods for a high volume of guests was no easy task for the restaurant, but Cobb says that overall operations worked like a well-oiled machine, which could be attributed to the connection the staff had.

"It was very much a family — an 'ohana,'" Cobb says. "There was nothing else like it. Even after that, I worked at Disney for 15 years. Nothing came close to working with those people, that team."

After guests were seated, meals were typically served within 20 minutes before the 40-minute show, as no serving or clearing of the tables was allowed during the performance. Staff would have about 10 minutes to reset and then do it all over again.

After their grueling shifts and before cleanup, the team members would nibble on leftovers while sitting aboard Jungle Cruise boats and decompress. "It was the camaraderie every night with the other cooks," Cobb adds. "We would blast our music while we were cleaning our woks, and everybody would sing. It was just a good time. We all were best friends."

All good things must come to an end, and that end for the Tahitian Terrace was, of all things, the box-office success of "Aladdin." The Tahitian Terrace abruptly closed in 1993 to become the short-lived Aladdin's Oasis.

"We're still very bitter about it," Cobb says.

The space is now occupied by the Tropical Hideaway, a quick-service location set in the lush landscaping, dishing out Dole Whip and bao buns just a stone's throw from those Jungle Cruise boats.

Over the years, veterans of the Tahitian Terrace have kept the magic alive via reunions and a Facebook group. The spirit of the beloved restaurant was restored for one day only at a ticketed event during Disneyland's 60th anniversary celebration.

Because the Tahitian Terrace lived during the pre-mobile device era, there's very little documented. For those itching to get a glimpse into this unique piece of the park's rich past, Disneyland historian Marcy Carriker Smothers shares what has been unearthed in her book "Eat Like Walt: The Wonderful World of Disney Food."

The fascinating read details the early days of Disneyland's dining scene, which advertisements referred to as the new "Kingdom of Good Eating." Walt Disney may have been a man of simple tastes — known to love chili and grilled cheese — but decades before California's food revolution, he was the one who introduced immersive themed dining to the area.

While working on the book, Smothers was granted access to the Walt Disney Archives, a private facility that houses millions of items and is dedicated to collecting and preserving pieces of Disney history.

"A lot wasn't saved then in Walt's era," she says. What she did find in the archives after digging through countless boxes were memos piecing together the early story of the Tahitian Terrace — and recipes.

The Tahitian Terrace was one of the few dining locations during Walt Disney's era that preserved most of its famous recipes. Disney himself had traveled to Tahiti, Bora Bora and Hawaii several times, and those were the influences that helped develop the menu, Smothers added. Now showcased in her book, the menu items were quite revolutionary for that time, as the Tahitian Terrace was one of the first park restaurants to feature dishes that embraced its theme.

"It was a transport, as Walt wanted it," Smothers says. "All these things were a way to travel when people couldn't travel, and he was bringing Tahiti to Disneyland. He knew how few people could go there. At that time, in the context of 1962, it was absolutely incredible."

If you want to get a taste of the special place that was the Tahitian Terrace, you can try the original recipe for Tahitian Terrace Punch from Smothers' book. The addition of rum may even help you forget that we're missing out on what very well could be the pinnacle of Disneyland dining today.

Tahitian Terrace Punch



"A blend of the exotic fresh juices of the Islands. Served in a tall frosted glass with a flower memento."

Makes 2.5 quarts

Ingredients

3/4 cup pineapple juice

3 tablespoons grenadine

3 tablespoons lemon juice

11.5-ounce can Welch's grape juice concentrate (white or Concord)

1/2 cup sugar

3 tablespoons Tang orange powdered drink mix

5 cups water

Directions

Combine all the ingredients until well mixed. Serve over ice.