These Are The Best Rides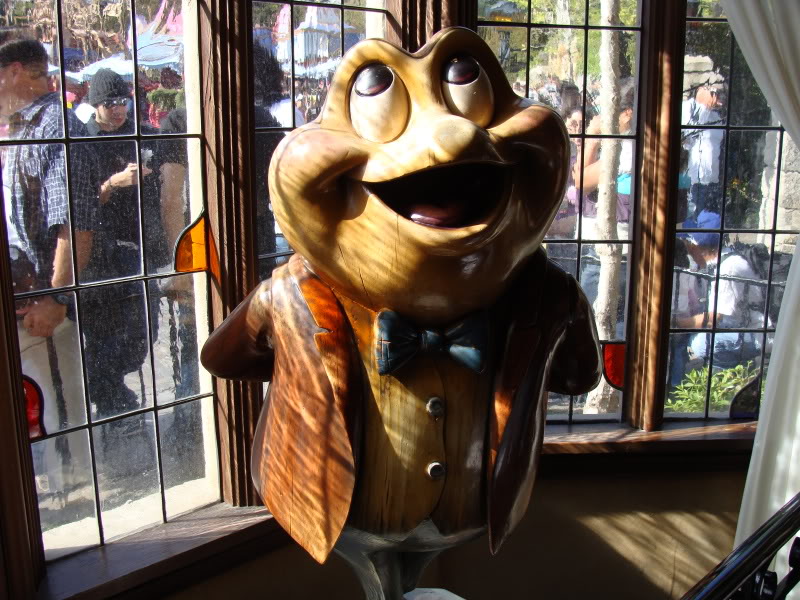 ID:
TMS-5228
Source:
thepointsguy.com
Author:
Summer Hull
Dateline:
Posted:
Status:
Current
While there are two main Disney theme park resort complexes in the U.S., they are not duplicates of each other.

In fact, Disneyland Resort and Walt Disney World Resort are distinctly different with their own set of hotels, restaurants and attractions. Even when Disney rides and attractions share the same name at multiple parks, they are often very different experiences.

If you've never been to the Disneyland Resort in California, you may be surprised by the sheer number of rides available out west.

Within Disneyland Resort, there are two theme parks: the original Disneyland Park, which opened in 1955, and Disney California Adventure Park, which has welcomed visitors since 2001. The two parks are located across from each other, with less than 100 yards between them, making them easily walkable during a day of park hopping.

Across the two parks, you'll discover more than 50 rides, plus a number of other attractions. Given the sheer volume of things to do at Disneyland Resort, you may find yourself wondering what to focus on for a first trip.

Based on what's unique to the location, what's better than other similarly named rides and what's just an all-out blast to experience, here are our picks for the best rides at Disneyland.

Best rides at Disneyland Park

It's no surprise that the Disney park that started it all has some must-ride attractions, but Disneyland is not just a museum of the old classics. It keeps updating rides and, in more than one case, is home to the arguably "better" versions of attractions located at both Disneyland and Disney World.

Pirates of the Caribbean

Location: New Orleans Square.

Rider requirements: All are welcome.

Pirates of the Caribbean is a ride originally imagined by Walt Disney himself. While it didn't open at Disneyland until three months after his passing in March of 1967, his inspiration is palpable.

Beyond the obvious creativity in storytelling through vast sets and countless animatronics, what makes this one of the best rides at Disneyland is that it is a whopping 15 minutes long with not one but two drops.

There are scenes in this version of the ride that you don't get at Disney World, where the ride is several minutes shorter in duration.

Pro tip: Make a reservation 60 days before your trip starts to dine at Blue Bayou, one of the best restaurants at Disneyland, so you can enjoy a meal inside the Pirates of the Caribbean attraction. The setting is hard to top, as patrons have a front-row view of the ride's boats floating by.

Haunted Mansion

Location: New Orleans Square.

Rider requirements: All are welcome.

Like Pirates of the Caribbean, Disneyland's version of the Haunted Mansion is set in New Orleans Square. With its stately columns and ornate wrought-iron latticework, the attraction's facade would fit right in among the mansions in New Orleans' Garden District.

This version of the Haunted Mansion opened three years after Walt's death in 1969 but had been in development for several years. As such, Walt provided a great deal of input on the final product, much like he did for the bulk of what you'll experience at Disneyland.

For example, although 999 ghosts supposedly reside inside the mansion, Walt did not want a decrepit, run-down building in his park. So, Disneyland opted for the cleaned-up facade you see today.

Once inside the mansion, you are ushered into a space called the Stretching Room. This is where your "ghost host" explains the story behind the mansion and what you may encounter during your ride, but rest assured, the room isn't really stretching. It's actually an elevator that takes you to an underground passageway where you can board your "doom buggy" (aka ride vehicle).

After hopping into your doom buggy, you'll travel throughout the mansion, meeting the ghostly residents along the way. The ride is fairly dark, and younger kids may find portions of it a bit scary. However, the dancing ghosts in the dinner party scene and the singing ghosts in the graveyard should be enough to keep their "spirits" up.

Even if you feel confident your kids will find the Haunted Mansion to be a bit too spooky for them, there's a good chance they will love the ride's Haunted Mansion Holiday, a seasonal overlay centered around "The Nightmare Before Christmas." Every year between September and late January, the attraction transforms inside and out to feature decor and characters from the iconic Tim Burton film.

A highlight of Haunted Mansion Holiday is the huge gingerbread house on the table in the dinner party scene of the ride. The design of the intricately decorated house is different each year and fills the entire room with the scent of freshly baked gingerbread.

No matter which version of the ride you get to experience, there's a delightful moment near the end where a "hitchhiking ghost" joins you in your doom buggy using a bit of Disney magic. It's sure to be a highlight for your crew.

Pro tip: If you want to skip the Stretching Room (which you may wish to do if your child is afraid of the dark), tell a cast member when you reach the front of the line. They can take you through a separate entrance that gets you straight onto the ride.

Space Mountain Location: Tomorrowland. Rider requirements: All riders must be at least 40 inches tall. While Space Mountain was originally considered for Disneyland in the 1960s, the Disney World version opened first in 1975, as park designers sought to create more thrill rides for those who had aged out of Fantasyland. A tweaked version later made its debut at Disneyland in 1977.

Much like other attractions on this list, you'll find fans of both versions of this classic ride. However, the Disneyland version is often thought by some to be the better of the two for two reasons.

Unlike the single-file seating system at Disney World, Disneyland's Space Mountain operates in a two-seater side-by-side arrangement. This makes the latter better suited for families who may have a nervous rider in their group.

Additionally, the Disneyland version occasionally offers a Hyperspace Mountain overlay with "Star Wars" music and projections. It takes place at special times throughout the year, though it most often coincides with Star Wars Day on May 4.

Mickey & Minnie's Runaway Railway

Location: Mickey's Toontown.

Rider requirements: All are welcome.

Despite being around for nearly 100 years, Mickey and Minnie did not get their own attraction in a Disney park until Mickey & Minnie's Runaway Railway opened at Walt Disney World in March 2020. It wasn't until Jan. 27, 2023, that a similar version opened at Disneyland in a refurbished Mickey's Toontown.

Why was now the perfect time to introduce this must-do attraction?

The recent debut of the Mickey Mouse series of shorts on Disney+ introduced a new generation to the "tooniverse" of Mickey and Minnie.

Not to mention, Disney only recently developed the technological tools and techniques required to properly bring riders into Mickey's whimsical, colorful and hilarious world, according to Disney Imagineers who worked on the attraction.

The attraction at Disneyland really starts with the queue, where you'll see costumes and memorabilia from all iterations of Mickey from 1928 through the present. Parents, grandparents and kids all get a chance to connect with the Mickey they know and love before jumping into his world.

On the ride itself, you are meant to be attending the premier of Mickey and Minnie's newest cartoon short, "Perfect Picnic." As often happens in these cartoon shorts, something goes wrong, and you unexpectedly find yourself on a runaway train ride with conductor Goofy.

Because this fun-for-all-ages ride does not run on a traditional ride track, the experience feels different every time you ride. If you sit in the front train car one time and the back train car the next, you'll get a totally different view of each scene.

Pro tip: This attraction has more hidden Mickeys than any other ride at Disneyland. See how many you can spot!

Snow White's Enchanted Wish

Location: Fantasyland.

Rider requirements: All are welcome.

If you ask us, any of the 1955 opening day attractions that remain at Disneyland are worth a spin if you have the time. Snow White's Enchanted Wish, located in Fantasyland, is no exception.

Although it's one of the park's original rides, it was recently improved with new effects, new scenes, new smells (pies anyone?) and more, giving you the best of the classic ride with the latest technology. Know, though, that the ride is dark, so little ones may find it scary at times.

Pro tip: Don't forget to keep an eye out for the Evil Queen in the window above the attraction's exterior.

Matterhorn Bobsleds

Location: Fantasyland.

Rider requirements: All riders must be at least 42 inches tall.

The Matterhorn Bobsleds coaster may not be the fastest (or smoothest) roller coaster at Disneyland, but it is a can't-miss ride for a couple of reasons.

To start, it has a significant connection to Walt Disney, who was inspired to build the attraction after visiting the real Matterhorn mountain in Zermatt, Switzerland, while filming "Third Man on the Mountain" in 1959. Also, it holds the title of the world's first tubular steel roller coaster (most roller coasters used wooden tracks before the Matterhorn was built).

The ride begins with a pitch-black winding climb to the top of the mountain while the Yeti roars in the distance (a feature that may make this ride too scary for young kids).

As you twist and turn your way back down the mountain, you encounter additional evidence of the Yeti that resides there, ultimately meeting him a few times along the way. Luckily, you speed right past him and continue on your fast-paced race to the bottom.

Indiana Jones Adventure

Location: Adventureland.

Rider requirements: All riders must be at least 46 inches tall.

Another ride unique to Disneyland (within the U.S. parks, at least) is Indiana Jones Adventure, which first opened in 1995. It's inspired by the series of movies helmed by Harrison Ford as its title character.

The ride operates as a 12-person jeep that takes you along a programmed track through a cursed and problematic temple.

It's a little rough for those who are especially prone to bumps and motion sickness, but if that doesn't apply to you, the adventure and theming on this attraction are quite memorable. In fact, the queue itself is worthy of a visit as it weaves through the temple.

Wild card addition: Mr. Toad's Wild Ride

Location: Fantasyland.

Rider requirements: All are welcome.

Did you know that at Disneyland, there's a ride where you get drunk, arrested and end up in hell? Well, there absolutely is, and it's a cult classic.

This opening day attraction left Disney World to make room for The Many Adventures of Winnie the Pooh, but it's alive and well in Fantasyland at Disneyland — well, at least until the end when your soul ends up with the fire.

Unless your kids are familiar with "The Adventures of Ichabod and Mr. Toad," which aired in 1949, they are unlikely to recognize the characters or really know what's going on. However, adults will likely appreciate how truly strange (and entertaining) this wild experience is.

How to enjoy the best rides at Disneyland

Experiencing the best rides at Disneyland without spending hours in line requires using a couple of different strategies.

Plan on riding the Fantasyland rides in Disneyland Park either right when the park opens (or 30 minutes before if you're staying at a Disneyland hotel that grants early entry) or later in the evening when most of the kids have gone to bed, as these rides — including Mr. Toad's Wild Ride and Snow White's Enchanted Wish — do not use Genie+ and Lightning Lane.

Know, though, that the Fantasyland area closes before and during the nighttime fireworks, so you'll want to time your visit accordingly.

Most of the other notable rides at Disneyland — including Pirates of the Caribbean, Matterhorn Bobsleds, the Haunted Mansion, Indiana Jones Adventure, Space Mountain, Guardians of the Galaxy — Mission: Breakout!, Web Slingers: A Spider-Man Adventure, Toy Story Midway Mania! and Luigi's Rollickin Roadsters — do participate in the Genie+ program, so you can fit them in throughout the day. Unlike Disney World's Genie+ program, the one at Disneyland is very easy to use due to the large number of attractions to pick from.

Radiator Springs Racers and Mickey & Minnie's Runaway Railway are currently premium attractions, so if you want to skip the line or wait in a virtual queue, you'll need to purchase individual Lightning Lanes. If you're a single rider, consider using the single-rider lane for Incredicoaster, Matterhorn Bobsleds, Radiator Springs Racers and Web Slingers: A Spider-Man Adventure to potentially speed up your wait time.

Bottom line

It's no easy feat choosing the best rides at Disneyland. Hopefully, you'll have enough time at Disneyland to experience everything the park has to offer.

If you are in a time crunch, though, this list will help you prioritize the most fun, exciting and unique rides at Disneyland Park and Disney California Adventure Park so you can still leave time for a churro or an order of Mickey beignets during your trip.