20 Best Restaurants At The Disneyland Resort Ranked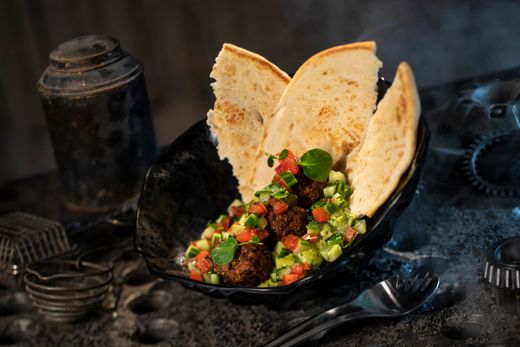 ID:
TMS-5231
Source:
tastingtable.com
Author:
Jennifer Richmond
Dateline:
Posted:
Status:
Current
If the Disneyland Resort is known for anything, it has to be the rides and characters. Can you imagine visiting the popular theme park without waving hello to Mickey and Minnie or touring California Adventure without taking a ride on the Incredicoaster? There's so much to do and see at the Happiest Place on Earth; it's practically impossible to do it all in one day (though many have tried). You could spend a few hours at one park, park hop between the two available, or even squeeze in a little shopping in Downtown Disney if you're really adventurous. But even if you plan your day down to the minute, there's one thing you absolutely can't skip — eating. While the rides and character meetups are what we go to Disneyland for, the food is just as important.

With so many options, from walk-up kiosks and mobile-ordering snack bars to stunning sit-down restaurants, it's hard to know where to go for what. In the mood for a cocktail? California Adventure or Downtown Disney are the places to be. Want to enjoy a meal inside a Disney ride? Better make a reservation at the Blue Bayou. But if you're totally unsure of where to get the best tropical cocktail or who has the best steak, as always, we are here to help. We've ranked 20 sit-down restaurants throughout the Disneyland Resort, so you'll know which ones to visit and when. 

20. River Belle Terrace Right at the corner where Adventureland meets Frontierland, the River Belle Terrace is one of those restaurants where you could easily walk right by if you don't know about it. But if you're looking for some Southern comfort food with a view of the Rivers of America, it might be worth a stop. This eatery is all about rich, down-home cooking with options like burnt ends grilled cheese and sweet and sticky pulled pork.

While several bloggers feel the food is hit or miss, the fried chicken sandwich and loaded bites consistently get rave reviews. That's not too surprising, though, since Disneyland's chicken is always top-notch, and it's pretty hard to screw up tater tots, especially when they're covered with shredded brisket and pimento cheese. 

19. Goofy's Kitchen A few restaurants at the resort include meet and greets with their meals. Goofy's Kitchen is one of them and the only spot where kids can meet their favorite Disney characters for breakfast, lunch, or dinner. If this is all you care about, book this reservation now! But if you're also interested in food, there are better options. 

Sure, Goofy's Kitchen has all the breakfast fare one would expect, but since it's buffet-style, you're getting food like Mickey Mouse waffles and a build-your-own omelet station. What the restaurant does well, though, is its few "goofy" options. One such strange but yummy dish is Goofy's Famous Peanut Butter Pizza. A hit with kids and adults alike, it's a unique offering for those who want a little adventure with their meal. 

18. Plaza Inn At the end of Main Street is the cute little pink Plaza Inn. Beginning its journey as the Red Wagon Inn when the park opened in 1955, the folks at the resort wanted a restaurant that fit with the theme of Main Street and harkened back to the turn of the century. The eatery may look like something out of the Gilded Age, but thankfully the food is much more modern, though nothing unusual. 

If you're looking for down-home cooking, this would be the spot for you, as the Plaza Inn is known for its fried chicken, pot roast, and mashed potatoes. Everything is served cafeteria-style, making it an easy choice when you're in a hurry but want to sit down and enjoy yourself. Served with mashed potatoes and gravy, the three pieces of chicken reach a savory golden brown and are finger-licking good!

17. Wine Country Trattoria Nothing beats tasting vino at a winery in California's Napa Valley. But if you can't make it to Northern California, Disney's California Adventure has its own little taste of the region right along the Performance Corridor in the form of Wine Country Trattoria. Full of classic dishes like fried calamari, chicken parmesan, and fettuccine shrimp alfredo, this is a great restaurant if you're in the mood to people-watch and love Italian food. 

While the establishment has indoor seating, the patio outside provides ample room and opportunities to observe the crowd and maybe even catch a parade. Not to mention the atmosphere makes you feel like you're enjoying a meal in a California vineyard. If only the food were as amazing as the surroundings. But don't misunderstand — the calamari is light and crispy, while the chicken is moist and flavorful. It's all perfectly fine, but that's just it — it's fine. 

16. Storytellers Cafe Storytellers Cafe is the Grand Californian Hotel & Spa's answer to Goofy's Kitchen at the Disneyland Hotel. Like the former, this restaurant is the place to go if you want breakfast with a side of character meet and greets. But unlike Goofy's Kitchen, the food is better. While it also has Mickey-shaped waffles, Storytellers has more elevated breakfast fare, including chili verde chilaquiles and eggs benedict with spiced hollandaise. 

Although the restaurant has brunch and dinner menus, only the breakfast buffet includes a chance to meet Mickey, Minnie, and the rest of the gang, but only if you make a reservation. Unlike the character meet-ups in the park, you won't have to wait in line to talk to your favorite Disney personalities. Pluto, Chip, and Dale all come directly to your table for photos and chit-chat while you enjoy your favorite early-morning treat.

15. Carnation Café A classic restaurant that's been around since the park opened in 1955, Carnation Café is the place to go if you're looking for a quick bite of good, all-American-style food and drink. Open for breakfast, lunch, and dinner, you'll find standard menu items, including the popular Mickey-shaped waffle that you can find at most Disney restaurants open in the morning, as well as a few hamburger options.

Full of nostalgia from the golden age of Disneyland, Carnation Café was Walt Disney's favorite restaurant in the park. So, it makes sense that this is where you'll also find his favorite dishes. Options include Walt's Chili and homemade meatloaf. But if you can only have one thing, the chicken-friend chicken is the way to go, as most believe it's better than the fried chicken at the Plaza Inn.

14. Trader Sam's Enchanted Tiki Bar If you're a tiki fan then Trader Sam's Enchanted Tiki Bar is an absolute must! Hidden on the grounds of the Disneyland Hotel, this bar books up early thanks to the awesome drinks and fun hiding behind those big wooden double doors. The only reason this restaurant isn't higher on our list is that while the beverages are amazing tropical concoctions full of rum and citrus juices, the food choices are limited, and nothing to write home about.

But let's be honest: You're not going to Trader Sam's for the food; you're going for the show and the drinks (yes, there is a show). We don't want to ruin the magic, but just ask one of the friendly bartenders which cocktail comes with a side of excitement, and they'll point you in the right direction.

13. Uva Bar & Cafe While there are plenty of places to eat inside Disneyland and California Adventure, there are several options outside the parks in Downtown Disney. These spots allow patrons to take a break from the crowds or enjoy the resort without the cost of a ticket.

Right in the center of Downtown Disney, the Uva Bar & Cafe is an inviting destination with plenty of yellow umbrellas, perfect for dining alfresco. Tables surround a full bar, allowing ample opportunity to take in the sun and surroundings. With basic lunch menu items like hearty burgers, Greek-style chicken gyros, and crunchy, beer-battered fish tacos with citrus coleslaw, this is the place to grab a bite when you just can't get in or secure a reservation anywhere else.

12. Splitsville Luxury Lanes There's plenty to do inside the parks at the Disneyland Resort, but the one thing you can't do is bowl. We didn't think we were missing this, but it turns out we were wrong. While its bowling alley fills up quickly, you can still enjoy Splitsville without ever getting a gutterball. See, this destination isn't just filled with lanes; it's a full-scale restaurant.

Now, if you think the establishment serves cafeteria-style burgers and hot dogs that have been roasting on rollers since yesterday, you couldn't be more wrong. Its menu is huge, with every option you can think of, from burgers and pizza to sushi! And while the Japanese-inspired rolls are decent, reviewers can't get enough of the loaded fries. The rest of the food is typical sports bar fare that, while filling, isn't anything to write home about.

11. Docking Bay 7 Food and Cargo Galaxy's Edge has everything any Star Wars fan could want: You can say hi to the Mandalorian and Grogu, drink blue milk, and walk onto the Millennium Falcon. It's every young rebel's dream come true! But if a dyed beverage isn't enough to satiate your appetite or you can't score a seat at the bar inside Oga's Cantina, then Docking Bay 7 Food and Cargo could be the place for you.

While Oga's is known as the only place to go in Disneyland for a cocktail, trust us when we tell you to skip it. The mixed drinks are prebatched and not good at all. However, the food at Docking Bay is everything the former should have been. Like the rest of Galaxy's Edge, the atmosphere makes you feel like you just landed at a delivery facility in Batuu. Even though it's a counter-service restaurant, the meals are worth a trip across space. Not sure what to order? The Endorian Roasted Chicken Salad and Endorian Fried Chicken Tip-Yip get our vote.

10. GCH Craftsman Bar If you're staying at the Grand Californian and hanging out by the pool, there's nothing simpler than grabbing a bite at GCH Craftsman Bar. But this isn't standard bar food; this is high-class eating. With everything from artisanal pizzas to poke bowls and baked nachos, it's easy to see why you'd want to stay and eat poolside.

Since poke seems to be all the rage these days, GCH's version of the dish is a nice, light choice. The fact that you can choose salmon or tuna makes it a unique meal with all the flavors one expects from the seafood menu item. However, the real highlights are the Mediterranean wagyu burger and the Forest Mushroom Impossible Sausage Pizza. Bloggers report that both entrees are flavorful and better than other burgers or pizzas at the Resort.

9. Naples Ristorante e Bar While only a few pasta dishes are available at Naples Ristorante e Bar, the main reason to stop by is the huge variety of artisan pizzas. These aren't pies from your typical delivery joint; they are woodfired and made with flour imported from Naples. These are the kind of slices you'd find in little shops throughout Italy.

While the Downtown Disney restaurant has classic Neapolitan and pepperoni pizzas that are anything but standard, it's the Quattro Formaggi or Funghi e Aglio that are worth the visit if you're willing to step outside your comfort zone. But if these savory pies aren't your thing, the lasagna has a lovely béchamel sauce, and meat piled so high you'll be taking home leftovers. Even though Naples is mainly a pizza place, the slices are worth every penny.

8. Café Orleans Inside New Orleans Square are two restaurants, both worth a peek. While Blue Bayou is the nicer, more popular destination, you don't want to miss Café Orleans, especially if you like a good Monte Cristo Sandwich. The entree is part savory meal, part sweet breakfast treat, and 100% amazingness. Ham, turkey, and swiss cheese are sandwiched between two slices of thick brioche. Then, the whole thing is dipped in a rich egg batter and deep-fried. Yes, it's decadent, but you're in New Orleans Square, which is all about serving luxurious meals. 

The restaurant is a quaint little spot with a definite bistro feel. While you could enjoy table service inside, sitting under umbrellas just across from the Rivers of America allows you to enjoy Disneyland and a real Southern meal at the same time. But whatever you do, do not skip dessert; the treats offered here are worth the trip alone.

7. Catal Part of the Patina Restaurant Group's trio of eateries in Downtown Disney, Catal is a nicer extension of the Uva Bar & Cafe. While the latter is solely al fresco dining, Catal has both indoor and outdoor seating and is a nice alternative if you're looking for something a little quieter and romantic.

The establishment has a Mediterranean and Spanish flair similar to Uva but has heartier options. Known for its paellas, there are two on the menu: a classic full of meat and seafood and a vegetarian version. Both are wonderful, and you'll be satisfied if that's all you order. But if this traditional Spanish dish isn't your thing, there are plenty of other choices, from steaks and burgers to two different kinds of fish. All in all, the food at Catal is great and a lovely option if you're looking for a decent meal outside the parks.

6. Lamplight Lounge One of the harder reservations to get in Disney California Adventure is for the Lamplight Lounge. Located at the tip of the Pixar Pier, the restaurant is a great place to go when you want to relax with a view and don't mind spending a little money. While the atmosphere perfectly fits the Pixar experience, the food is nothing to write home about. You can get a good burger, and the Salmon PLT is delicious, but neither is worth the price tag. 

However, the one dish worth its fee is the lobster nachos. Disney knows when it has a hit on its hands, and these nachos are definitely it. (They've been around since Lamplight was known as the Cove Bar and Ariel's Grotto.) It's a huge plate of chips covered with tender lobster, black beans, a gooey cheddar cheese sauce, and plenty of fresh jalapeños. So, even if you get a burger, whatever you do, do not skip this appetizer!

5. Tortilla Jo's We love a good street taco and margarita, and there's no better place at the Disneyland Resort than Tortilla Jo's for classic Mexican fare. Located in Downtown Disney, the restaurant is open for breakfast, lunch, and dinner. It has everything from guacamole made exactly how you like it to chicken and steak fajitas that come to your table sizzling in a cast iron skillet. It's a Mexican food lover's dream and the place we always head to when we're in the mood for really good carne asada.

While the food is top-notch, the margaritas are incredible. They come in every flavor you can think of, but our favorite is the blood orange. It is a nice alternative to the classic, and the subtle agave flavor from the Tequila Cazadores Blanco really lets the fruit juice shine. Reservations are pretty easy to come by, but if you can't find a table and don't mind eating on the go, the taqueria next door has build-your-own street tacos and burritos.

4. Ralph Brennan's Jazz Kitchen Even though there are a few Southern eateries inside Disneyland that will make you believe you're in New Orleans, none of them can compare to the Creole cooking at Ralph Brennan's Jazz Kitchen. The food is amazing and takes us right back to Bourbon Street. Our favorites are the blackened chicken mac n' cheese and the pasta jambalaya. Thanks to the Creole seasoning, both are definitely on the spicier side, but the thick, cheesy sauce in the former and the rich, almost gumbo-like soup of the latter make those tingling lips worth it.

If you're looking for something to quench your thirst, Ralph Brennan's Jazz Kitchen has plenty of classic cocktails like the Southern sweet peach tea or the classic Sazerac, which really makes you believe you're enjoying a drink in the French Quarter.

3. Blue Bayou Probably the hardest reservation to get inside Disneyland is a table at the Blue Bayou Restaurant. It's not just because the food is absolutely delicious; it's the only establishment that is actually part of a ride. That's right — it sits at the very beginning of the Pirates of the Caribbean attraction. While it's fun to watch the boats go by and maybe even toss an unsuspecting rider a dinner roll, Blue Bayou may be one of the more romantic eateries in the park. It's dark and quiet and simply exudes Southern elegance.

But it's not just the atmosphere that makes this a hot spot; the food is just as great as the decor. The Creole chicken and filet mignon are the way to go if you want a filling meal. Both have plenty of Southern flair and are cooked to perfection. Entrees like these make it easy to forget you're eating at a restaurant inside an amusement park.

2. Carthay Circle Disney California Adventure's answer to Blue Bayou is the Carthay Circle Restaurant. While the eatery doesn't sit inside a ride, it's the same fine dining experience and so almost as hard to get a reservation. The decor feels very much like the type of establishment you'd find in old Hollywood, where stars would rub elbows as they sipped martinis and enjoyed New York strips. 

Although the food options are more current, they still have that classic feel thanks to delectable savory options like steamed muscles and shrimp, thick-cut pork chops, and braised beef with pasta. The meat dishes are by far our favorites because they're high-end cuts that are prepared to our liking, and they all come with the kind of sides you'd find at your favorite steakhouse. 

1. Napa Rose There's a reason why Napa Rose is ranked number one: It makes several best restaurant lists and has some of the best food you'll find in Southern California, let alone Disneyland Resort. Even though dinner at the phenomenal eatery comes with a hefty price tag, it's well worth the extravagance. 

Housed inside the Disney Grand Californian Hotel & Spa, this destination has everything you want in a fine dining establishment. The linens are crisp and snow-white, the wine comes from some of the best wineries worldwide, and the food is nothing short of spectacular! While you could bring your children (and you should for its Disney Princess Breakfast Adventure), we'd recommend hiring a babysitter, ordering a nice bottle of pinot noir and the filet mignon, and having a night to remember.