Disneyland Sets Splash Mountain Closing Date Releases New Concept Art For Tianas Bayou Adventure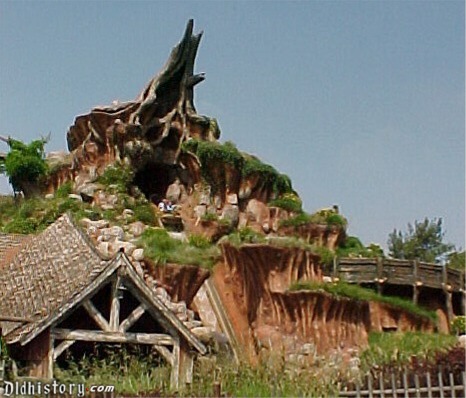 ID:
TMS-5254
Source:
Los Angeles Times
Author:
Todd Martens
Dateline:
Posted:
Status:
Current
Disneyland's Splash Mountain — the famed log flume ride whose imagery is rooted in the dated and racist 1946 film "Song of the South" — has an end date. Guests will have their final chance to plunge a five-story drop through a briar patch on May 30, giving Disneyland attendees one last busy Memorial Day weekend to experience the attraction in its current form.

But the imaginative water-based track and mountainous building aren't going anywhere. The attraction will reopen in 2024 as Tiana's Bayou Adventure, which will re-theme the ride to the Walt Disney Co.'s 2009 animated work "The Princess and the Frog," a fairy tale that starred the company's first Black princess.

In revealing the news on Wednesday morning, the Disneyland Resort announced that Tiana's Bayou Adventure will feature more than a dozen original audio-animatronic figures. Additionally, Jenifer Lewis will reprise her role as Mama Odie, the "200-year-old bayou fairy godmother." Previously, Disney revealed that Bruno Campos would return as Prince Naveen, Michael-Leon Wooley would reprise the role of Louis and Anika Noni Rose would be back to voice Princess Tiana.

Mama Odie is described as the "catalyst" to the fantastical events that will occur on the reimagined attraction, and concept art shows her jovially laughing as guests ride past. Narratively speaking, the attraction will begin sometime after the end of the film "The Princess and the Frog." The twisting log ride will follow Princess Tiana, now a famed New Orleans entrepreneur, and Louis, the plump, trumpet-playing alligator, as they head to a Mardi Gras concert and seek a missing ingredient. The nine-minute journey will take guests through winding caverns and elaborate show scenes before arriving at a post-drop grand musical finale.

Tiana's Bayou Adventure will feature new, original songs in addition to works from the film, although Disney has not yet announced a playlist. The winding queue for the ride will have the aroma of beignets, available, of course, for purchase in nearby New Orleans Square.

Already in the works is the remake of New Orleans Square's French Market Café into Tiana's Place. The quick-service dining location, boasting New Orleans staples, will open ahead of the attraction later this year. Tiana's Place is not a character dining experience, although the princess can be found in the New Orleans Square area of the park.

Chief among the concerns of Disneyland's cognoscenti will be the fate of Splash Mountain's large number of audio-animatronic critters, many of which were rescued from the 1970s-era America Sings attraction. Disney is seemingly seeking to assuage any fan fears in announcing that "dozens" of newly created audio-animatronic creatures will be featured in the reimagined attraction. One was seemingly shown last fall at Disney's fan convention the D23 Expo: an otter that's fashioned a musical instrument out of found objects like typewriter keys and a fishing line. Concept art also hinted that the ride would have a magical, otherworldly feel, as parts glowed purple and flora in the water had a brilliant pink luminescence.

Significantly more important, however, was ridding the attraction of ties to its troubled past. Splash Mountain aimed to avoid the least-savory aspects of "Song of the South" — inspired by the works of author Joel Chandler Harris, who depicted stories of a Black slave from an idyllic, white perspective — largely by avoiding the text rather than addressing it or attempting to reclaim it. But there was no denying the source material that inspired it.

Splash Mountain opened in 1989, and its connection to "Song of the South" at the time didn't necessarily draw national ire. A preview and review of the attraction in The Times failed to explore its ties to the controversial film, one that remains in the Disney vault and that Chief Executive Bob Iger has stated is "not appropriate in today's world."

Originally titled "Zip-a-Dee River Run," a reference to the popular song "Zip-a-Dee-Doo-Dah," itself a work with connections to a minstrel past, Splash Mountain was born of another cultural era, its themes chosen in part due to its location in Disneyland — currently Critter Country — and as a way to reuse audio-animatronics from America Sings.

It's a significant evolution for Disneyland, said Imagineering's Carmen Smith at D23 Expo in 2022. Smith is one of the creatives overseeing the ride.

"As we look at who's in our parks," says Smith, the question the company is asking is "how do we make sure that we're telling stories where if you're a little girl who happens to be of African descent or Indigenous or Latino or Asian," you can see yourself in one of Disneyland's attractions.

She added, "I think that this is a character that so many young girls — and boys — feel like they can identify with. This is an opportunity to expand our reach and showcase that all stories matter — everyone's stories matter. I look at this as just the beginning of more stories we'll tell that represent the world we live in. This is so important."

Famed Disney Imagineer Tony Baxter, known for spearheading Big Thunder Mountain and his role in bringing the works of George Lucas into Disney parks, oversaw Splash Mountain's creation and has served as creative advisor to Imagineering on the project. Baxter voiced his support for the makeover in a statement provided by Disney. In the comment, Baxter argues that Disney in the early to mid-'80s was often forced to look to the company's deep past for inspiration, as its own films of the era struggled to resonate on a larger cultural scale.

"When Splash Mountain came to life over 30 years ago, the wave of Disney Animation that started with 'The Little Mermaid' had not yet begun," Baxter said in a news release with the initial 2020 announcement. "New stories would give us characters, music and wonderful places that now reside in the hearts of audiences everywhere. Following conversations with Imagineering's leaders about the new attraction's scope and resources, I had a great sense of reassurance — the attraction will be one to be proud of ... bringing to life places, characters and music from the animated classic 'The Princess and the Frog.'"

Splash Mountain, its connection to a problematic text and its future became a heated social media debate in 2020 during a moment of cultural reassessment and nationwide protests after the killing of George Floyd. An online campaign at the time even called for a "Princess and the Frog" makeover to the log flume ride that's been a park favorite in large part due to its 52½-foot drop.

At the time, Disney said it has long discussed a Splash Mountain reimagining and cited the need for the ride to embrace a fresh, "inclusive" concept.

"The Princess and the Frog" project is largely being overseen by Smith, Imagineering's vice president of creative development and inclusive strategies, and Charita Carter, who was instrumental in the development of Mickey & Minnie's Runaway Railway, which recently opened in Disneyland's Toontown. A version of Splash Mountain at Florida's Walt Disney World closed earlier this year, where guests flooded the park to be among the last who rode it in its current form.