Opening Day Attractions You Can Still Enjoy At Disney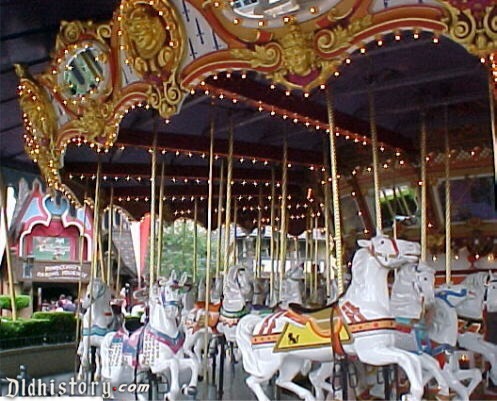 ID:
TMS-5334
Source:
disneydining.com
Author:
Steven Wilk
Dateline:
Posted:
Status:
Current
Opening on July 17, 1955, Disneyland Park changed the world.

Over the past few decades since then, it has undergone multiple changes, including the addition of adjacent hotels, Downtown Disney, and Disney California Adventure Park. But let's explore the attractions that were there from the very beginning.

The Mad Tea Party

Although the "teacups" is ride has been copied by multiple theme parks since the '50s, this version is the most famous. Themed to Alice in Wonderland (1951), which had only been out a couple of years when Disneyland opened, Guests can still celebrate their un-birthdays by spinning themselves into a frenzy 68 years later.

Peter Pan's Flight

When this ride first debuted, it set a new standard for dark rides by taking Guests on a "flight" over London. Although it has been refurbished and updated through the years, it maintains its classic structure, Peter Pan theme, and layout. And still today, both at Disneyland Park and Magic Kingdom Park, it remains one of the most popular Fantasyland attractions.

Snow White and Her Adventures

Though it's been in Disneyland since the beginning, this attraction, too, has undergone many changes. It originally debuted as "Snow White and Her Adventures" but was renamed "Snow White's Scary Adventures" in 1983 to better reflect the ride's elements that terrified children. The ride has since been toned down and was reimagined again a few years ago and changed to "Snow White's Enchanted Wish."

Mr. Toad's Wild Ride

Based on the animated classic The Adventures of Ichabod and Mr. Toad (1949), Mr. Toad's Wild Ride was one of the more thrilling rides on opening day (remember there was no Star Wars, Matterhorn, Splash Mountain, or Space Mountain). Although the animated movie from the '40s is not as famous today as classics like Snow White and the Seven Dwarfs (1937) or Pinocchio (1940), it still gets a fair amount of traffic. It's also one of the few Disney attractions without a happy ending: sending riders into hell.

King Arthur's Carousel

The carousel is a classic attraction (and one of Lillian Disney's favorite rides). This particular version was renovated from a vintage merry-go-round from the Sunnyside Amusement Park in Toronto. Walt Disney and his team updated the animals to be exclusively horses so that park guests could "gallop" like the knights of the Round Table.

Disneyland Railroad

Inspired by Walt Disney's backyard model train, the Disneyland Railroad transports guests around the theme park (as it has since opening). Although many changes have been made throughout the years, such as taking guests through dioramas depicting the Grand Canyon and Primeval World, it's still in operation today.

Mark Twain Steamboat

This attraction, like others on the list, has since been renamed. Today, it is called the Mark Twain Riverboat, though it remains mostly unchanged in its ride experience. The 14-minute long ride takes guests around the Rivers of America.

Jungle Cruise

This Disneyland classic exists in various versions at Disney Resorts throughout the world. Famous for its pun-telling skippers and audio-animatronic animals, the original ride was more serious than the current version is today. However, its props, storytelling elements, and overall experience maintain the same ambiance as the opening day attraction.

Main Street Cinema

One of Disneyland Park's simplest attractions, this in-park theater once played silent (non-Disney) movies as an homage to the film industry. Today, guests can still stop in today for a few minutes to cool down or take a break, but the cinema now shows classic Disney shorts such as Steamboat Willie.

Autopia

At the time of Disneyland Park's opening, this ride was a futuristic take on the American highway. It was one of the most unique attractions in the park, allowing children to get behind the wheel and drive (like they would in the future). It, too, has been updated many times but still maintains its original spirit and charm.

Canal Boats of the World

Known today as Storybook Land Canal Boats, this opening-day boat ride was initially intended to take guests through miniature models of international landmarks. However, due to technical issues, the attraction was refurbished shortly after opening day to take guests through famous settings from Disney animated movies.

Casey Jr. Circus Train

This mini-railroad attraction is based on Dumbo (1941) and takes guests through many of the same scenes in the Storybook Land Canal Boats. Although it was an opening-day attraction, it was closed the next day for safety testing and reopened two weeks later. Today, it is still in operation at Fantasyland.

This sampling of a dozen Disneyland Park attractions is still not a complete list of EVERYTHING that remains in Disneyland today from opening day. Certain icons, such as Sleeping Beauty Castle and various shops, eateries, and aesthetics, can still be enjoyed as well.

And to all those readers out there who know Walt Disney World Resort but have yet to visit Disneyland Park in Anaheim – I highly recommend it.

The layout and many rides are similar to Magic Kingdom Park in Orlando – but there are also many differences. For example, Pirates of the Caribbean has extra scenes, Space Mountain has an entirely different track, train, and layout, and several attractions aren't even in Florida, such as an Indiana Jones thrill ride, the Matterhorn Bobsleds, and an Alice in Wonderland dark ride.

Not to mention, it's the original park built by Walt Disney himself, with a history and nostalgia that just doesn't exist at Magic Kingdom.