Fans Are Obsessed With One King Arthur Carrousel Horse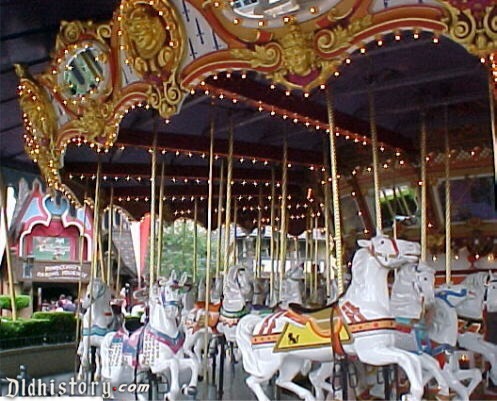 ID:
TMS-5383
Source:
SFGate
Author:
Julie Tremaine
Dateline:
Posted:
Status:
Current
It doesn't have any magic powers. It doesn't offer a better ride experience. So why are Disneyland fans always scrambling to be the first to ride Jingles, the most famous horse on King Arthur Carrousel?

In short, because of Mary Poppins. Well, more specifically, because of Walt Disney and Julie Andrews.

The carousel is historically significant to Disneyland: It's an opening-day attraction, but more than that, a carousel inspired Walt to open the park in the first place. As the story goes, he was sitting at the Griffith Park merry-go-round in Los Angeles on one of the "daddy daughter days" he'd have with his girls, when inspiration struck. He wanted to open a place where kids and adults could all have fun together, rather than the adults just watching from the sidelines.

When the park opened in 1955, the King Arthur Carrousel had one special lead horse among the brown, gray and tan horses, a white horse with bells on her saddle. She was reportedly Walt's wife Lillian Disney's favorite. When all the horses were painted white by 1975, they were also all given names. Lilly's favorite, the one with the bells, was named "Jingles."

She already had a pretty distinctive honor — but was given yet another one in 2005 for Disneyland's 50th anniversary celebration, when she got an even more luxurious makeover, becoming all gold for a brief time. But Jingles evolved into her true form in 2008, when she got sparkling "gems" and some unique artwork, in honor of Mary Poppins herself. Jingles became the Julie Andrews horse, dedicated to the Disney legend, in homage to the scene in "Mary Poppins" when Andrews rides a horse that's broken free of the carousel. Now, artwork decorates her saddle: Mary's iconic umbrella silhouette, the character's curving boots, the number "50" and the initials "JA." Andrews was on hand for the dedication, and was presented with a miniature replica of the horse.

Even all these years later, every time it's time to load another round of passengers onto the carousel, someone dashes for Jingles. I did it myself not too long ago. When the gate opened for passengers to load in, I saw how many people were in front of me and realized I didn't have a shot. The cast member in charge of the gate looked at me quizzically.

"I'll wait until next time," I said. "I'm hoping to ride Jingles." She nodded and closed the gate. A few minutes and a few spins later, it was time to load in another round of passengers.

"I'm going to let you in first," she said to me quietly, "so you can get to Jingles."

When I rode that horse, I felt like I was tapping into history, like I could envision what Disneyland was like in its earliest days. Maybe I misspoke earlier. Maybe Jingles does have some magic after all.

---
MickeyMousePark.com
---
Copyright: (c) 1997-2023 by
ThrillMountain Software
---
MickeyMousePark.com is not associated in any official way with the Walt Disney Company,
its subsidiaries, or its affiliates. The official Disney site is available at
disney.com
Troubleshooting Info:

BrowserBrand: IE
Mobile: NO
LocalHost: NO
BrowserOS:
BrowserServer: mickeymousepark.com
BrowserAgent:CCBot/2.0 (https://commoncrawl.org/faq/)
BrowserURL:Page=5&Ident=5383
BrowserCurrentPage: /disneyland-article.aspx
Login: 0
FilterBy: 0
SortBy: 0
DB: MMParkA