Analysis Liberty Street The Expansion Walt Never Built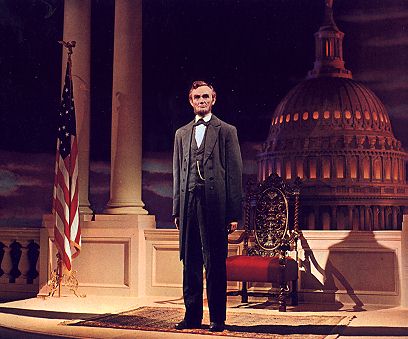 ID:
TMS-5385
Source:
attractionsmagazine.com
Author:
Blake Taylor
Dateline:
Posted:
Status:
Current
Liberty Street at Disneyland was canceled, but Walt Disney had big plans for the proposed patriotic expansion to the park in the 1950s.

According to D23, In 1956 (just one year after Disneyland's opening), Walt Disney Productions distributed a press release, detailing the company's plans for Liberty Street.

Walt Disney's Vision for Liberty Street at Disneyland In May 1957, Walt presented concept art for Liberty Street on his weekly television program. That episode — entitled "The Liberty Story" and viewable on Disney+ — featured a portion of Disney's then-upcoming film "Johnny Tremain." The movie was inspired by a work of historical fiction by Esther Forbes taking place during the American Revolution.

Addressing the audience, Walt said:

"In fact, this book intrigued us so much that we not only made a Technicolor motion picture of it; we're also creating an entire new section in Disneyland the park based upon it.

As you know, Disneyland Park is sort of a monument to the American way of life, but after reading 'Johnny Tremain,' we realized we had overlooked one major item in the blueprint: a memorial to the freedoms that made it all possible.

Well, we're busy putting it in. Right here, off the town square [of Main Street, U.S.A.]. We're calling it Liberty Street. Everything's in the planning stage, of course, but our research has taken us back to the period we'd like to recreate as a reminder that the liberty story is a story without end. In effect, Liberty Street will be Johnny Tremain's Boston of about 1775."

Walt clearly wanted to root Liberty Street in actual history, but Johnny Tremain wasn't a real person. Therefore, if Liberty Street had been as embedded to the character's story as Walt implied, the area, in its own roundabout way, may have been the park's first land devoted to a singular intellectual property (IP) — decades before Mickey's Toontown and Star Wars: Galaxy's Edge.

As with any work of historical fiction, the "Johnny Tremain" book and subsequent Disney film embellish the truth. Liberty Street may have followed in this regard.

Decades later, the company faced the challenge of presenting the "Disney version" of American history again when it attempted, and likewise canceled, the Disney's America theme park. Disney still navigates this subject, to an extent, as it tells America's story in various park attractions today.

The Attractions of Liberty Street Disney planned to anchor Liberty Street with two major attractions, The Hall of Declaration of Independence and The Hall of Presidents.

The Hall of Declaration of Independence "would present the dramatic story of the birth of the United States through three scenes inspired by famous paintings depicting that time in history," as reported in a 2013 post on the Disney Parks Blog. Those scenes, described by D23, were to include:

Thomas Jefferson, Ben Franklin, and John Adams drafting the Declaration of Independence

The Declaration of Independence being signed

The Liberty Bell ringing

The other attraction, The Hall of Presidents of the United States, would feature the nation's commanders-in-chief on one stage.

Edison Square

Imagineers also planned Edison Square as an annex adjacent to Liberty Street. Edison Square would have featured an attraction showcasing the progress of electricity through the eyes of a family in different eras of history. Sound familiar?

Walt publicly spoke about Liberty Street to a national audience on television. In contrast, it's difficult to trace how much Disney revealed about Edison Square to the public. A 1958 document proposal, preserved on disneydocs.net (and presumingly presented to General Electric by Disney) contains a wealth of information. However, that literature may have been for internal use only. At the very least, Disney officially teased Edison Square (along with Liberty Street) on its illustrated 1958 "fun map" and even within the park itself.

Disney Cancels Liberty Street

Disney halted development of Liberty Street after failing to find a corporate sponsor to fund the expensive expansion. This tale is regaled in season 1, episode 10 of "Behind the Attraction" on Disney+.

Liberty Street never opened at Disneyland, and its intended real estate remains a backstage area today.

Liberty Street's Ideas Repurposed

In spite of Liberty Street's cancellation, Walt's concepts for the expansion evolved into projects that achieved better success. The creative processes that began with Liberty Street and Edison Square ebbed into the development of Great Moments with Mr. Lincoln and General Electric's Carousel of Progress for the 1964-1965 New York World's Fair (both of which were later installed at Disney parks), as well as Liberty Square at Magic Kingdom, complete with The Hall of Presidents on opening day 1971.

Meanwhile, Ben Franklin and Thomas Jefferson ultimately made their Disney theme park debut in The American Adventure when Epcot opened in 1982.

Later, Fozzie Bear and Kermit the Frog, respectively, portrayed Franklin and Jefferson, respectively, in "The Muppets present … Great Moments in American History." The live show performed in the windows above Liberty Square across 2016-2019. One of the production's two alternating programs depicted the very same scene — the signing of the Declaration of Independence — originally planned for the unbuilt Liberty Street attraction, albeit with more chickens than Walt probably envisioned.