Unfinished Magic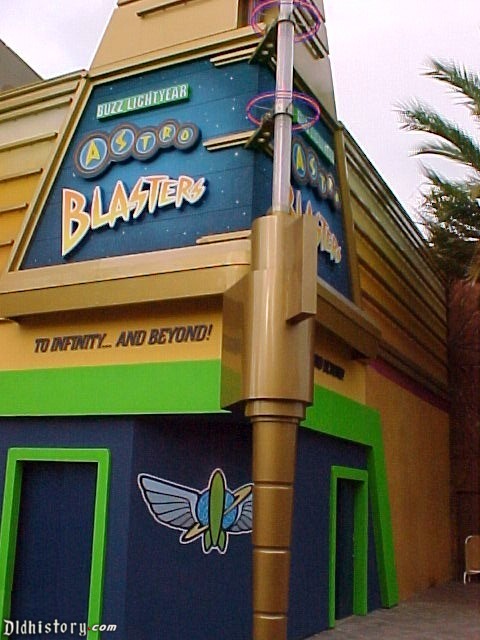 ID:
TMS-3376
Source:
MickeyMousePark.com
Author:
Dateline:
Posted:
Status:
Current
I guess it's a fact of life that not every idea for an attraction or Land can actually be built. Occasionally, the failed idea was a revamp or replacement of an older attraction that was shut down for various reasons. Other times, the idea was scrapped because of the success of another, similar, ride. There are a multitude of other reasons things can be scrapped.

After Submarine Voyage closed, it was planned to become Atlantis Expedition. Guests would have supposedly been able to grab coins and gems from the "ocean" floor with an extendable arm. It was scrapped because the film that inspired it, "Atlantis: the Lost Empire," had basically bombed in the box office. That ride would have been so cool.

With the success of the Matterhorn, Walt wanted to make Space Voyage, similar to the Bobsleds but with four tracks instead of two. Ironically, there wasn't enough space for it. There had been plans to give Tomorrowland a massive update, giving it a more extraterrestrial theme, calling it Tomorrowland 2055 for Disney's centennial. It failed in the Paris park and budget cuts forced developers to abandon it. The new and improved Tomorrowland was to have a show called "Light Keepers" about a race of god-like aliens that created light, which was the source of everything. It was a possible replacement for the "Main Street Electrical Parade," but instead inspired the "Light Magic" parade.

Near the Casey Jr. Train Ride, there was supposed to be Candy Mountain made of, you guessed it, candy, including rock, licorice, lollipops, and candy canes, among others. The outer appearance was to be glossy and translucent, but Walt was concerned about maintaining the clean exterior with the smog that surrounds Anaheim. The Candy Mountain ride would have been on the inside with a planned Rainbow Road to Oz going underneath it, based on the "Oz" books by L. Frank Baum.

Herbie the Love Bug would go through scenes from the films "Love Bug" and "Herbie Rides Again," like driving up the Golden Gate bridge and skipping across water, in mini-Herbies. At the end of the ride, the vehicles were going to split in half, like in the film. It is unknown why it was scrapped.

A "Frozen-ish" ride called The Enchanted Snow Palace was designed to be a boat ride on a river of melting ice; past Arctic wildlife; under that Northern Lights; to the Snow Queen's realm: a land populated by frost fairies and snow Giants. Extensive concept art still exists for this, so it's possible we'll see it somehow.

A sub-area of Fantasyland, called Dumbo's Circusland, would have relocated Dumbo the Flying Elephant and Casey Jr. Train. Dumbo's Circus was almost billed as a nutty adventure under the big top, lead by Dumbo. Circus Hot Air Balloons would have bordered Circusland and Discovery Bay, a tribute to Jules Verne and H.G. Wells.

A bumper boat ride called Duck Bumps and a ferris wheel designed to look like a windmill, the Old Ferris Mill, would have likely been on the very edge of Fantasyland. The concept for the Ferris Mill might have come from "The Old Mill" from the Silly Symphonies cartoons.

A shooter ride similar to Buzz Astro Blasters was designed to be in Discovery Bay, called Fireworks Factory. Targets would be skyrockets, pinwheels and other fireworks. A smaller version was placed in Mickey's Toontown. Toontown also was supposed to have been home to a motion simulated tour with Roger Rabbit, named Toontown Trolley.

In Frontierland, a Tower of Terror style ride would shoot guests into the air, riding in a huge drilling machine that gets caught in a geyser. Its name, Geyser Mountian.

There was planning to have a complex housing Indiana Jones and the Temple of the Forbidden Eye, as well as a mine cart roller coaster and part of the Jungle Cruise with the Disneyland Railroad traveling through the middle. The complex was to be called Indiana Jones and the Lost Expidition. All of this would have been in the same building with separate lines to choose from. The jeep expedition would go through Jungle Cruise's enormous river temple. The mine car attraction would hike uphill to the abandoned mine and careen around a volcanic chasm. The Jungle Cruise boats would actually go into the river temple, past a sacrificial lair, and through a flooded cavern with defeated booby-traps. The railroad would go over a bridge (the boats would go under) to give passengers a glimpse of the two attractions.

Most people know that the Haunted Mansion concept comes with the Museum of the Weird. Back when the Mansion was supposed to be a walk through, the Museum would be at the beginning. It was suggested by Walt when he was trying to find a way to use all of the strange and unusual concepts for the original attraction. It included a chair that stood and talked, among many other things collected from around the world. When the Doombuggies came along, the walk through idea was canceled but many designs were incorporated into the ride, like the wall paper and corridor of doors. There's a lot of information and pictures on a wonderful site called doombuggies.com that is awesome.

The are a few other lands that never got off the ground. Lilliputian Land, north of Tomorrowland and east of Fantasyland, would have been the exact opposite of A Bug's Land in California Adventure, where everything is built very small instead of massive. Mythica, inspired by Greek and Roman myths and legends, would have been wicked for people like me. "Big City USA" would be where Toontown sits and themed like New York, right on down to a Broadway-style theatre. Edison Square would have looked like a city in the 1900s that just got electricity. It would have gone where Plaza Inn and Space Mountain are.

Hollywoodland was themed from 1930s-1940s with rides adapted from "Dick Tracey" and "Who Framed Roger Rabbit" (Crime Stoppers and Baby Herman's Runaway Buggy, respectively). A version of the land was later built in California Adventure. To the left of the Opera House, you'd enter Liberty Street, resembling 1776 Philidelphia, complete with a small harbor, as a patriotic parallel to Main Street. That concept would later become Liberty Square in Walt Disney World.